ACROSS: THE DEMANDS ON PHYSICAL PLACES TO INSPIRE CONSUMERS ARE INCREASING. IS THERE A RECIPE FOR "EXCITING PLACES"?
IBRAHIM IBRAHIM: I do not know about a recipe, but I certainly have an opinion about where retail should move. If I have one criticism of the industry, it is that we are too complacent. Historic success has bred complacency. We need to move forward. First, we should stop thinking about physical spaces as purely distribution channels. The physical space will be less about this and more about becoming an experience channel. Regarding physical space, we should not think about shops with products for sale, but how we can transform those spaces into stages with shareable stories.
ACROSS: ESPECIALLY IN THE SHOPPING CENTER INDUSTRY, SO-CALLED "SUCCESSFUL CONCEPTS" USED TO BE ROLLED OUT AT VARIOUS LOCATIONS. ACCORDING TO THE MOTTO: ONE SIZE FITS ALL. ARE THOSE TIMES OVER?
IBRAHIM: This idea of clone the experiences, clone high streets, or clone shopping centers is definitely over. That is not because it is a trend in design or architecture; it is simply because consumers are turning their back on "cookie cutter" products and places, not just in retail. This has been one of the reasons for the decline of physical retail. People are bored with the same old brands, same old designs, same old offers. We have to learn from that. Consumers are looking for a sense of localism, uniqueness, authenticity, and personalization. Retailers must adapt their concepts to respond to local needs and communities.
ACROSS: HOW DO SHOPPING CENTERS FIND THE RIGHT COMMUNITIES IN THEIR CATCHMENT AREA?
IBRAHIM: Brands will not survive unless they are culturally connected. When we talk about community and culture, I am not referring to local communities or ethnic communities. I am referring to communities of interest and content that galvanizes those communities – whether this is about sushi, yoga, cars, or DIY. When we talk about communities, we have to identify any given catchment. What are the key interest drivers? What interests are the communities responding to? What brands are they potentially engaging with? And if we can identify those people and link them with the brands, then we are playing an essential part as an asset owner. And we need to connect with the influencers of these communities to bring the customers together. Furthermore, those communities are not just about one interest. The bike community is also interested in coffee; the yoga community is also interested in wellness. This is where the excitement starts: We bring communities together in physical spaces and create amazing offers, whether it is a coffee shop in a bike store or a whiskey bar in a shirt shop.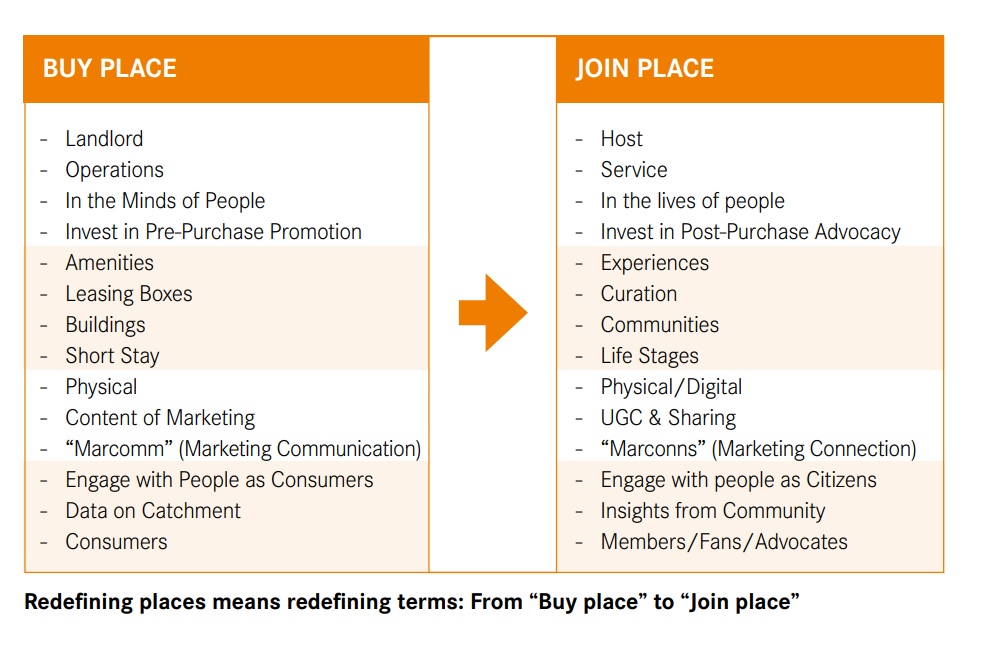 ACROSS: WHAT ARE THE RIGHT TOOLS TO IDENTIFY THESE COMMUNITIES? MARKET RESEARCH HAS BECOME VERY COMPLEX.
IBRAHIM: Market research is significantly disrupted. Focus groups and online surveys are not enough because people only tell you what they think you want to hear. We must develop ethnographic and observational processes and get down to the street level. We must identify community leaders and influencers to help us understand what is happening at the street level. We have a data tool at hand to map social media behavior. So, we can understand in any given catchment what people are interested in, what is important to them, and, more importantly, what brands they follow. With this statistically accurate data set, we understand how to bring the right mix of offers and brands together and understand the content for our marketing and social media. Tools like this allow us to limit our clients' risk because we know what their communities and catchment want. But preferences change. It is not about a one-off piece of research. It is about constant tracking of changing tastes and changing attitudes.
ACROSS: WHAT NUMBERS SHOULD WE LOOK AT?
IBRAHIM: Here is a fundamental change, we should not focus on the economics of just the physical sale of products, i.e., turnover in a shopping center. Any given physical experience can drive media impressions and digital online sales. There is value in that. We must develop revenue models that reflect a physical space's value to a brand beyond selling things in the shop. The pro[1]portion of GLA used for transaction and fulfillment in the physical space will gradually decrease. We are seeing much evidence of that. What is unsure in any given physical space is what proportion of that GLA will be transactional and what proportion will be experiential. In the US and UK, we see a reduction in physical retail space of 20%. This space will be occupied by new non-retail concepts like community offers, health, wellness, and co-working spaces.
ACROSS: AND WHAT ABOUT THE OTHER 80%?
Ibrahim: A proportion of that will be traditional transactions and fulfillment. The ratio depends on the asset. Another big part will become what we call community space, a place where brands will bring their communities together. Another proportion will be what we call recruitment space, where brands will create experiences that drive media impressions and online sales. When we develop strategies to repurpose a shopping center, we decide with a client about the size of proportions. This is individual. But generally, the netto-gross ratio of tenanted space to the public realm is shifting. And we are seeing a blurring line between tenanted space and the public realm.
ACROSS: WHAT DETERMINES HOW THIS PUBLIC REALM IS USED?
IBRAHIM: Two trends will drive the change in how we design the public realm and how we plan it. One trend is the fragmentation of work, where work is woven into our everyday life. Work is no longer in the office and less and less at home. People are leaving home to go to co-working or public places. We are constantly dipping in and out of work. This is a cultural change. The other trend is quick commerce. In an urban environment, I order food, and it is delivered in 15 minutes. And food is just the beginning; it will spread and grow into non-food products. If you imagine you can sit in a public place, whether in a high street, shopping center, or airport, and you can work, eat, drink, and shop without moving. What does that mean for public space? How do we design them? What we are doing is rethinking public spaces to become commercial spaces. Because they are simply the new anchor. They are the living rooms of our public realm. And that changes everything. Shopping Center developers and managers must ask: What does that mean for my revenue? What does it mean for architecture, technology, way finding, and the brand?
---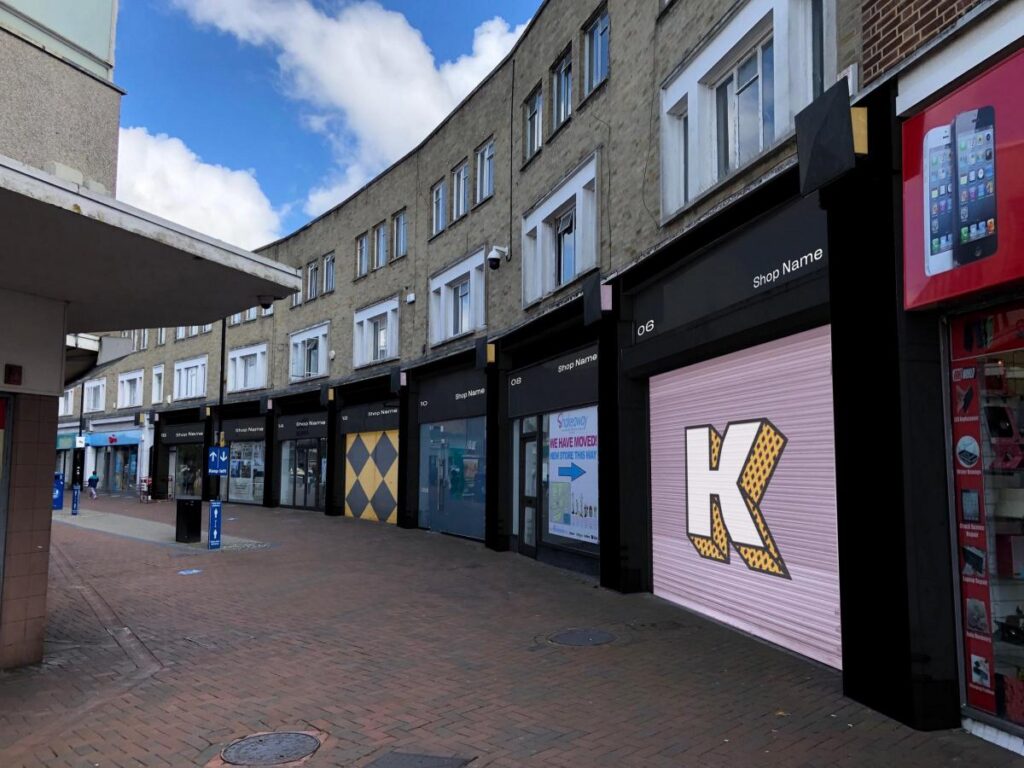 Best Practice in Revitalization: Kingland Crescent
Kingland Crescent in Pool (UK) is an exciting initiative seeking to reimagine the high street. By offering zero rent and business rates, Legal & General Investment Management aims to encourage a creative community and local start-up businesses to an area that was previously vacant and derelict. The local businesses at Kingland Crescent now include a fishmonger, coffee roaster, design studio, surfboard shop, zero waste grocery store, art gallery, gin bar, and store, home interiors specialist, restored second-hand furniture shop, and perfumer. The regeneration of Kingland Crescent is part of a long-term plan to invest in Poole Town Center. "It completely revitalized the street," states Ibrahim Ibrahim. "It helped new businesses grow, and more importantly, it had a halo effect on the shopping center. There is now massive activity in the public space of that street. It has become a real community place."
---
ACROSS: WHAT DOES IT MEAN FOR THE RELATIONSHIP BETWEEN THE LANDLORD AND THE TENANT?
IBRAHIM: The most important thing is that the landlord must not think of him or herself as a landlord but as a host. He has to become a host to his commercial partners and a host to their consumers. He must therefore shift from leasing boxes to curating experiences. That is a huge difference. It is a shift from operations, security, cleaning, etc., to becoming a concierge for the operators and consumers. As a landlord, you must become a truly value-added thought leader to your commercial partners to illustrate through evidence what our consumers and communities want. It is crucial to have an opinion about the future of retail and the future of consumerism, and to create programs of evidence to show that these are your opinions. Curation is an important part of it because you bring different brands together to create new experiences by merging different brands and communities. That is the key to how the relationship between the landlord and the tenant will change.
ACROSS: IN A RECENT KEYNOTE, YOU CALLED THIS "BUY PLACES VS. JOIN PLACES." CAN YOU OUTLINE THIS CONCEPT?
IBRAHIM: This describes the shift for landlords, asset owners, and retailers from purely providing a channel of distribution of product selling to creating a place where people feel a sense of belonging and community. A place where people want to be and not only when they want to buy something. A place that is genuinely sustainable – economically, socially, and environmentally. We might call these places community centers. The future of retail is not about real estate; it is about content and how that content can help you shift from a buyer place to a join place. It is a shift from a shopping rhythm to a community rhythm where we encourage people to come daily as part of their rhythm of life. And that is truly economically significant. A buy place invests in pre-purchase promotion. A join place invests in post-purchase advocacy.
ACROSS: ARE DEVELOPERS AND OPERATORS READY FOR THIS CHANGE?
IBRAHIM: They simply have no choice. Doing nothing is not an option. Businesses do not fail because they do the wrong things. They fail because they continue to do what used to be the right things for too long. There is a fundamental shift in the relationship between people and brands, and places. When there is a disruption in the industry, it is often a cultural shift that needs to happen. Taxi companies did not invent Uber, and the hotel industry did not invent Airbnb. But these companies are the proof of a cultural change. It is not a change in the business model, we still have to make money partnering up with brands in a physical space. But the way we are going to make that money is shifting. The biggest disruption is not about architecture or physical space. It is the valuations that are being disrupted. And this is not because there are big vacancies. That is only the outcome of something much bigger.
ACROSS: HOW DO WE COME TO THE SOURCE OF THE PROBLEM?
IBRAHIM: We have to ask: Why are there vacancies? Why are these brands failing? Why are they moving away from physical space? Why are brands opening fewer stores? We have to respond to the cultural shift that is happening through what I call a 'people revolution'. We need new skills in the real estate industry. We need data scientists; we need people from the hospitality and entertainment industry. We need social media specialists, storytellers, journalists, curators, stage managers: a whole bunch of new skills in addition to the skill set we already have.