By Sarah Cole
Pre-pandemic, an oversupply of retail space was evident as retailers reduced the number of stores needed to serve a catchment. Retail valuations have also been under increasing pressure with softening cap-rates as the risk premium for retail increases. If anything, the crisis has re-emphasized the need to future-proof and diversify retail assets by repurposing redundant spaces. Many of the largest players in European retail real estate are already transitioning in this direction. This includes Ingka Centres, whose vision to create "meeting places" was announced in the summer of 2018. This is a €7.3 billion investment, with the introduction of new parks, arenas, F&B, entertainment, exercise areas, flexible workspace and playgrounds.
Yet the post-Covid world and "new normal" for the public at large is uncertain. For some, those blessed with the space at home and flexible jobs, the need to frequent inner cities will naturally diminish. Yet, this won't be universal, and a good proportion of society will continue to want and need urban environments for work, shopping, leisure and play.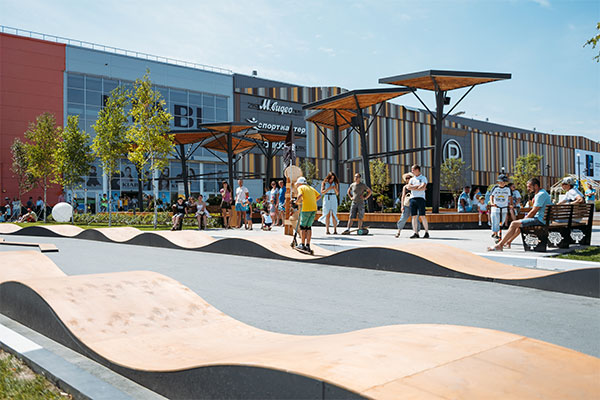 Viability & Demand Question Mark
The challenges around long term consumer spending habits and investment viability still remain. On a relatively small scale, Buttermarket in Ipswich, UK illustrates how an underperforming mall can be diversified into other uses. The 22,000 sq m center was bought by Capital & Regional and Drum Property Group for £9.2m in 2015 with occupancy at 43%. A re-positioning strategy totaling £25.1m was implemented, incorporating a leisure hub with a cinema, bowling alley, restaurants and gym. In 2017 it was sold for £54.7m with 89% occupancy.
However, landlords and strategic fund managers are now expanding the definition of mixed-use to include community services such as education, health and lifestyle, co-working, hotel but also residential, too. This is exemplified by Unibail-Rodamco-Westfield's (URW) pipeline shifting towards more mixed-use projects, split between retail (43%), dining & leisure (17%), offices (21%), residential (11%), and hotels (8%).
From a viability perspective, residential not only offers a more certain valuation approach with a stronger return multiplier than most retail, but also, in most cases, a more assured demand, not least in a Covid-19 world, too.
Market Response
The evolution to more walkable urban places has been supported by research conducted by The George Washington University. They found that places such as Ballston Quarter in Washington DC, demand c. 75% rent premium over the metro average. Therefore, this mixed approach is not only sustainable, but also profitable for the retail space too.
The $330m redevelopment of Ballston's urban by Forest City is a model of giving a new lease of life to an ageing shopping center with a mix of new experiential retail, F&B and entertainment concepts, as well as featuring a new 22-storey 406-unit residential tower.
In the UK, momentum is for residential alongside retail is developing. In London, URW is delivering 1,200 units, known as Cherry Park, adjacent to the Westfield Stratford City shopping center, whilst in White City the 2018 extension of Westfield London has provided 1,522 new homes.
This growing consideration of residential was demonstrated by NewRiver REIT in their 2018 review of its retail portfolio. This showed the potential for alternative use would be predominantly residential (c.85%). It has since identified the potential to deliver up to 2,400 units over ten years, worth up to £140m in development profits. A further example in the UK is the £245 million redevelopment of the Harvey Centre in Harlow. A proportion of the mall will be demolished and four new 3 to 16 story buildings constructed to provide 447 homes and 3,700 sq m of retail.
Residential As 'Build-To-Rent'
In the above examples, the residential offer is, however, "Build-to-Rent" (BTR), or multifamily (using US parlance), rather than residential for sale. These are wholly owned purpose-built properties, which have several advantages over owner-occupied models.
Concerns about homeowners challenging retail activity outside usual trading hours is less of a threat, negotiating with multiple owners about long term shared maintenance/refurbishment costs is avoided and the demand for rental remains strong. Furthermore, these specifically designed properties, with a great emphasis on amenities and customer service (including staffing onsite) drives a premium product which is professionally managed. This relatively new concept for the UK and Europe is far more customer-centric and indeed in keeping with the desired characteristics of the wider mixed-use environment.
Conclusions
The repositioning of retail hubs into thriving mixed-use communities, with the incorporation of residential as part of this strategy, is starting to emerge. From a capital markets perspective, there is a growing weight of investor interest for BTR and its appeal, providing more stable returns against other real estate asset classes, will have been further enhanced since Covid-19. The potential for this repurposing requires both careful planning around design and access for the successful integration of the uses but also a new operational approach to the residential.
In a post-Covid world, with flexible working becoming more established, a proportion of those living in urban environments may partly reduce. Yet, humans thrive on social interaction and therefore urban living is not going to fall away completely. A concern for many is the loneliness and isolation suffered during this period and build-to-rent communities mitigate against this. Furthermore, building design and specification solutions are already evolving to help alleviate concerns, from "open" zones, including greater use of roof spaces, and street to unit access via smart tech.
For retail landlords seeking to diversify their portfolio, Build-to-Rent presents an appealing option–acting as a catalyst for improved performance of the retail, as well as capital value accretion to the overall asset.