In the Slovakian capital of Bratislava, the first Kaufland store using the timber construction method is opening today. This consists of three quarters wood, which required 335 cubic meters less concrete for construction. This means that the property saves 514 tonnes of CO2 compared with conventional concrete construction. With a sales area of 2,500 sq m, the property is one of the largest timber stores in Eastern Europe.
"By using timber construction, we have significantly reduced energy and CO2 consumption in the store's construction. As timber is a carbon neutral and renewable building material, it stores CO2 emissions well, has a comparatively low dead load and can be reused. With this store, we want to test how this concept proves itself in practice and whether stores built using the timber construction method could be considered for other countries in the future", explains Michael Hiese, Head of Corporate Center International.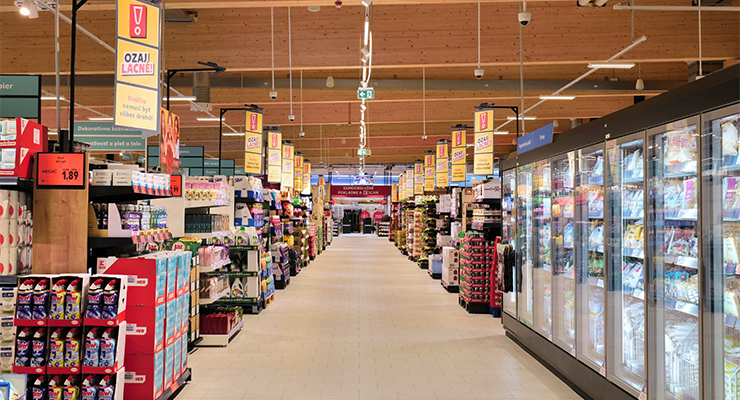 In addition to its sustainable construction, the Bratislava store is particularly energy-efficient. Green facades and roof areas act as a natural CO2 reservoir and green air conditioning system. Heating is provided by freezers and refrigerators. They generate more heat than cold. This waste heat is used to heat the store and covers almost 80 percent of the total demand. Part of the electricity comes from the store's own photovoltaic system installed on the roof. In Germany, Kaufland built its Marktredwitz (Bavaria) store last year using the timber frame construction method. Instead of concrete, timber columns and glulam beams were used for part of the supporting structure.
Old becomes new: Building rubble makes a comeback in Tuttlingen
In addition to wood, Kaufland will be relying more on recycled building materials in the future. A store is currently being built in Tuttlingen (Baden-Württemberg), where building materials produced from demolition material or waste are being used for the facade, the store floor and the parking lot, among other things.
Recycled paving stones: The stones consist of 30 to 40 percent demolition material. This reduces CO2 emissions by 10 percent during construction of the parking lot in Tuttlingen.
Recycled tiles: These tiles consist of 45 percent production waste and residual products from the stone industry. This means that around 50 percent of CO2 emissions can be avoided in the production process.
Bumper guards made of recycled material: These consist of 100 percent recycled plastic.
"We see the use of recycled building materials as a great opportunity to reduce resource consumption and the carbon footprint when building new stores. To this end, we are currently focusing on selected test locations such as Tuttlingen in order to test the recycled materials and gain experience with them" adds Michael Hiese.