Last year, a group of Dutch entrepreneurs and financial investors agreed to establish a new, integrated boutique department store in Amsterdam called "Haussmann," which will open in the second half of 2016. The initiative is based on the belief from both the Dutch and international perspective that that an authentic retail service offering in the luxury segment was needed.
Frans van der Kraan, founding partner and CEO of the boutique department store says, "Haussmann's mission is to re-define luxury retail by setting a new standard for upscale lifestyle and taste that goes far beyond what today's conventional department stores offer. Haussmann seeks to impress and inspire its clients using a combination of quality products, innovative service concepts, and modern technology."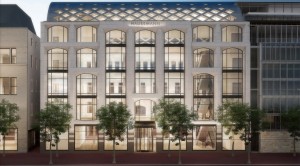 In order to realize its ambitions, Haussmann has chosen a unique, distinctive location for the 7,000 sq m of retail space in the historic center of Amsterdam, right on the prestigious Rokin street at the entrance to the subway station Noord-Zuidlijn. This spot was right at the center of the city's activity in the Golden Age, making it the ideal location to combine the benefits and convenience of a newly constructed building with the charm and ambiance of the former historic "Vleeshal" (meat market) on Sint Pietershalsteeg.
A new landmark for the Dutch capital
Apart from luxury fashion and leisure departments, customers can visit a fresh food market and an exclusive restaurant on the top floor with panoramic views over Amsterdam or relax in a beauty and wellness center. Haussmann will present a diverse combination of quality products and services along with an inspiring story. The product and service offering is carefully designed to meet the highest quality and exclusivity standards, with an eye for detail and the right mix of iconic and new brands. Since Haussmann is not limited by an existing system, it can make use of the latest available retail technology. It thus intends to offer customers a seamless shopping experience offline as well as online.
Staying on this path, the owners and managers are cooperating to fulfill their commitments and are working hard further to develop and implement their operational plan. Van der Kraan: "We want to give Amsterdam the new landmark for upscale lifestyle and taste that it deserves."