By Udo Radtke
Belgrade continues to be regarded as an insider tip among savvy city travelers. Serbia's capital city is neither as trendy as Budapest nor as overrun as Prague. In the nations formerly part of Yugoslavia, tourism primarily revolves around the Adriatic Sea. But Belgrade is much too far from the coast to benefit from beach vacationers. Nonetheless, the insider tip has persisted, and the thing about insider tips is that they tend to spread. Despite its distance from the coast, Belgrade still has much to offer thanks to its favorable position at the confluence of the Sava and Danube rivers along with its much-frequented bars, clubs and restaurants in the historic city district.
Among expansion-minded European retailers, Belgrade also tends to be viewed as more of an insider tip than a universally acknowledged hotspot. This is partly due to Belgrade's challenging retail conditions. With just over seven million inhabitants, Serbia is among Europe's smallest countries. Even so, almost 1.7 million people live in Belgrade, which is a conglomeration consisting of seven rural municipalities and ten urban municipalities, the latter of which comprise the nucleus of the population with 1.3 million inhabitants.
Serbia as a whole has a declining population, which is a trend that could intensify when it is granted entry to the EU. But Belgrade goes against the grain with its slightly increasing number of inhabitants. Some expansion-minded retailers will not be pleased by Serbia's annual retail purchasing power of €1,080 per inhabitant, which places it toward the bottom of the European rankings. But it is important to point out that Belgrade's urban municipalities exceed this figure by thirty percent. That said, neighboring Hungary has a retail purchasing power of around €2,900, while Budapest boasts an annual retail purchasing power of €3,650 per person.
Arab and especially Chinese investors
Due to the collapse of Yugoslavia and the impact of the Balkan wars, Serbia's economy resumed growth ten years later than was the case in most of the formerly socialist central and eastern European nations. Mid-way through its recovery period, the financial market crisis—beginning in 2007—delivered a major setback. Serbia is currently benefiting less from European investments than from Arab and especially Chinese investors. China is clearly banking on the Balkans becoming a future gateway to the EU. International investments are also an important driver for the future growth of the Serbian economy. But there is a long way to go before catching up with the established central and eastern European countries.


When it comes to Belgrade's retail landscape, this development is especially apparent in the shopping center scene. The first large shopping centers of western persuasion were opened in 2007 (Delta City) and 2009 (UŠĆE). The project planning phase for these developments occurred prior to the economic crisis. Many other planned developments that could no longer be financed and for which it would have been difficult to attract tenants were abandoned or postponed.
It consequently took four years until the third shopping center (Stadion) was opened in 2013 and an additional four years until the opening of the city's fourth (BIG Fashion) and fifth (Rajićeva Shopping Centar) shopping centers. Not included in this assessment are the more local supply-, small scale- and retail warehouse-oriented locations such as Zemun Park, Aviv Park, Karabur­ma Center and Capitol Park Rakovica (opened in October 2017). Now that the financial crisis has been weathered, many projects are currently in the pipeline, including some that were put on hold in 2007.
The oldest of the existing shopping centers — Delta City developed by Serbian Delta Holding UŠĆE developed by MPC Properties — have performed very well despite increasing competition. Both malls are located in Novi Belgrad, the area of the city west of the Sava River. This region is strongly shaped by its office and administrative functions.
The UŠĆE—initially under the management of ECE — is Belgrade's leading shopping center. This is partly due to its size (around 50,000 sq m GLA compared to Delta City's 35,000 sq m). While both shopping centers are not in the vanguard from a conceptual perspective, they feature very strong international tenants such as Inditex Group, H&M, C&A and Terranova as well as national chains. Given the large number of planned malls, these two existing will likely have to carry out a comprehensive refurbishment coupled perhaps with an expansion in order to maintain their market position.
Stadion Center was the first larger shopping center in the city area to the east of the Sava. Conceived by the Viennese project developer Krammer & Wagner, it owes its name to the combination of a 28,000 sq m shopping space with a rooftop football stadium. The center suffers however from unfavorable infrastructural accessibility along with conceptual weaknesses that negatively impact performance.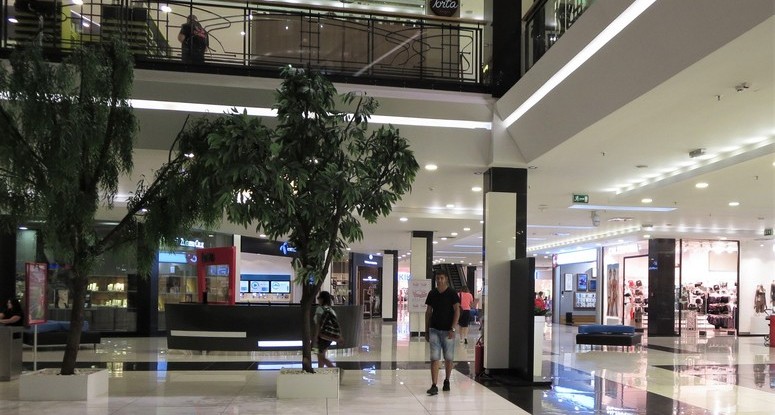 Active Plaza Group
Plaza Group was one of the first international developers active in Serbia for a longer period of time. The developer pursued two shopping centers in Belgrade: The initially named Visnijcka Plaza project was renamed Belgrade Plaza following the abandonment of the original Belgrade Plaza project. The site abandoned in the construction phase was then sold to the Israeli BIG Group, which subsequently opened an approximately 32,000 sq m GLA shopping center in early 2017 under the name of BIG Fashion.
This shopping center is modern, attractive and strongly focused on a fashion offering. Although it succeeded in attracting new brands to Serbia such Reserved and Tezenis, the site still has vacancies and needs to further establish itself in the market. But the growth potential for the shopping center will likely be somewhat limited due to its location on the city's periphery.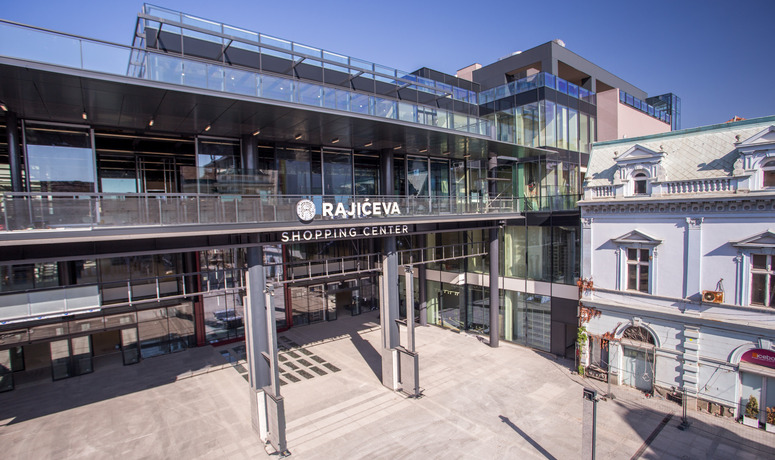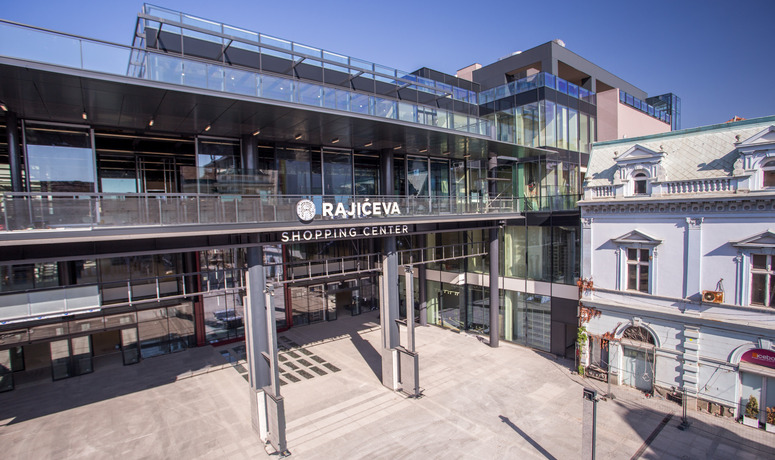 The city's newest shopping destination is Rajićeva Shopping Centar, opened in September 2017 by the Israeli Ashtrom Group. The shopping center enriches the city-center retail offering in the pedestrian area of Knez Mihailova with more than 15,000 sq m GLA of shopping space, consisting of 80 retail and gastronomy outlets spread across five levels. Consistent with the status of this historic city area as a meeting point for locals and tourists, the almost fully leased shopping center offers an attractive array of restaurants. A hotel associated with the project is also slated to open around the beginning of 2018.
In the pipeline: Ada Mall
As these various offerings demonstrate, the retail and shopping center scene in Belgrade has undergone substantial development after recovering from the financial crisis. A large number of projects and planned endeavors confirm this assessment. GTC's project Ada Mall is already under construction south of the city center and near the bank of the Sava.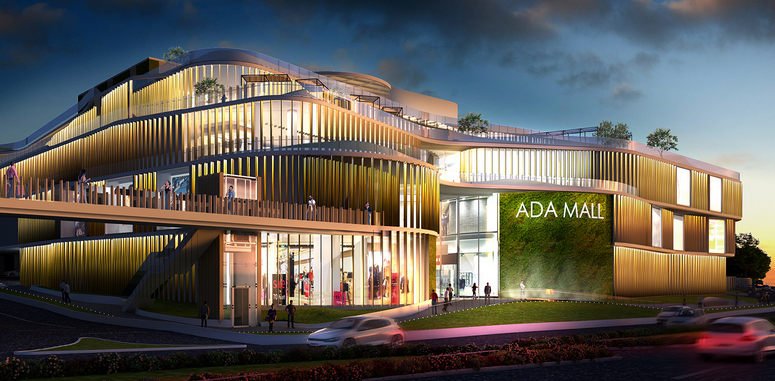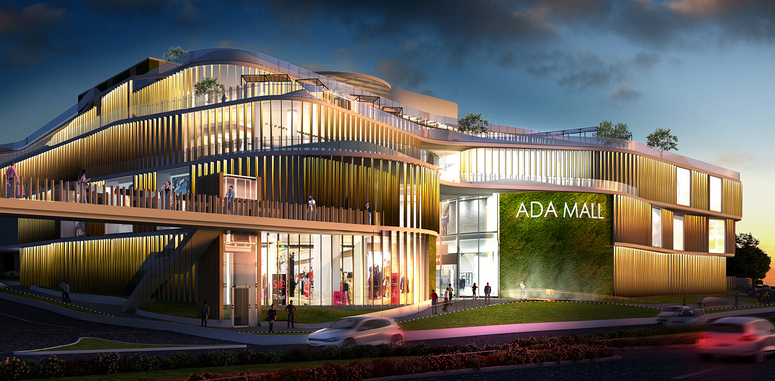 Slated for opening in fall 2018, the shopping center is to offer 34,000 sq m GLA, encompassing around 100 shops. Not far from this location on the bank of the Sava is the ambitious project Belgrade Waterfront, which is sparking controversy due to a lack of transparency and allegations of corruption. The project is a joint city-development endeavor by the Serbian state and Eagle Hills from Abu Dhabi.
Planned as part of the project is a shopping center with 93,000 sq m GLA, which far exceeds the scale set by Serbia's existing retail offering. The opening is planned for 2020, but it is questionable whether purchasing power will be high enough at that time to sustain the site and whether tourism can help bridge any gap.
Close to the Waterfront project and directly along the E75 is the strongly traffic-oriented site of the Delta Planet Autokomanda project, where the Delta Group intends to offer a 75,000 sq m shopping center. The initial plans for this project were already made before the financial crisis. But the project is said to lack the ability to gain approval due to complications related to its integration into the roadway infrastructure. An additional large project is being planned by BIG in the southern area of the city. BIG wants to open a shopping center with 70,000 sq m GLA at a location where other developers have already made attempts.
Over-saturation unavoidable
Other projects are either convenience offerings for the associated city area or planned expansions of existing locations. The completed but still rudimentary main rail station Prokop is expected to feature a shopping center, and Ikea wants to expand its recently opened site on the city's southeastern periphery with additional retail warehouses.
Given Serbia's low purchasing power—which also applies to comparatively wealthy Belgrade, despite its profiting from growing tourism—there is no doubt that the planned retail endeavors as a whole will have difficulty when it comes to sustainability. An over-saturation of Belgrade's shopping center market is therefore unavoidable, because the city's purchasing power cannot grow quickly enough to accommodate the planned openings.
It therefore seems that too many retail developers are already aware of the insider tip about Belgrade and have moved forward with projects despite the challenging retail conditions outlined previously. Retailers who have chosen to expand in Belgrade now face the question—as in the other eastern European cities—of which retail sites to focus on based on their likelihood of survival.
For retailers who have not yet decided to enter Belgrade's market, it's important to consider whether a market entry is advisable under the current conditions and when circumstances might be more favorable. It may be a good idea to enjoy the city's tourist attractions for a while and ponder these investment decisions over coffee on the Knez Mihailova.
---
Follow @across_magazine on Twitter and @across.magazine.europe on Facebook, sign up for our ACROSS newsletter and subscribe to ACROSS Magazine.
---