ACROSS: What projects have been completed during the pandemic?
JOVANA CVETKOVIĆ: Let us begin with the most challenging and interesting retail project that we have completed during the coronavirus period: the BEO shopping center. MPC bought the site of a ruined machine factory in May 2017 and immediately began the process of converting it from industrial use to retail use. It was clear that the location in east Belgrade, given its proximity to the highway and major intersections, was crying out for a new retail destination. In addition, two other openings have taken place during the pandemic: the UŠĆE Tower Two office building, which fulfills the mixed-use concept of the UŠĆE complex, and the Navigator Business Center, which is part of the Navigator Business Complex.
ACROSS: Back to BEO: What is the essence of the shopping center?
CVETKOVIĆ: It all began with a blank sheet of paper and a vision – one that centered around building a shopping center. Where, however, did the inspiration to give the center an identity, a "face", and an ambience come from? The answer is quite simple: It came from the customers, because they know what they want and need. As a result of a market study that was conducted, the center was designed to have a modern but warm, light-flooded interior that features an attractive and diverse retail offering, complemented by good entertainment, a wide food and beverage selection, convenient parking, comfortable temperatures, and an overall pleasant ambiance that excites customers and encourages them to stay a bit longer. Since there have been a number of new retail destination openings in recent years, our strategy was to make the new center stand out and distinguish itself from all the existing centers in Belgrade. The center, which covers more than 130,000 sq m of GBA and offers more than 140 global and regional brands, is located on the corner of two streets, Vojislava Ilica and Mis Irbijeve. The shopping center is characterized by its innovative architectural concept, which follows the latest global retail trends and provides more open spaces, wide corridors, plenty of natural light, and greenery. BEO features spacious rest areas, a unique food court equipped with two terraces, 13 modern restaurants, a safe and secure entertainment area, and a multiplex cinema that has eight high-tech screens.
ACROSS: BEO has already received some awards, has it not?
CVETKOVIĆ: Yes, it has received two International Property Awards in the "Best Retail Architecture" and "Best Retail Interior" categories. The most recent awards represent recognition at an international level, which is important to us, because even though we develop projects in the local market, we regularly use international benchmarks and standards to set our goals.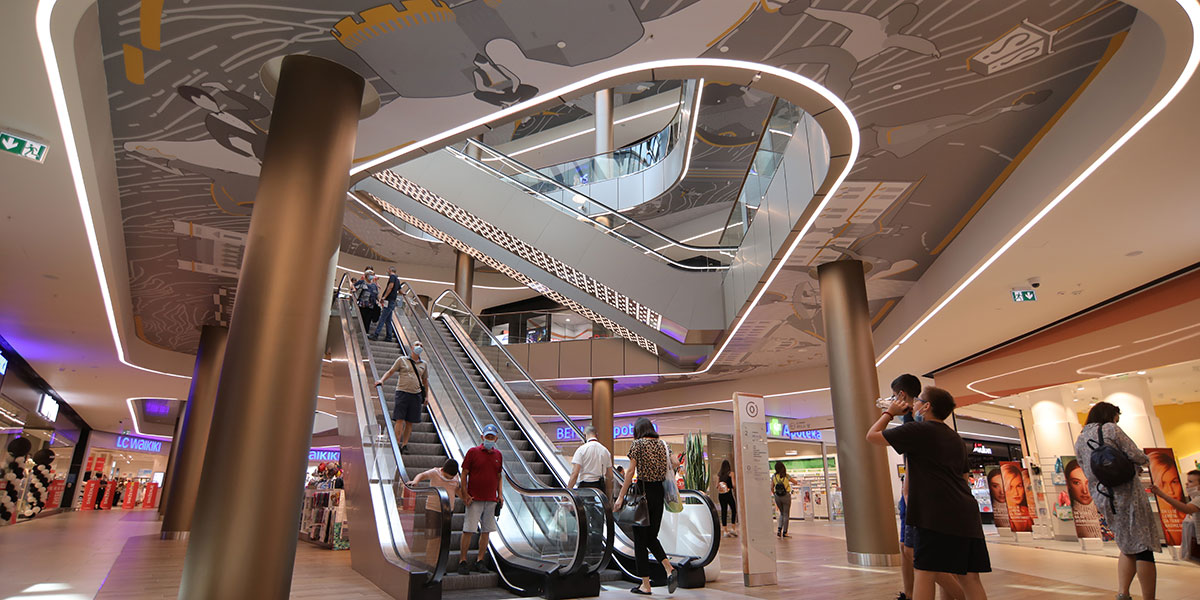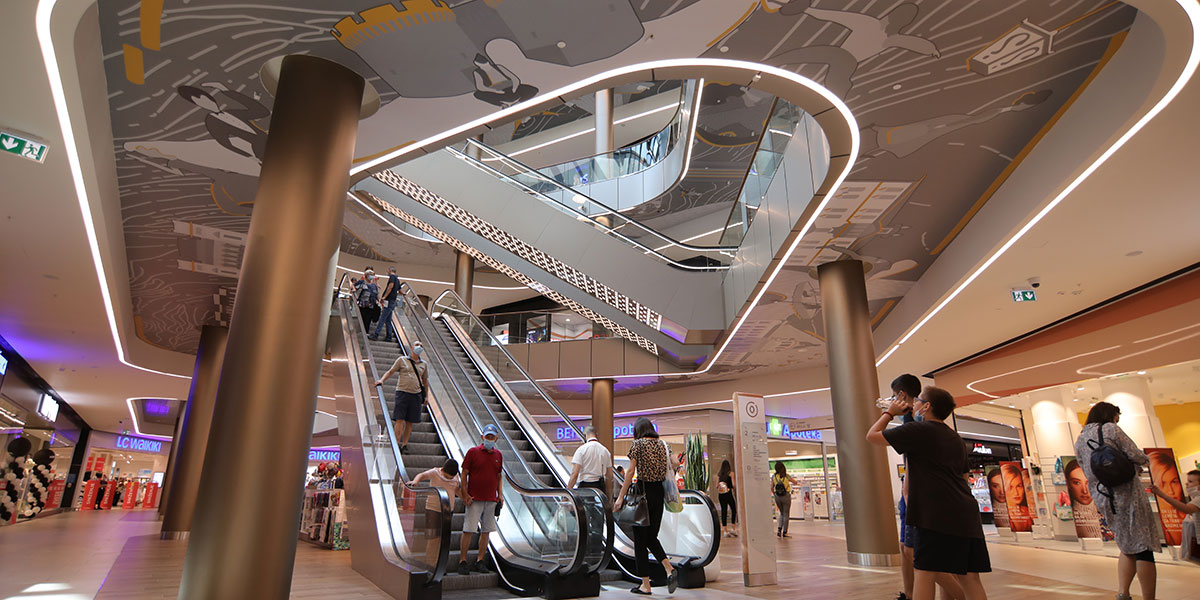 ACROSS: How has the pandemic influenced the leasing process and your relationship with tenants?
CVETKOVIĆ: The Covid-19 outbreak was completely unexpected and took everyone around the world by surprise. We followed the events in China from the very beginning and formed a crisis team in January 2020 in order to predict potential scenarios and be proactive, always focusing on risk management with maximum efficiency. Teamwork is what characterizes our system, and the situation we encountered in the spring only proved that to be true. We were online 24/7 and available at all times to our tenants, contractors, security services, authorities, and all other partners. Proof of such a well-coordinated system can be found in the fact that we managed the active construction site of BEO Shopping Center, which opened in June 2020 at full capacity, as well as in the fact that we managed to coordinate everything with all of the tenants as well as their subcontractors, thereby ensuring that every store opened on time, without delay or postponement. That, in itself, can be counted as a great achievement as both the equipment as well as the goods were being shipped from all over the world – during a time when everything was at a standstill.
ACROSS: What other measures have been taken throughout the pandemic?
CVETKOVIĆ: During the lockdown periods, we also provided rent reductions and marketing fee discounts to all of the tenants at our retail assets. With respect to the other months of operation during the pandemic, we have reduced the rent in a way that keeps the effort ratio at a mutually acceptable level, taking into account, of course, the standards for effort ratios by category and store size. In doing so, we have proven ourselves to be partners and that we see the situation in a realistic way; their survival, after all, is essential for both parties. At the centers, we comply with all preventative measures, which also requires good coordination, since the measures recommended by the authorities sometimes change on a daily basis. Flexibility and maximum efficiency helped us to successfully cope with the most challenging period. I would particularly like to highlight the fact that, in the midst of a pandemic, we have welcomed the arrival of new global brands: "Peek & Cloppenburg" at BEO Shopping Center and "Kiko Milan" at UŠĆE Shopping Center. We have also refreshed the tenant mix during the coronavirus period with globally renowned retail groups, such as LPP, Inditex, and H&M as well as a number of strong brands, such as Superdry, Starbucks, etc.
ACROSS: Have there been moments of positivity in addition to the periods of uncertainty?
CVETKOVIĆ: Finding an area of positivity in the midst of a pandemic is not easy. All I can say is that, although we have suffered, our agility and adaptability have helped us to overcome this crisis, with as little impact as possible on the company, our employees, and our business partners.
ACROSS: What retail sectors have recorded an increase in sales during the pandemic?
CVETKOVIĆ: The coronavirus has had an indisputable negative impact on the turnover of most lessees, which is primarily reflected in the footfall, given the fact that they operated under shortened working hours for most of last year and for the first quarter of this year, and there were also periods in which they did not work at all. Restrictions were also imposed with regard to the number of people permitted in indoor areas. Like a chain reaction, the situation affected turnover at shopping centers. The restrictions also had a general effect on shopping habits. People frequented shopping centers less often, at the same time, they planned their purchases better and spent more money per visit. Therefore, the results for 2020 were certainly lower than in 2019, but now that the measures and the whole situation surrounding the coronavirus are gradually easing, we are beginning to notice an improvement in the situation and are returning to the level of business we enjoyed prior to the pandemic.
In general, one might say that pharmacies and drugstores recorded the best performances across the portfolio, followed by supermarkets and sports categories, which is logical given the fact that sports facilities, outdoor activities and, in general, facilities that contribute to well-being have become more and more popular among people.
ACROSS: How long did the restrictions last in Serbia?
CVETKOVIĆ: Last year, the centers were closed for 54 days in total (a month and a half), and this year, they were closed for 29 days (almost a month), which was a big blow to all of us. Last year, the period of shortened working hours was continuous – from July to December, and this year, is lasted from the beginning of the year to April. Retail parks faced fewer restrictions than shopping centers due to their outdoor concepts; however, they also recorded a decrease in business operations compared to the year prior to COVID-19 as they were not permitted to bring large numbers of people together.
ACROSS: What is the future of shopping centers?
CVETKOVIĆ: The pandemic has had a major impact on the retail market as well as on consumer habits. The coronavirus has accelerated the digitalization process and has contributed to more competition and a more complex market. However, the maturity and quality of online retail is not a serious competitor for brick-and-mortar stores yet. On the other hand, offline retail is in the process of redefining itself, focusing on an improved shopping experience, additional content, and the introduction of digital technologies at points of sale, and it will be interesting to watch the parallel developments of both segments of the retail market. Generally speaking, time seems to be passing at a faster pace, information has become more accessible than ever before, and people's needs have grown and become more complex. Add to that the fact that consumers' habits now include planned shopping, saving time, completing more tasks in one place, as well as a strong desire and need for free time and fun.
ACROSS: What strategy is MPC Properties pursuing in light of such factors?
CVETKOVIĆ: The shopping center industry itself is moving towards creating more interesting destinations and transforming them into community hubs that meet the needs of consumers, while not exclusively limiting them to shopping and consumption, but to satisfying other needs as well. We believe our greatest advantage in this retail market transformation story is that we are the absolute leader in the offline shopping segment and have the most experience and expertise in the region, and we are currently focused on the integration of that particular segment with online customer service, thereby creating synergy between both market segments. Our strategy is to redevelop existing retail properties in order to provide customers with experiences, leisure opportunities, and mixed-use centers.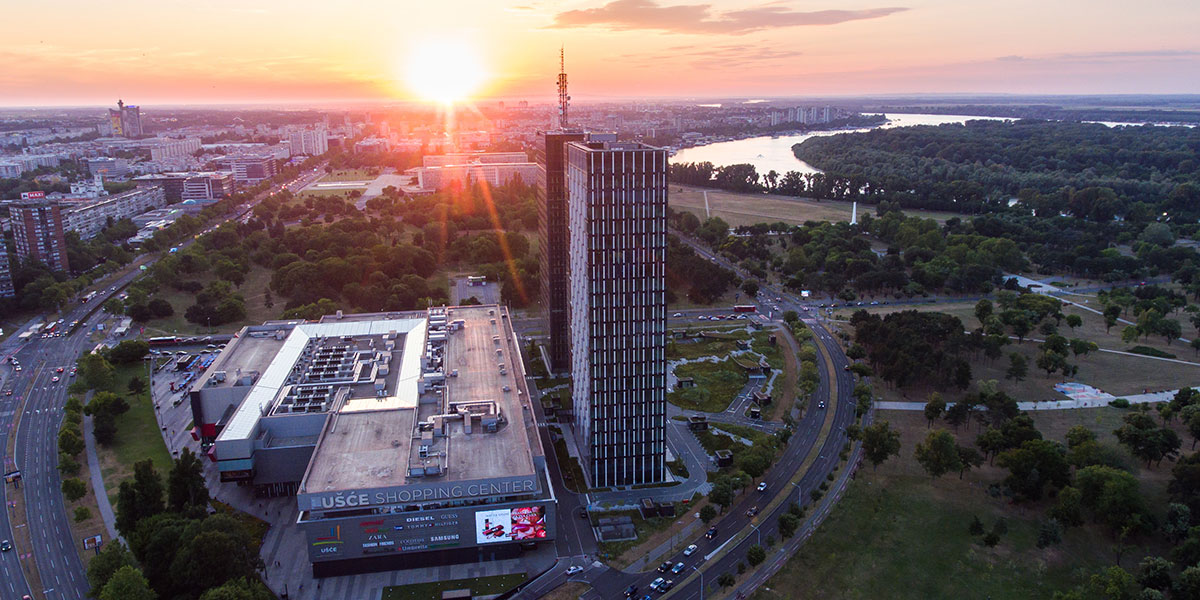 ACROSS: Could you give us an example, please?
CVETKOVIĆ: The best example can be found in the UŠĆE mixed-use complex, which consists of the UŠĆE Shopping Center and two office buildings, UŠĆE Tower One and Tower Two, the business symbols of Belgrade. It also features a modern park, which is situated between the towers, and is in the immediate vicinity of the confluence of the rivers. In addition, we are developing a mobile app for our shopping centers to help us keep up with consumer demands. This new digital solution will create synergies between online and offline shopping, and it has been proven to increase impact as well as customer loyalty.
ACROSS: Are there any new projects or acquisitions in the pipeline?
CVETKOVIĆ: This year, we are focusing on the opening of our prestigious Tri Lista Duvana (TLD) commercial facility, which is a modern, class "A" office building located in the heart of the capital, at the intersection of Kneza Milosa Street and Bulevar Kralja Aleksandra, in the vicinity of important state and municipal institutions. The TLD Belgrade project is scheduled to be completed in early 2022. We are also in the process of acquiring a plot of land in New Belgrade for a new office building development, which we will be able to report on in more detail in the near future.
ACROSS: What is your general assessment of the Serbian market?
CVETKOVIĆ: In general, Serbia still has great potential for new developments. The market is driven by strong economic growth figures, and as long as those figures remain higher compared to alternative markets, the commercial and shopping center industry will continue to grow. The real estate industry is very dynamic and is constantly reinventing itself through expansive growth.