The systems, boasting a total output of 4,300 kilowatts, have been in operation since July and August. They cover around one-fifth of the centers' electricity requirement with a 1,200-ton saving in terms of CO2 emissions. The SES climate objective to fit photovoltaic systems on at least 50 percent of its available mall roof surfaces by 2040 has therefore already been achieved or exceeded to a significant extent in Slovenia. SES is currently operating four photovoltaic systems in Austria. An additional three locations are scheduled to be equipped with these systems by the end of the year.
SES Spar European Shopping Centers are committed to sustainable construction and environmentally and resource-friendly operations in all of its locations. The expansion of photovoltaic systems is currently the main focus. This includes Slovenia where all five shopping malls were fitted with roof-top photovoltaic systems this year.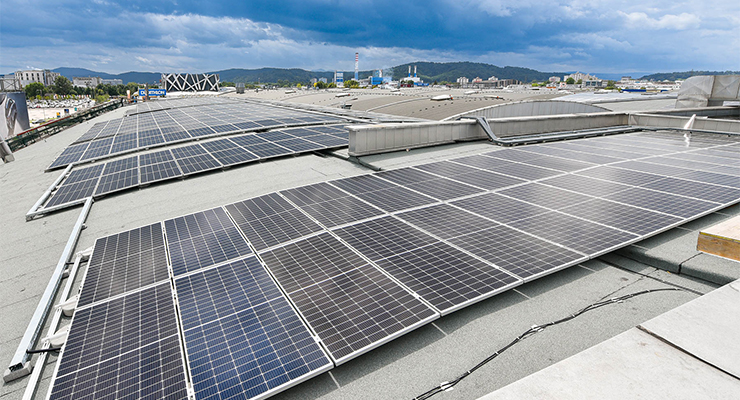 Almost 11,000 panels have been installed over 21,000 sq m on the roofs of the Slovenian shopping malls. Around 1,200 tons of CO2 emissions are saved every year thanks to the solar power generated by these PV systems. This equates to the planting of over 55,000 trees. Particular attention was paid to high energy efficiency when planning and selecting the systems.
"In commissioning five large-scale photovoltaic systems with a total output of 4,300 kilowatts on the roofs of our Slovenian malls, we have taken major strides forward in achieving our climate objective. By the end of 2023, SES will be operating a total of 45,000 sq m of photovoltaic surfaces on centers in Austria, Italy, and Slovenia", says Christoph Andexlinger, CEO of SES Spar European Shopping Centers.
Green roof for CITYPARK Ljubljana
This year, in addition to installing a 714-kilowatt photovoltaic system, Slovenia's largest shopping center, CITYPARK in Ljubljana, has also donned green roof surfaces by replacing the gravel with a layer of vegetation comprising moss and lichen. This allows CITYPARK to nurture a good microclimate in the urban city space and makes a substantial contribution to the local environment.
Seven Austrian SES centers with photovoltaic systems by the end of 2023
So far, four SES-run Austrian centers are producing environmentally friendly solar power for their own use. These are MURPARK Graz, WEBERZEILE Ried, MARIANDL Krems, and CITYPARK Graz. Three further PV systems are scheduled to be installed in Austria by the end of 2023 – VARENA Vöcklabruck, ATRIO Villach, and MAX.CENTER Wels.
Consistent climate strategy and energy-saving measures
SES relies on various environmental protection measures including complete conversion to LED, demand-oriented ventilation control, a switch to 100 percent renewable energy sources, heat recovery and the expansion of electromobility across its 30 shopping destinations. Forty percent of SES-operated shopping malls will already have been equipped with photovoltaic systems by the end of 2023.