Shoppers visiting the center this festive season will experience something truly unique: custom-designed fiberglass dogs surrounded by light, all sporting reindeer horns and preparing to take off with Santa's sleigh!
"This year, our Christmas campaign is not only designed to spread Christmas cheer, but also to raise the profile of the good work that Rødovre Animal Shelter ('Dyreværnet') does for our community. In addition to our exciting festive program, we also have a program of activities to tell people what the shelter does, help them raise funds and perhaps even find a home for some of shelter's canine inhabitants," says Rødovre Centrum's Marketing Director Charlotte Andersen.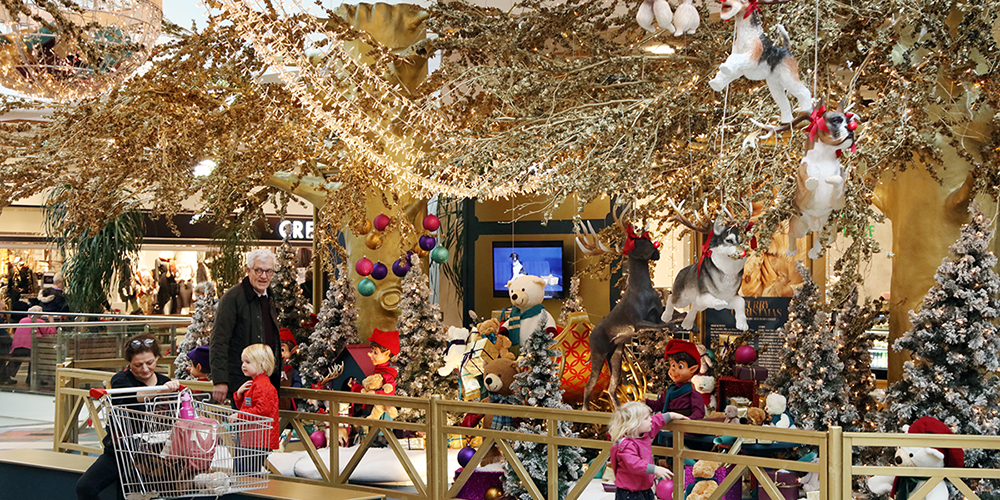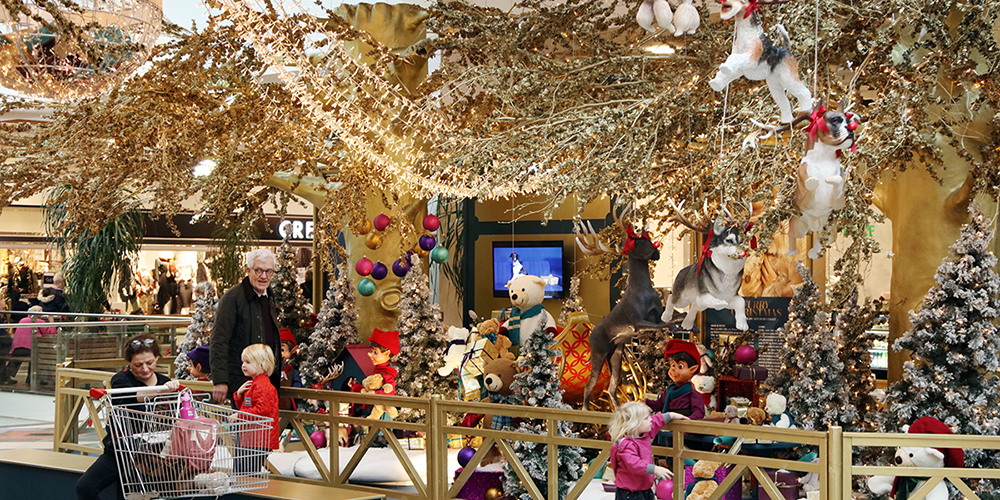 In addition to the "wanna-be-a-reindeer" dogs, all of whom are modelled on different breeds, the center's attention to detail is something that visitors and dog-lovers will love.
"Once Rødovre Centrum shared their vision with us, we worked closely together to make sure that every aspect of the final design was a visual treat. For example, one of the Christmas trees we designed is made of real chewy doggy-treat 'bones' and brought to life with twinkling light points. Animatronic elves designed by Creation Group hold the leashes of the smaller dogs, whilst some of the larger dogs are sporting red, glowing noses that mimic 'Rudolf the red-nosed reindeer'," says René Hansen, Managing Director of MK Illumination Denmark.
As always, the "red thread" of consistency runs through every aspect of the center's festive campaign. Models for the season's photoshoot are all employees of the animal shelter, and the canine models are all current residents. We asked Andersen to tell us a bit more about her thinking behind this year's "Furry Christmas".
"The shelter 'Dyreværnet' works incredibly hard all year round to find homes for dogs that are found on the streets by police or that are rescued from abusive homes," she says. "In spite of that, the team at Dyreværnet  manages to find homes for almost all the dogs every month. These are animals that, through no fault of their own, find themselves in real need, and it's a wonder for me that there are people at the shelter who give all the animals a second chance to be loved."
She goes on to tell the story the photoshoot itself, where she worked with 6 wonderful dogs and 8 of the human team from the shelter. One of the dogs, a red-headed character named Rosa, bounded over to her after a long day of shooting, put her head on Andersen's shoulder.
"She clearly wanted a hug and she received one. It brought tears to my eyes that this dog had so much love for someone she'd only just met. I am proud that we've been able to tell the story of the dogs in a fun and humorous way that is really helping the shelter. People connect with the story and the cause."
"Furry Christmas" has been popular with shoppers as well as with the local media including local television programme "Go Morgen Danmark". The shopping center has experienced a record growth in likes and comments across their social media channels, too, thanks to requests for selfies with a pet: they've exceeded the number of posts featuring a human and their pet in a single feed on Facebook!
"I think that a good story needs to be told with humor and beauty, and we've definitely succeeded in doing this," says Andersen.
Credit: Rødovre Centrum
Rødovre Centrum's 2019 festive experience is another prime example of how shopping centers can be more than simply "temples of commerce": with creativity and a perfectly executed campaign like "Furry Christmas", centers can do good and position themselves as the center of their community, as a place where friends and family can gather to shop, eat, drink and share experiences that result in unforgettable memories.
"Community is important all year round, but at Christmas time, people's awareness about social and community causes is heightened, and it felt right to use our campaign to give a bit of holiday joy to both humans and our furry friends," says Andersen.