The number of newly arriving brands in the second half of the year has been traditionally higher than in the first half, mainly as a result of the Christmas season. In effect, the number of newcomers this year can be expected to be similar to last year's 38.
"The Czech retail market remains attractive for international brands; it is often the first one in the Central and Eastern European region where they test their performance", says Jan Kotrbáček, Partner & Head of CEE Retail Agency team, Cushman & Wakefield. "The coronavirus pandemic has not changed anything about that – now that the restrictions have been lifted, customers are largely returning to shopping in physical stores and the local purchasing power is attractive for the brands."
The great majority of the newcomers have opened their first shop in Prague, with six of them opting for high-street locations and five for shopping centres, which is usual with brands arriving on the Czech market. There is also a clear trend of opening shops in office buildings nowadays. This option is popular primarily among brands that focus on technologies and design. It allows them to present their products and services within a generous footprint and a modern environment to a relevant target group of potential customers who work in the office buildings, and the rents are also more accessible to them.
French and fashion brands first and foremost
Four brands arrived from France, two from Slovakia, and one each from the other countries of origin. In line with a long-term trend, the most common are fashion and accessories retailers, and the ratio of those that target the mass market to those in the luxury/premium brands is balanced. Three brands are in the currently popular household equipment and accessories segment, and two are in the F&B segment.
Brands newly arriving on the Czech retail market in the first half of 2022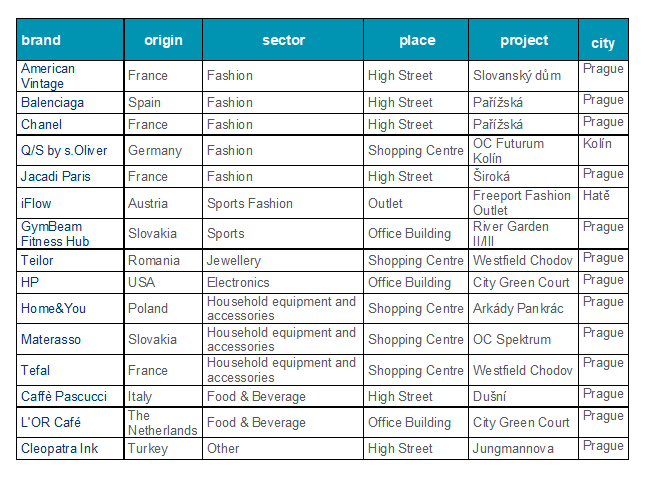 "The openings of many brands' shops only in this year's first quarter can of course be to a certain extent attributed to the uncertainty and restrictions related to the pandemic in the last two years", explains Kotrbáček. "Many of them for example could not finish the fit-out of their store within the scheduled time plan because of the lack of material for furniture and equipment production. All processes take a bit longer today and a certain inertia as long as two or three years. I perceive as positive the fact that customers still have the appetite and need to shop – not out of necessity, but also for pleasure. Brands therefor still have a reason to build new and attractive physical stores to get their producsts as close to customers as possible. Doing so, they pay attention both to the quality of the premises and to the location where they place it."
The behavior of the retail market players is also influenced by other challenges brought about these days. According to Jan Kotrbáček even the war in Ukraine also paralysed the retailers' decision processes for some time: "However, they orientated themselves quite quickly and adapted to the new situation. Many of them closed a lot of shops in Russia, but will definitely strive to compensate for this market, also in the Czech Republic and the surrounding countries of Central and Eastern Europe. These can be a partial alternative and Czechia will for sure be an attractive market for brands."