After six years of intensive preparations, preparatory and underground work started on "The Circle" at Zurich Airport earlier this year. The completion of the first stage of the project, which is the largest building site in Switzerland, is planned for the end 2018. "The Circle" will be a service center with an area of ​​approximately 180,000 sq m. The architecturally striking building complex will also feature a varied interior, according to the airport press office.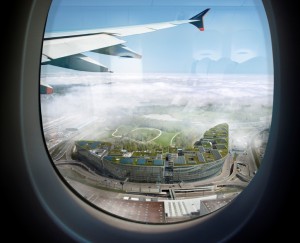 From a retail perspective, this interior, or more precisely, its dimensions, packs a serious punch: It reshuffles the cards in the country's shopping center ranking. Glattzentrum in Wallisellen will have to give up its position as the largest mall in Switzerland to the current number two, Zurich Airport.
The strong Swiss franc as a problem
The transport hub is the country's gateway to the world. No fewer than 2,673,965 passengers passed through in July 2015 alone. Even so, the airport operator sees growth primarily in the significantly more profitable non-aviation business. Although 60% of revenues in the previous fiscal year came from the traditional airline business, this yielded only one third of the profits. The largest contributions came from the commercial business as well as the management of properties and parking garages. In public shopping areas, the airport differs little from a mall. Business here has been very robust despite the appreciation of the Swiss franc, whereas the duty-free area has witnessed a decrease since the beginning of the year.
The upcoming expansion of the shopping area at the Zurich airport constitutes an exception in the Swiss retail market. Due to the strength of the local currency, investors are currently holding back. The Swiss themselves prefer to buy over the border in neighboring countries. Zurich Airport has several advantages its competitors lack, however: On one hand, it has extremely liberal opening times, on the other hand, it enjoys ever increasing numbers of passengers and airport staff.