ACROSS: What is visual marketing?
Michael Scheithauer: We view visual marketing with a holistic, 360-degree approach. Visual marketing actually begins right at the top, in the marketing department and its advertising campaigns. A company's campaigns are then – to put it simply – broken down to the point of sale. Visual merchandising, which is concerned with the product itself, naturally plays an essential role. Broken down further, visual marketing of course deals with a store's presentation in its shop window or inside the store itself. Storytelling, the story a company wants to tell, is an essential and unifying element. A company's campaign, how it presents itself in TV spots, on posters, or in radio advertising, must also be visible at the point of sale. These aspects must all be in sync.
ACROSS: What methods do you use? Where do you find your inspiration?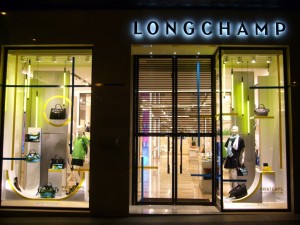 Scheithauer: We frequently travel to various hotspots and try to absorb the spirit and feeling in different cities. There are many differences in this regard. We do store checks, observe the scene, and monitor the implementation of various campaigns in shop windows. Nowadays, however, one can even find inspiration in hotels, restaurants, and cafes as well. Another important information channel for us is trade fairs, of course, where the focus is mostly on materiality and form. We therefore gather information in many ways. It's not just about to traveling to cities and examining stores and shop windows under the microscope. That's standard. It's also about recognizing the zeitgeist and different trends.
ACROSS: What are the current trends?
Scheithauer: It's always difficult to define a trend. I would not want to tie myself too much to colors or certain themes right now. What's fundamentally interesting and must always be taken into account are the themes of light, movement in all forms and the mixture of various materials. It is also striking that more and more labels are discovering facades themselves in addition to shop windows. By the way, that is becoming more and more important for shopping centers as well. Facades are an increasingly important part of the entire presentation.
ACROSS: How important is visual marketing in the competition between online and physical retail?
Scheithauer: We were able to follow this discussion at numerous events during the past two years. It often went in the wrong direction, however. Many would like to hear a conclusion on whether online or offline has more weight. But they complement each other. You cannot ignore the internet any more that you can the point of sale. You have to use both and many can do just that. You see it in the storefronts of Armani and Desigual, for example. Messages are communicated digitally to the left of the entrance, while analog 2D and 3D ones are presented to the right of the entrance. The presentation within the store remains very important. Online campaigns must be reflected in physical retail stores as well.
ACROSS: Are you involved in the marketing campaigns of your customers from the beginning?
Scheithauer: That varies and depends mostly on the customer and the project. This is handled individually. Certainly we always appreciate it being involved at the beginning.
ACROSS: What direct effect does visual marketing have on sales and marketing success and how this can be measured?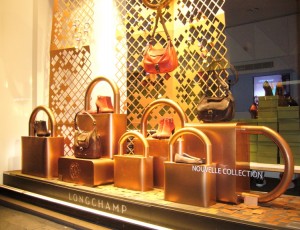 Scheithauer: There's a tongue-in-cheek saying doing the rounds in the industry that goes: "If the sales are good, the buyers have bought the right products. If they're bad, the merchandiser has designed poor shop windows." The influence of visual marketing on sales is hard to measure, in my opinion. With visual marketing, it's much more about image and how I address and win over new target groups. That is: I have to motivate people to come to the stores. You have to differentiate yourself and stand out nowadays. If it the entire shop window presentation tells a good story, people will come to the store.
ACROSS: You repeatedly emphasize the concept of sustainability in the products and materials you use. How important is this aspect of sustainability for your customers?
Scheithauer: We have involved ourselves with the topic of sustainability for a long time. Many customers demand sustainability, especially large international companies. The issue of sustainability is very complex in our industry. It's about product development, but also about how I develop things that require less transportation; how I can save on boxes and much more. We have customers who do projects with us on these explicit points. In short, the issue is a large item on our agenda and we can advise our customers on it and make our experience available to them.
ACROSS: When you implement campaigns, is there a fundamental difference between high streets and shopping centers?
Scheithauer: Both formats are extremely interesting for us. We claim to be able to do both "retail" and "shopping center," after all. I would make no distinction initially. But if you go a little deeper, you see that our customers in the retail sector are often a bit more adventurous and provocative. The shopping center arena is somewhat more conservative. Of course you have to differentiate. When I create a shop window in the retail sector, it is different from a technical and safety perspective than when I do one for a shopping center, for example, because thousands of people move around it. You're already much more limited just due to fire safety requirements. In the shopping centers, however, facades and the communication between retail and the shopping center management will play an increasingly important role.