Posnania is Apsys's latest flagship project. This mall—in Poland's Wielkopolska region—combines shopping, service, leisure, and entertainment functions. The 100,000 sq m of GLA house 300 local and global brands, including fashion, services, restaurants, cafes, a multiplex, a billiard club, a bowling alley, a fitness club with a swimming pool, and playgrounds for children.
Posnania is distinguished by modern architecture, design and artistic installations, above-standard customer support, and services based on cutting-edge technologies and multimedia. Together, these make for a special customer experience. It is the first center in Poznan's market to offer "hands free shopping," "collect & try," and valet parking services. Numerous conveniences have also been provided for families, cyclists, and drivers.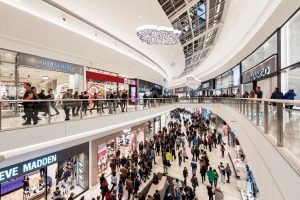 The mall opened its doors to customers at the end of October. Its first assessment was highly positive, as Benoit Charles, CEO of Apsys Poland, reported: "Posnania was visited by one million customers within 21 days of the opening. The concept based on the best European benchmarks—unique tenant mix, wide range of services, modern technologies, design, and sustainable development of the area around Posnania—is gaining recognition among both experts and clients."
Strong fourth quarter 2016 in Poland
Posnania's opening illustrates the fact that the Polish retail market grew considerably in the last quarter after rather moderate growth in the third quarter of 2016. According to Jones Lang LaSalle (JLL), shopping centers added 276,000 sq m of space in October, November, and December of last year alone. At the end of 2016, the real estate service company counted 13.1 million sq m of modern trading space in Poland. 9.3 million sq m of that are accounted for by shopping centers, 3.6 million sq m by retail parks and department stores, and 210,000 sq m by outlet centers.
A total of 663,000 sq m of retail space is currently being planned. "The number of shopping centers that are expanding or being renovated or modernized is growing," said Anna Wysocka, Head of Retail Agency at JLL. She also recognized a trend towards "mixed-use projects." These combine various asset classes, such as apartments, offices, hotels, and retail. The top yields in first-class shopping centers in Poland remain stable at 5%.
Premium zone for premium demands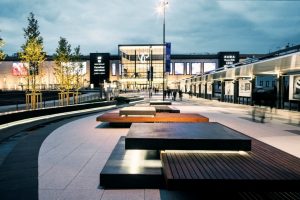 What specifically does Posnania use to position itself in the Polish retail market? One example is its premium zone on the ground and first floors. The Premium zone is a unique place in the mall, designed with clients in mind who expect the highest quality products and service. Approximately 20 leading luxury brands, chiefly from the clothing and jewelry sectors, present their offerings there. The creation of this is also a response to an increasing trend towards luxury goods consumption in the country.
By 2017, the value of the Polish luxury clothing market will amount to PLN 2,319 million (€523.3 million), up 13% from a year ago, KPMG data show. In 2014, 70% of global brands were accessible in Poland, compared with 53% available in the country in 2009.
Among the most prestigious brands at Posnania are Armani Jeans, Rolex, and Chantelle. Armani Jeans occupies 105 sq m and offers clothes, shoes, and accessories by the famous designer. Rolex, the producer of exclusive watches and jewelry, takes up 51 sq m and opened its first monobrand store in Poznań and the Wielkopolska region here. In turn, the French brand Chantelle occupies 31 sq m of space and offers customers its wide range of underwear for women.
"We are noticing a growing interest among Poles for luxury products. We are aware that what is important for consumers is not only what they buy, but also the way how they do so and how they spend their free time. We therefore care not only about an attractive tenant mix, but also about a broad offer of services. Equally important to us is an original and convenient interior design," Marek Błędowski, Commercial Director and Board Member at Apsys Poland, emphasized during Posnania's letting phase.