ACROSS: WHY IS ECE COOPERATING WITH OTTO?
PHILIPP SEPEHR: The interlinking of the largest brick-and-mortar shopping network and the second-largest online retailer in Germany seemed like a natural choice-not least due to the close ties that exist between the two companies, both of which belong to the Otto family. When we launched the Digital Mall as a small online shop a few years ago, we were also in talks with OTTO. Together, we discussed how we could make this project suitable for both companies, in a manner that would enable ECE to benefit from OTTO's online customer reach and OTTO to benefit from ECE's numerous connections with brick-and-mortar retailers.
ACROSS: NEVERTHELESS, IT TOOK QUITE SOME TIME FOR YOU TO TAKE THIS BIG STEP. WHY DIDN'T YOU CHOOSE TO MOVE FORWARD WITH THE PROJECT YEARS AGO?
SEPEHR: There were technological reasons behind our decision. Technological developments can take sudden leaps and bounds. This tendency can also be seen in the technological development of brick-and-mortar retail. Offline retailers are now in a position to connect their product databases, including local availability, to online marketplaces.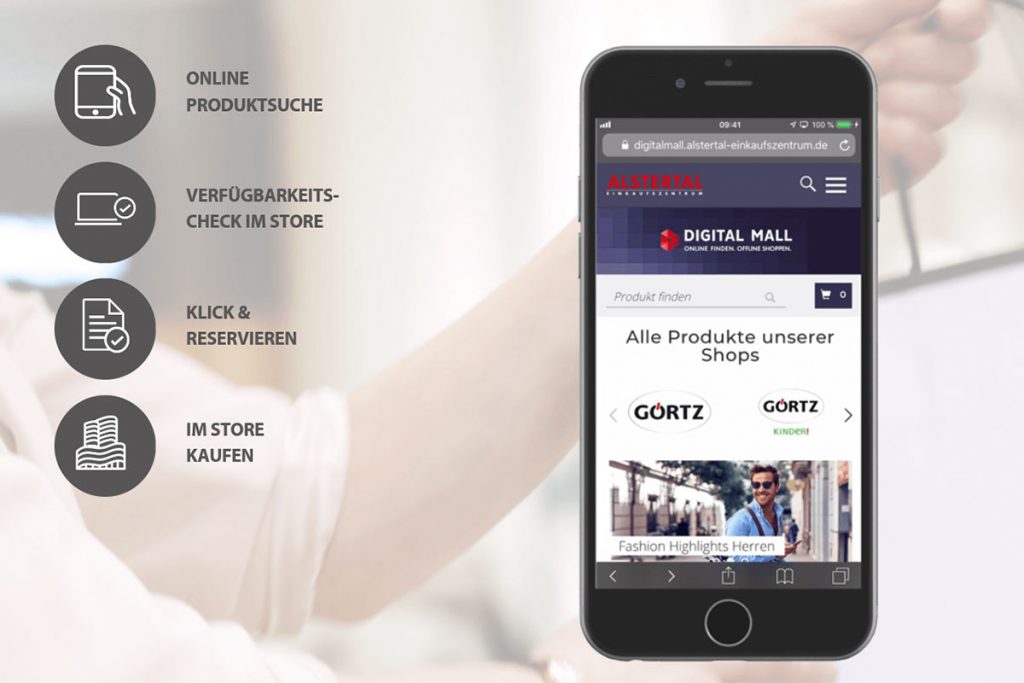 ACROSS: WHAT DO THE TWO COMPANIES CONTRIBUTE TO THE COOPERATION?
SEPEHR: ECE is deeply rooted in brick-and-mortar retail and has very good personal connections with approximately 10,000 stores in the German shopping center segment alone. Thanks to our large network, we also benefit from our proximity to end customers: 60 percent of the population can reach an ECE center within a maximum of 30 minutes, and close to 80 percent can do so within 45 minutes. This unique competitive advantage cannot be matched. As Germany's second-largest online retailer, OTTO naturally provides an incredible online reach as well as exceptionally good technical know-how.
ACROSS: WHAT DOES ECE EXPECT TO GAIN FROM THIS COOPERATION?
SEPEHR: More and more people are shopping online. That is a market reality. We intend to participate in that market development through our shopping centers. For quite some time, we were able to provide great shopping experiences at our shopping centers, but were unable to offer any points of contact with regard to the products either before or after the shopping center visits. Making the products that are available at our centers viewable online has enabled us to break out of this "black box" for the first time. In addition, through our cooperation with OTTO, we have generated an unfathomable reach and have gained new customers. For example, a person searching for a particular item on otto.de might see that it is available at a nearby store and spontaneously decide to make his or way to that center. As a result, we can convert online reach to additional footfall and turnover at our centers.
ACROSS: STOCKSQUARE WAS FOUNDED AS A JOINT VENTURE BETWEEN ECE AND OTTO. WHY WAS THAT NECESSARY?
SEPEHR: Stocksquare is a 50/50 joint venture between ECE and OTTO. It was founded in order to facilitate an open, neutral standard of operation. It serves as the technical and organizational data hub between the brick-and-mortar retailers and the online platforms. In the future, we intend to go beyond the ECE-OTTO structure to include brick-and-mortar retailers outside the ECE center network and online marketplaces outside the Otto Group and our Digital Mall.
ACROSS: COULDN'T ALL OF THESE GREAT DIGITAL PROJECTS RESULT IN FEWER AND FEWER CUSTOMERS SHOPPING AT YOUR CENTERS IN THE FUTURE?
SEPEHR: No. Quite the opposite is the case. Consumers are increasingly looking for and buying products online. We have responded to this change in consumer behavior by making our brick-and-mortar retail products viewable online. This has allowed us to convert online reach into additional footfall at our centers, generate additional revenue, and bolster brick-and-mortar retailing.