ACROSS: Please paint a short company portrait of El Ganso for us.
CARLOS ROMERO: El Ganso is a family business founded by the brothers Álvaro and Clemente Cebrián in 2004. The two had discovered a niche in the Spanish market. It then turned out that this niche existed in other countries as well. What was missing was classic but contemporary and affordable menswear. The pricing strategy is still one of the cornerstones of our success, combined with the finest fabrics and the high quality of our Made in Europe approach. The product range has since been expanded to include clothing for women and children as well as accessories.
ACROSS: In 2011, El Ganso began expanding abroad in France, Chile, and Portugal. Why those countries?
ROMERO: We had the opportunity to open a shop in Paris – specifically in Le Marais. The surrounding area is now flourishing; that was not the case initially. France is a neighboring market. That step was therefore obvious. We also saw from the number of hits on our website that El Ganso had potential there. Our next expansion step was to Santiago de Chile, because Spain and Chile are connected by language and a similar culture. The location in Santiago is a kind of outlet store, where we sell goods from the previous season at regular prices. The way of life in Portugal is also similar to that of Spain. Our shop in Lisbon is located in a tourist area, which benefits us greatly. We have found that our stores work best in an environment formed from a mix of tourism and local flair.
ACROSS: Was it not extremely risky to launch an international expansion in the middle of the global economic crisis?
ROMERO: El Ganso was founded in 2004, as already noted. The economic fundamentals were not too rosy then, either. We are used to the crisis scenario. It currently seems like the situation is improving. Moreover, the economic crisis has in many respects played into our hands – thanks mainly to our pricing policy. People buy our clothing because it is affordable. Of course the expansion was risky. But we had no choice but to venture out into the world after we had established El Ganso in our home market. Spain suffered more from the crisis than other countries. Especially in case the situation did not improve there, we had to minimize our risk by testing the waters in foreign countries.
ACROSS: What countries were next on El Ganso's expansion list?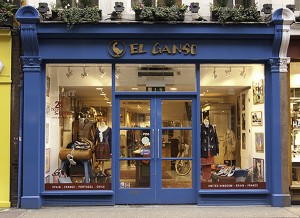 ROMERO: After the positive experience in Paris, it was soon clear that we would open two more shops in the city. Next, we took on London in 2012, where we chose a location in the prestigious Carnaby Street. Brands with a very specific DNA move into that area. It's ideal for us. The decision for the British capital was surely connected with our success in Paris.
ACROSS: What role do malls play as locations for your shops in your business strategy in general and in your expansion strategy in particular?
ROMERO: We generally locate the first El Ganso shop in a city in a high-street location. That's because we want to give our brand an urban feel. After this first shop is opened and has become established, we are ready for locations in shopping malls. There are of course exceptions to this procedure: In the Portuguese city of Porto we started in an inner-city mall or Pamplona in Spain. We also have five stores in Mexico, which are all located in malls. The reason is that Mexican shopping malls are extremely dominant.
ACROSS: What requirements must a European shopping center fulfill to be interesting for El Ganso as a site for one of its stores?
ROMERO: That's a tough question. As mentioned, we usually start in high-street locations in cities. If we as a small, family company decide to open in a shopping center, we tend to go with the dominant one in the respective city; the local market leader, so to speak. We attach great importance to that.
ACROSS: El Ganso is also active in outlet centers. For example, it entered the Portuguese outlet center market with a store in The Style Outlets in Vila do Conde in May. How important is this distribution channel for El Ganso?
ROMERO: Outlet Centers are very important to us. We have had stores in outlet centers in Madrid and Barcelona for more than half a decade. We are more than satisfied with their performance. El Ganso opened its hundredth store overall last year. Against this background, we decided to strengthen our presence or market share in outlet centers. The reason is that we naturally produce more goods now that we have one hundred stores. More clothing and accessories are left over at the end of the season. We successfully sell these in the outlet centers as out-of-season merchandise. We recently opened stores in Seville The Style Outlets in Spain and Vila do Conde The Style Outlets in Portugal. In addition, we're looking for locations in an outlet centers in Mexico. Outlet centers generally reflect how the fashion industry works.
ACROSS: Do you adapt your range to the individual needs of the local population?
ROMERO: Yes, we adapt our product range according to local market needs. If we determine that a clothing category or a specific product finds no takers in a country, we respond quickly. We thus continuously improve our collection. For example, our jackets are very popular in London and Paris. We therefore ensure that all our jackets are always in stock in the two cities. Our design department also occasionally works exclusively on these garments.
ACROSS: What is El Ganso's multichannel strategy? How long have you sold your products online and what has been your experience with it?
ROMERO: Our website was intensively launched towards sales in 2010. This sales channel shows impressive growth every year, namely double-digit percentage growth figures. Internet sales are thus extremely relevant for El Ganso. We can also analyze market potential in this way. We decide based on online sales figures where it makes sense to open a stationary store.
ACROSS: Let's get back to physical retail stores. What are the next expansion steps you are planning?
ROMERO: As already mentioned, we are present in Spain, Portugal, Chile, Mexico, London, Paris, Germany, Italy, Belgium, and the Netherlands. Our priority now is to consolidate all these stores to open more in the countries and cities where we are already active. The new openings will be mainly in France, the UK, Portugal, Belgium, Mexico and Italy. These six countries are of great interest to El Ganso. We are planning a fourth store in London and a third in Italy, besides our current Milan and Rome stores.
ACROSS: Last but not least: What does "El Ganso" mean?
ROMERO: "El Ganso" means "goose". The animal is considered "funny" in Spanish. In my opinion, that's justified if you look at a goose. If you watch the animals fly, however, you come across a second property: their elegance. When Álvaro and Clemente Cebrián founded El Ganso eleven years ago, they wanted to give the brand these two attributes. That's the story behind it.