ACROSS: UNIBAIL-RODAMCO INCREASED ITS STAKE IN THE MFI AG TO MORE THAN 91% THIS PAST SUMMER. HOW DOES THAT AFFECT MFI'S STRATEGY? HAS THIS CHANGED ANYTHING IN ITS BUSINESS MODEL?
KARL REINITZHUBER: There are three main points that have guided our cooperation with Unibail-Rodamco in the past and will continue to do so in the future. The first is an even clearer strategy. We focus on shopping centers in large German cities in prime locations that distinguish themselves from competitors mainly by being particularly attractive. Second, we can expand much more heavily by working together with Unibail-Rodamco. As you can see, our portfolio has grown significantly over the past two years. We now own or have interests in four of the ten largest shopping centers in Germany: CentrO in Oberhausen, which we acquired this spring; Ruhr-Park in Bochum, Germany's biggest open air shopping center; Gropius Passagen in Berlin – the largest shopping center in that city; and the Paunsdorf Center in Leipzig. In addition, we have a number of slightly smaller shopping centers with a GLA of between 40,000 and 50,0000 sq m in German city centers, such as Pasing Arcaden in Munich, Höfe am Brühl in Leipzig, and Palais Vest in Recklinghausen, which opened its doors just recently. In addition to that, we will be opening another center in Mönchengladbach called Minto early next year. That means we are focusing on a continuous concentration on strong sites in cities and we want to grow even further. We will develop or buy new additional centers that fall within our criteria. By that, I mean centers with a GLA of more than 40,000 sq m and a catchment area of more than 400,000 people within half an hour, with the ultimate aim of attracting seven million visitors annually. Finally, the third and most important topic within our collaboration with Unibail-Rodamco is that ultimately, it is the customers who gain from our efforts. Of course, the development must respect our strong financial targets.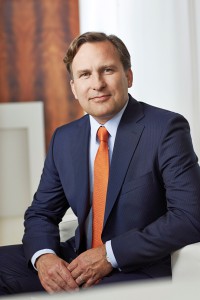 KARL REINITZHUBER, Co-CEO of mfi AG, IMAGE: MFI
ACROSS: WHAT DO YOU MEAN BY THAT EXACTLY?
REINITZHUBER: I mean innovations by Unibail-Rodamco that move us forward. One suitable example for that is the 4-star concept that we implemented in the Pasing Arcaden earlier this year. It is about transferring the service quality of 4-star hotels to shopping centers using over 600 criteria. We take each and every aspect of guests' visits to our centers into account — even before they arrive at the center. It starts out with digitally preparing for the visit to the shopping center from home, via a clear and easy-to-understand guidance system to the center, to trained, uniformed employees who welcome them warmly upon arrival. They then have the possibility of borrowing things like trolleys, wheelchairs, chargers, and umbrellas. Carefully designed storage facilities allow visitors to walk un-encumbered through the center. There is also a charging station for e-bikes, cars, and much more. I cannot list all 684 points here. But the focus of the 4-star concept clearly comes down to service and quality. We also place strong emphasis on our foodservice offer, especially in the Pasing Arcaden. Shopping centers today are not just places where people go to buy things and retailers cluster to sell them. They are places where people want to spend their quality time together. In Palais Vest, for example, 10% of the entire center is reserved for foodservice. There are 24 different restaurants catering to every taste, budget, and amount of time available. We learned this level of service quality from Unibail-Rodamco and we now want to make it available to our German customers.
ACROSS: WILL THE MFI AG CHANGE ITS NAME OR MOVE INTO NEW MARKETS AS A RESULT OF UNIBAIL-RODAMCO'S PURCHASE?
REINITZHUBER: At the moment, we have no plans to change our company name. We are part of the Unibail-Rodamco Group. The name is not important. Our focus is on branding and the market presence of our shopping centers. We follow the Unibail-Rodamco strategy completely in that regard. We also have a very clear mandate within the group: we focus on large German cities.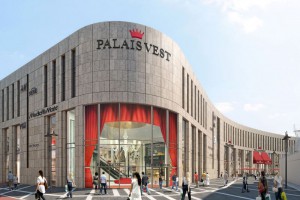 Recently opened by mfi: Palais Vest in Recklinghausen. IMAGE: MFI
ACROSS: MANY COMPANIES IN THE INDUSTRY ARE SHRINKING THEIR DEVELOPMENT DEPARTMENTS. HOW DO THINGS AT MFI LOOK IN THIS REGARD? ARE YOU PLANNING STRATEGIC CHANGES?
REINITZHUBER: No. Our strategy for strengthening our portfolio has three clear pillars. One is the project development of green or brownfield assets. The second is investment: purchasing existing shopping centers sharing strong value. We give both the same emphasis. We took an important step on the investment side by purchasing the center in Oberhausen. Our development pipeline is equally robust, however, as seen with the recent opening of Palais Vest in Recklinghausen and an upcoming opening in Mönchengladbach. Our next project is Oskar in Osnabrück. We also have further development projects in the works. Thirdly, we also focus on improving and extending our existing shopping centers (Ruhr Park Bochum, Gropius Passagen).
ACROSS: YOU MENTIONED THE IMMINENT OPENING IN MÖNCHENGLADBACH. WHAT IS SPECIAL ABOUT MINTO?
REINITZHUBER: Our cooperation with Unibail-Rodamco will again be quite obvious in Minto. The main innovations and spirit will also be noticeable for visitors to the center. This begins with the positioning of the shopping center. Minto is the "Home of 5 Senses." We want to give visitors a multi-sensory experience and this plays a particularly important role at the center. It is reflected in special facade designs, for example. The facades are made of leather, crystal, and even natural vegetation. Foodservice of course has a large share here, as well. The location of the center on a hill in the city of Mönchengladbach is also special. This means there are three levels that are directly accessible from the outside. We thus have three ground floors in this center.
ACROSS: THE GLOBAL ECONOMY HAS REPEATEDLY BEEN RACKED BY CRISES IN THE LAST FEW YEARS. LEHMAN, THE HOUSING CRISIS, A FINANCIAL CRISIS, A CURRENCY CRISIS … WHAT CHALLENGES IS THE SHOPPING CENTER INDUSTRY CURRENTLY FACING? HOW DIFFICULT IS IT TO DEVELOP A SHOPPING CENTER IN GERMANY AT THE MOMENT?
REINITZHUBER: Problems are always opportunities as well. That is our strategic approach. It is true that some players in project development have been eliminated from the market in recent years. But that also provides a good basis for further project -developments in Germany. Another issue is online retailing, which is the dominant mega-trend in the business. We are positioned to be the winner in these market changes. Focusing on dominant and differentiated shopping centers in cities ultimately leads to creating the most attractive shopping centers for customers. Simultaneously, premium retailers and national and international retail brands focus their expansions on the best sites. There will also be further cross-linking between online and offline. A sample buzzword here is "showcasing," wherein traders open high-quality, image-building stores in major shopping centers. They do this also to provide a space in which people can experience something. This is the aim of Unibail-Rodamco's strategy.
ACROSS: YOU SAID YOU WANT TO GROW THROUGH ACQUISITIONS. ARE YOU CON-SIDERING MIXING UP THE PORTFOLIO? IN OTHER WORDS, ARE THERE PLANS TO SELL ANY CENTERS AND, IF SO, WHICH ONES?
REINITZHUBER: If we have created value in a center and solid growth rates are not achievable, we can well imagine letting go of it. We are in a phase of expansion in Germany but only respecting our financial discipline, however. The acquisition of Centro and the numerous identified projects on our existing portfolio have already allowed to reach a critical size on the German market.
ACROSS: REFURBISHMENT IS THE MAIN TOPIC FOR MANY INDUSTRY PLAYERS. HOW ARE YOU HANDLING IT? HOW OFTEN DO YOU REFURBISH YOUR CENTERS?
REINITZHUBER: We are currently working on applying a level of quality and innovation consistent with Unibail-Rodamco's vision throughout our portfolio. That means we have a number of ongoing projects. The next phase of construction in Ruhr-Park, for example, or Gropius Passagen in Berlin, which is being made more attractive with an investment in the hundreds of millions. We will also continue to invest in the quality of the Paunsdorf Center. The entire portfolio is currently undergoing intensive refurbishment. Generally, we do not tend to think in terms of refurbishment cycles. We instead see constant possibilities for redesign and retenanting, which consequently lead to an improvement in the quality of stay and the customer experience. Our strength is our international ability to attract the best international brands and premium retailers (e.g. "Nature & Découvert", Reserved, Kiko).