ACROSS: What is the De Vlier Retail Development concept?
PETER DE ROO: The "Frunpark" umbrella brand is used for our projects. "Frun" was launched in 2000 – 19 years ago. It represents the combination of two terms, specifically, "Run Shopping" and "Fun Shopping". The term "Frun" means "When Run Shopping Becomes Fun". "Run Shopping" refers to the fact that retail parks emerged as a result of customers' desire to be able to buy products at large-scale stores beyond what was available at shops located in city centers. One such example was sneakers that children needed for school. At that time, people were willing to go for quick trips to certain shops in order to buy such shoes at reasonable prices. As a result of that necessity, numerous retail park concepts emerged in the 1980s, 1990s, and early 2000s. Before that time, stores like those were planned on an individual basis.In the 1970s, we were one of the first developers of independent retail parks in Belgium and France – even before the "Run" concept was introduced.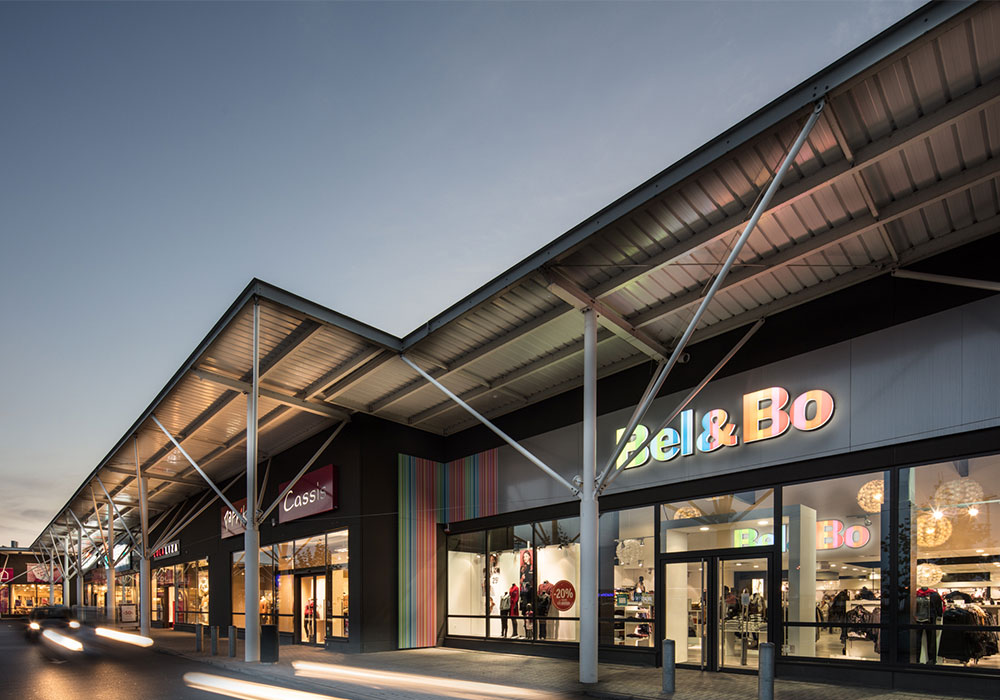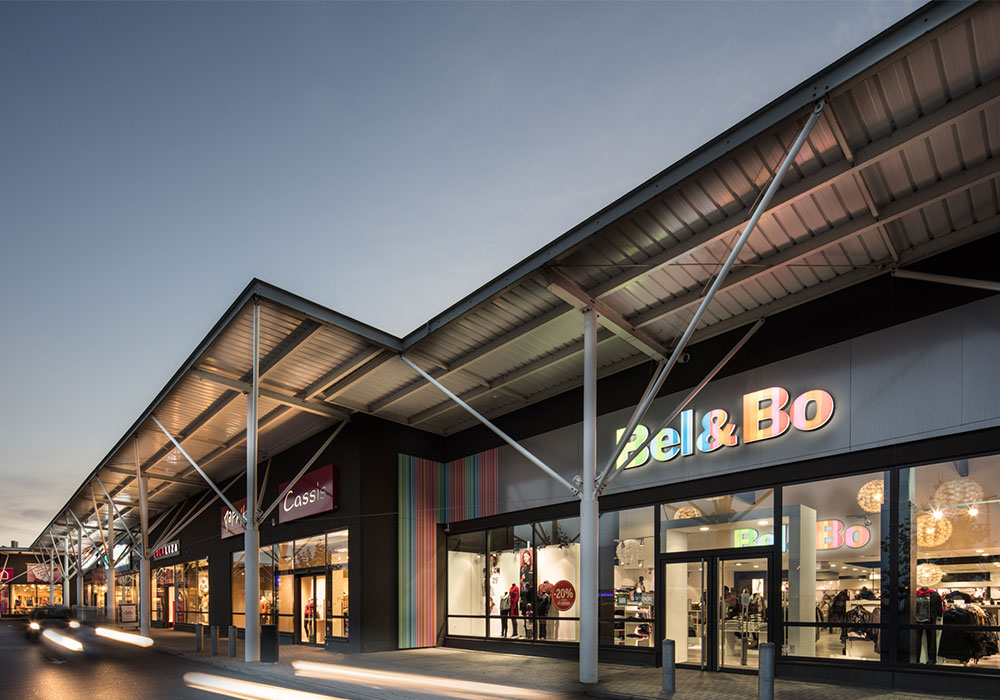 ACROSS: How did that happen?
DE ROO: We felt compelled to do something completely new. That is what led to the development of our clusters. The "Run Shopping" concept enabled us to connect two to four shops via a shared parking area. In 2000, we created the first large retail park in Arlon, which featured 34,000 sq m of leasable space, right on the Luxembourg border. It was the first retail park of its size in Belgium and northern Europe. A total of 37 shops cover the 34,000-square-meter area. During the process, the name "Frun" was created. It served as a fusion of "run shopping" and activities or, more precisely, "fun". In other words, we incorporated marketing into our properties, including various advertising measures, children's entertainment, etc. After all, "When Run Shopping becomes Fun", it's about more than just shopping.
ACROSS: When did you enter the Austrian market?
DE ROO: Our first Frunpark in Austria, located in Asten, opened in 2013. Things were not easy for us back then. In Belgium, the umbrella brand was well known; "Frun" translated quite well there, as it also did in France. In German, however, the term proved difficult to understand. We used radio spots to explain it in a playful way. Soon thereafter, Frunpark in Asten landed a place in the Austrian market. These days, it is very successful. All of the tenants are quite content.
ACROSS: Belgium and France are culturally and linguistically related. Why was Austria selected as the following market?
DE ROO: That is a good question. We conducted preliminary research on several countries: Spain, Italy, Greece, Switzerland, and Austria. We discovered that the history of retail trade in Austria shared a common basis with that of Belgium. The sales areas in the two countries are comparable in size. France, on the other hand, has much larger sales areas. Access roads to city centers, to which people commute to work, are also similar in Austria and Belgium. In addition, a large number of the tenants that operate in Austria are also present in Belgium. Those were the primary reasons we ventured into the Austrian market, drawing upon our 40 years of experience. Incidentally, the approval procedure there was more straightforward than in Belgium.
Credit: Frunpark Asten
ACROSS: How many Frunparks are in operation at the moment?
DE ROO: There is one in Asten in Austria, there are five in Belgium, and there are five in France. Furthermore, two Frunparks are under construction in France, as are three in Belgium and one in Austria.
ACROSS: You are one of the few players to operate retail parks under an umbrella brand. What makes a Frunpark a Frunpark?
DE ROO: All of our tenants are aware that we always offer a similar tenant mix. First of all, a grocery store that perfectly complements the shopping area can always be found. Second of all, clothing, shoes, deco, and leisure are a must. Our customers know that they will find more than 20 shops, with available parking, that can be reached via good street connections – not to mention the fact that our prices are lower than those that can be found at most shopping centers. We also measure footfall on a daily basis, which is how we know the number of cars that are parked in our parking areas every day. Thanks to these values, we are able to compare our Frunparks with each other.
ACROSS: How are your locations chosen?
DE ROO: Firstly, the catchment area is an important factor. Potential customers have to be present in the area. However, our focus is not on big cities. Therefore, you won't be able to find us in Vienna, Paris, or Brussels. The markets in those cities are already saturated. Instead, we concentrate our efforts on secondary cities in which a great deal of space is still available – on the streets down which people drive home after work. Secondly, the plots have to be situated in areas that are highly visible. Furthermore, good accessibility is required; in other words, federal roads, consisting of two to four lanes, provide an important starting point for us. In addition, monthly meetings are conducted with a number of tenants to gain a better understanding of where they are planning further expansions. These discussions do not solely concern our choice of location. In fact, we generally engage in intensive communication with our tenants and with our customers. They are important partners for us.
ACROSS: Do your tenants grow with you and vice versa?
DE ROO: Yes.
ACROSS: The Frunpark in Belgium is the largest at 34,000 sq m. What are the general dimensions of a Frunpark?
DE ROO: The size depends on the catchment area. For 100,000 people, we estimate an area of approximately 18,000 sq m to 20,000 sq m. A shop measures an average of 1,000 sq m, whereas food discounters can cover 2,000 sq m and clothing stores 700 sq m to 800 sq m. Generally speaking, our Frunparks measure 15,000 sq m. In Perpignan at the Spanish border in southern France, our facility covers 23,000 sq m, which is larger than average. In Hazebrouck et Fourmies in the north of France, our property only measures 10,000 sq m. A larger facility in this region is neither desirable nor interesting. We always commission market studies in advance, using two separate agencies. Ultimately, the aim is to ensure cost-effectiveness. It is not just a matter of a gut feeling, which, of course, is also important.
ACROSS: You stated earlier that your tenants know what to expect when they rent space at a Frunpark and that they grow with you. What are some of the other advantages of operating retail parks under an umbrella brand?
DE ROO: We are the first retail park concept to transparently communicate with its tenants regarding turnover. This is a completely new approach. Our tenants were not used to sharing their figures with us. This is of particular interest to us as we also invest in marketing. This concept, too, is a novelty for retail parks. It was previously customary for tenants to pay for rent as well as all marketing and advertising costs. We embrace an alternative approach. As I mentioned a moment ago, we also pay parts of advertising and marketing services now. Our motivation for doing so lies in the fact that we regard our tenants as our partners. These partnerships form the basis of our shared future. Based on our experience, we have found that many of our tenants perform quite well at our Frunparks due to the fact that we do not only think of ourselves as a solitary owner. We think and act as partners. This is a completely new approach in the retail park sector.Our advantage is that, with regard to advertising and marketing, we can discuss several locations at the same time, because the measures can also be implemented across several locations or projects. From an economic point of view, it is clear that the larger the distribution base, the greater the profitability potential. When Belgians are on holiday in southern France, for example, they can shop there as usual.
ACROSS: Retail parks have experienced tremendous appreciation over the past decade. Professionalization has progressed significantly. How do you assess market saturation? Is there anything else that can be built in France, Belgium, and Austria?
DE ROO: In Belgium, 10 to 15 additional retail parks can still be built, in France, 20 to 30 or more, and in Austria, three or four. We are pleased to see that retail park developments have generally become more professional. We are well aware that this is an investor's market. The difference between us and our competitors is that we plan and maintain our projects over the long run. That really matters to me.
ACROSS: What is your long-term goal?
DE ROO: Within the next 10 years, we will have completed 10 to 15 additional developments. Obtaining various permits is an important issue for us. Most of our time goes into the approval process due to the fact that it has become more and more complex.
ACROSS: Do you intend to continue to focus your efforts on the retail park segment?
DE ROO: Yes, because this market demands more and more professionalism. Therefore, increased concentration on the market can be expected. This clear focus is of particular value to our team and our company in the course of our daily work. It is difficult to imagine having two or three different concepts and being successful.
ACROSS: In addition, retail parks are not as vulnerable to online competition as shopping malls or high streets.
DE ROO: That's right. Some of our tenants have little or no online presence. Our customers enjoy visiting Frunparks because they can find many reasonably priced shops there, and they can grab a bite to eat or something to drink. They also enjoy meeting other people there. Furthermore, parking is free of charge. In addition to the special activities that we offer beyond our normal activities – for example at Easter time – a good atmosphere is always guaranteed.