Interview with Sebastian Kienert, CFO at MEC, and Christian Schröder, COO at MEC.
By Viktoria Zvachtova & Reinhard Winiwarter
One thing can be said with certainty. Retail parks in particular have proven to be very crisis-proof locations during the pandemic phase. This asset class is one of today's most exciting topics. ACROSS had the opportunity to conduct a detailed interview with the management of MEC (Metro-ECE Center management) on the occasion of its 10th anniversary. It was also very exciting because MEC has been intensively managing this asset class for 10 years and has played a major role in shaping it, especially in Germany.
ACROSS: WHAT MOTIVATED YOU TO FOUND THE MEC TEN YEARS AGO?
CHRISTIAN SCHRÖDER: Ten years go by quickly and I have been an MEC manager from the very beginning. So, it's nice to start by taking a look back at a time like this. The strategic reason why the MEC was founded was relatively obvious. Two well-known players at the time, ECE and Metro Properties, as the real estate subsidiary of Metro AG, were concerned with the question: "How can we develop a joint business based on the assets available in the company? Metro Properties' portfolio consisted of large retail parks and hybrid malls, while ECE contributed real estate expertise in the management of shopping centers. From this, a management company was forged in the form of MEC, which deals specifically with the retail parks asset class.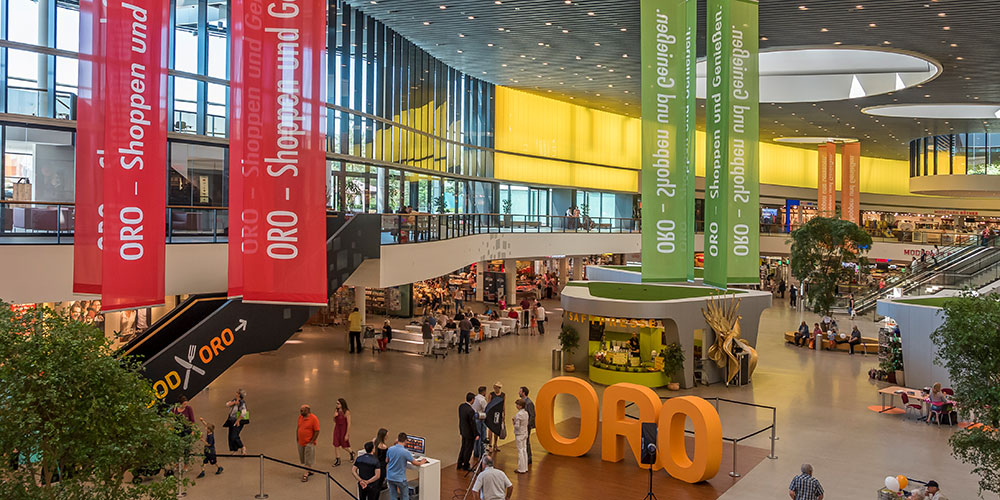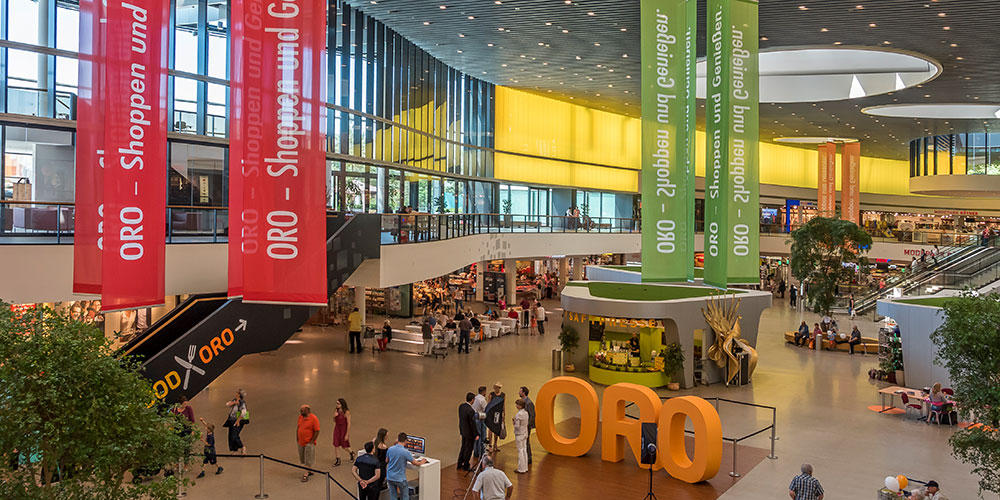 ACROSS: FROM YOUR POINT OF VIEW, WHAT HAS CHANGED MOST IN THE RETAIL PARK ASSET CLASS?
SCHRÖDER: You have to consider this with three perspectives in mind. On the one hand we have the consumer, on the other hand the tenant, and then also the owner. Depending on the perspective from which you look at the property in question, there are different aspects. One important issue is that consumer behavior has evolved. The demand for quality, choice, service orientation, convenience, and availability has increased enormously. Online retail has also permanently changed consumer behavior. If you take a look at the tenant side, you can see enormous developments in the food sector in particular, in terms of goods presentation, the product range, and services. And finally, from an investor's point of view, retail parks in particular have developed from what were originally, let's say, "hidden stars" into very lucrative investments.
ACROSS: MEC HAS BEEN INTENSIVELY INVOLVED WITH RETAIL PARKS FOR 10 YEARS. IS THE COMPANY A PIONEER IN GERMANY?
SEBASTIAN KIENERT: As far as the development possibilities of retail parks are concerned, we had a certain idea or rather a "good feeling" 10 years ago, but in the end the expectations were actually significantly exceeded. It was the right time for this joint venture and a lot has changed since then. The product was not as present in the market at that time. MEC has made a significant contribution to helping establish this asset class and to helping shape the market. Yes–so we also see ourselves as a significant contributor to shaping this asset class in Germany.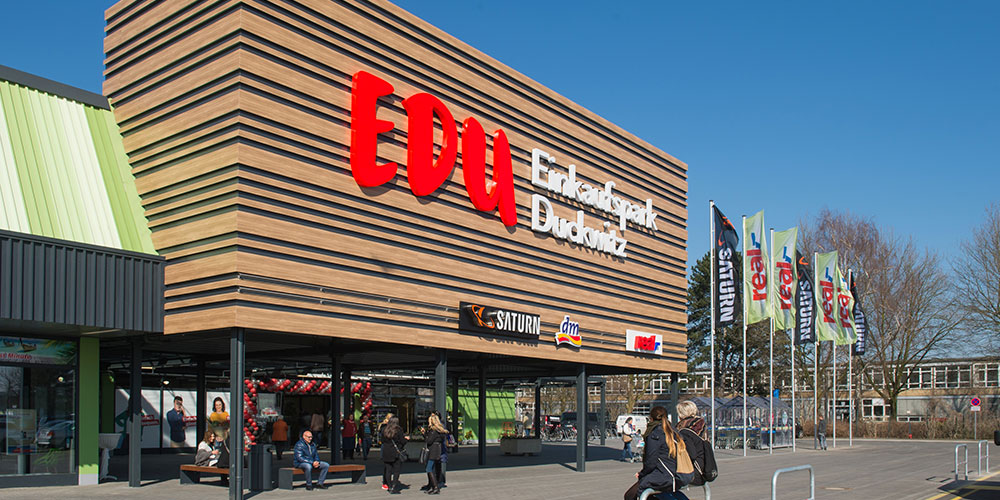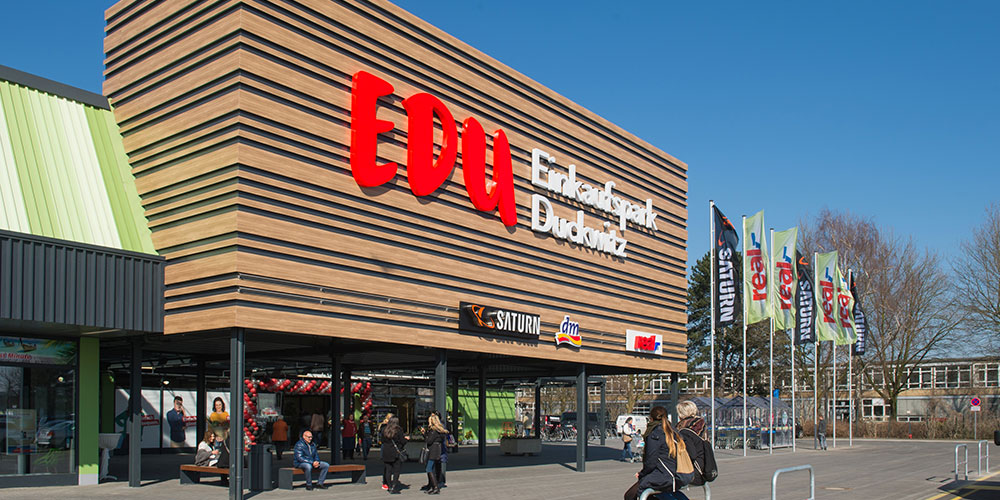 SCHRÖDER: Of course, we don't want to do injustice to the other market players in the segment. There were already well-known companies in the run-up that were very successfully involved in this business segment. But the decisive point is: The entry of ECE and Metro AG into this joint venture has significantly increased attention and perception. This class has also increasingly become the focus of investors, which of course also has very clear economic backgrounds and interests. Their return expectations when investing in specialist stores and retail parks play a key role here.
ACROSS: WHY DID RETAIL PARKS BECOME A TRUE "INVESTORS' DARLING"?
SCHRÖDER: There are two views on this, too. On the one hand, the economic development opportunities, and on the other, simply the question of alternatives. Which channels do I invest in at the end of the day? The subject of "retail parks" has emerged as an attractive alternative. When we started, the first properties were sold at a factor of 14-15. Today, we are at 20-22. That alone shows what positive, economic performance was and is in these properties. In other words, the growing interest has of course significantly increased the sales prices. That was certainly one of the main reasons why people became so aware of this asset class.
KIENERT: In addition, specific uncertainties have then also come into play in other retail classes. If you look at shopping centers, for example, consumer behavior has changed and online retailing is on the rise. That has put pressure on many tenants in shopping centers in particular. Accordingly, the risk has increased, especially for such properties. In this context, retail parks, or hybrid malls, with a strong local supply character are currently much stronger, more crisis-resistant and better anchored in the market. Food retailing in particular and the associated local supply are developing very positively. This is used as a key factor for risk diversification. In this context, retail parks are currently ahead.
ACROSS: WHAT MADE RETAIL PARKS IN PARTICULAR SO STRONG DURING THE PANDEMIC?
SCHRÖDER: The pandemic showed that some of the developments we see today started much earlier. The pandemic was a trend accelerator. Let's take a look at developments in the fashion retail sector in Germany, for example. Not only have we seen stagnation in total sales over the past decade, but ultimately even a decline. Of the total retail sales in 2020 of over 570 billion euros in Germany, around 200 billion euros come from food retailing. This means that food retailing is by far the largest single segment in the retail sector. Food retailing in particular acts as a dominant anchor for retail parks! This makes retail parks so strong. True to the motto "People always eat!", strong food retailers are therefore also strong and stable anchors–and strong food retailers are an important building block for success in all our centers.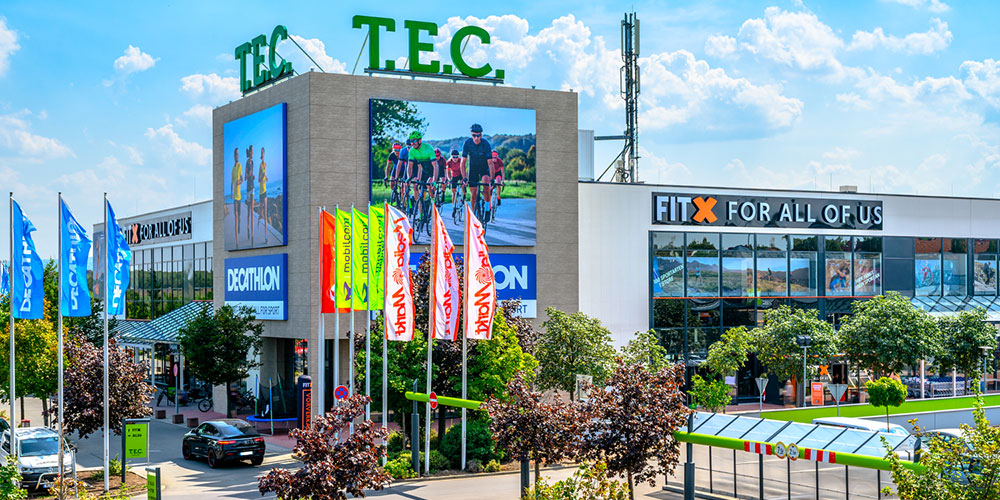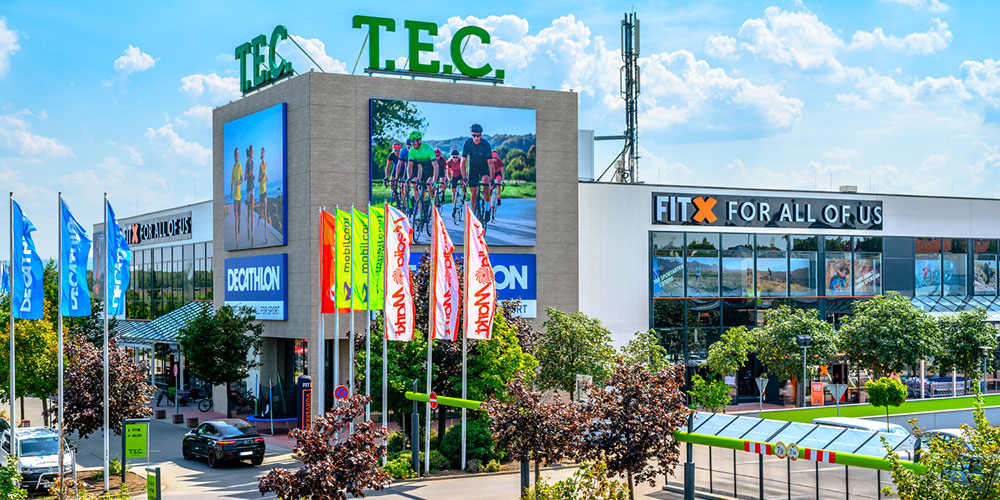 ACROSS: WHAT OR WHO HAS CHANGED RETAIL PARKS THE MOST IN RECENT YEARS?
SCHRÖDER: Customers' expectations of the locations' convenience have risen sharply. In the past, a retail park had a very strong functional focus. Now, additional components are being added, such as quality of stay, service, or even new aspects such as electromobility. Ten years ago, these areas were talked about less or hardly at all. This means that today there is a need to organize properties differently, in a much more customer-oriented way. The customer is therefore the strongest driver of change and further development!
KIENERT: It is also exciting to see that consumer behavior is currently changing as a result of Corona. We are moving away from experiential shopping in the direction of convenience shopping. Attributes such as "good accessibility," "clarity," "cleanliness," and "simplicity" are increasingly moving into the consumers' focus. To sum up: It's all about the good offer for weekly shopping. Demand-oriented shopping is currently very much in focus. But I'm also sure that there will continue to be a desire and need for experiential shopping. It will be a question of clear location positioning in order to be able to serve the various customer needs.
ACROSS: AS CUSTOMER DEMANDS INCREASE, SO DO LOCATION COSTS. ARE RETAIL PARKS SUFFERING FROM THIS DEVELOPMENT?
SCHRÖDER: We see our environment becoming increasingly complex. This results in constantly increasing demands on real estate. We see as our task to position the retail parks we manage as a stable long-term investment for our customers. Consequently, the cost issue is a challenge that has to be considered with customer satisfaction and future investments in mind, and as a challenge that must be overcome. If the goal is to continue to operate a functioning retail property in 2040, then we must also be willing to make the necessary investments.
ACROSS: "MIXED-USE" AND "PLACEMAKING" ARE THE BUZZWORDS OF THE INDUSTRY. DOES THIS APPLY FOR RETAIL PARKS AS WELL?
SCHRÖDER: This topic should clearly be viewed in relation to the location. What opportunities are there at a specific location? It may be that certain areas are no longer in such high demand, e.g. in the fashion sector, because it has become more susceptible to online sales. What do I do with the space then? Why not think about whether topics such as workspace or housing would be more beneficial for the location? As a matter of principle, one should always take a very close look at where overarching development trends are heading and what that means in concrete terms for the respective location. To do this, you need to dovetail various disciplines, such as local management, leasing, location and urban development, and consumer research. Bringing all these disciplines together leads to good solutions. This will also be the challenge of the future for MEC: intelligent, interdisciplinary project development of existing real estate.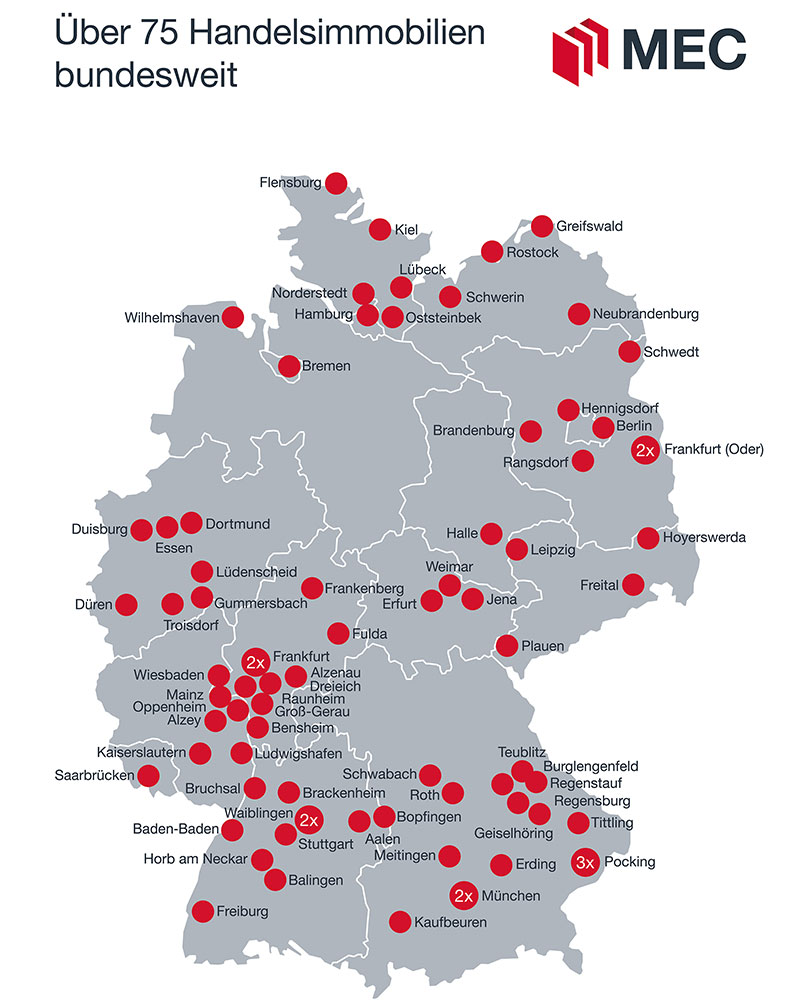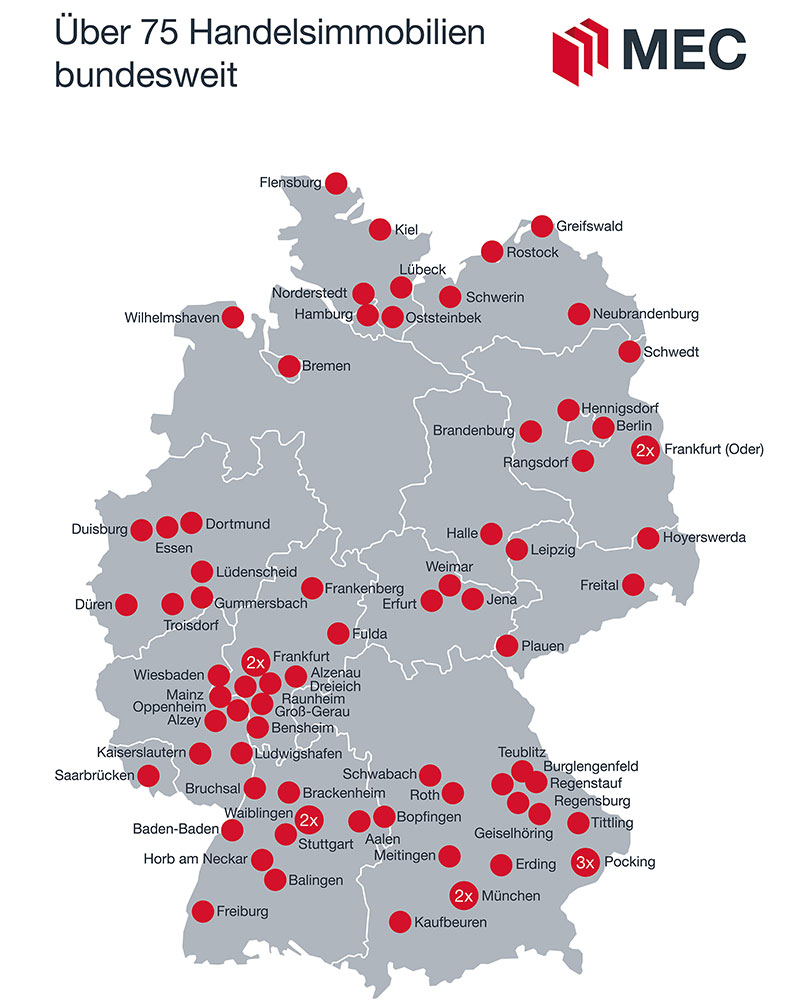 ACROSS: HOW DO INVESTORS FEEL ABOUT THESE "MIXING APPROACHES"?
SCHRÖDER: Investors also see these developments. There is no future in only continuing the past. In the worst case, a vacant property is not a sustainable investment! The use of a property depends on the need. In many cases, this also something to do with investments, or with larger structural changes at the property. In addition to this, there are also many other aspects. Ultimately, it's complex. But with foresight and sustainability in mind, it can definitely be the right decision to think outside the box. From an ecological point of view, an already sealed area does not change if you build further up, for example. It retains the same spatial footprint. If we want to achieve our climate targets, it will of course also require the commitment of investors to work on such solutions.
ACROSS: CONSUMER TREND ONLINE SHOPPING–ARE RETAIL PARKS MORE RESISTANT TO THE ONLINE RETAIL SECTOR?
KIENERT: Due to our industry and tenant mix, we are definitely more resistant. As far as online affinity is concerned, there are strong differences between the sectors. The textile industry is currently having an incredibly hard time in stationary retail; online shares are rising rapidly. It's a different story in food retailing. There is overall growth there; also in the online sector but even more so in stationary retail. That's why our properties with their strong local supply character are also more resistant. For me, this also opens up a discussion about sustainability and the social fabric: Do we really want to order everything online in the future? Or doesn't it perhaps make more sense to support local retail and not order the mailman to come to your home with packaging and plastic several times?
ACROSS: DO YOU USE ONLINE MARKETING TOOLS FOR CUSTOMER RETENTION?
KIENERT: When it comes to apps and the like: no. But we are keeping a close eye on developments. Here, too, the question is what the added value is for the customer. Of course, we operate websites and use social media. This is where the most important information, such as addresses and opening hours and, above all, the offers of our tenants, can be found. These are absolute must-haves and have become the industry standard.
SCHRÖDER: The business as such is, of course, done by the retailers in our almost 80 retail properties. Any retailer who wants to be successful in the future must be able to play on all sales channels. To do this, retailers need the appropriate tools. This is then up to these companies' own marketing. Our task as operators is to ensure that the infrastructure at the location functions perfectly. Tenant have to find everything they need to do their business in the best possible way and that customers can shop comfortably and according to their ideas. That is our primary task.
ACROSS: HOW DO YOU PURSUE MARKETING STRATEGIES AND WHO FUNDS THEM?
SCHRÖDER: A retail park is a product like any other. If I want to communicate a product's advantage, I need the appropriate content and channels. That means we try to establish the sites we operate as a brand. What do you communicate? We have the location advantages of a retail park, such as a wide range of products, uniform opening hours and good functionality. So primarily it's about great reliability for the consumer. The budget required for this is a mixture of tenant financing and owner subsidies.
ACROSS: HOW HAS YOUR SERVICE PORTFOLIO CHANGED OVER THE PAST TEN YEARS?
SCHRÖDER: Today, we claim to be able to provide our customers with services along the entire life cycle of the property. This begins with the purchase of a property, where we provide consulting support as needed. This continues with "state of the art operations" in the operating phase, through to solutions for the need to change the property and support for possible changes in use or the implementation of new concepts. This also includes construction services and project management. Or in the case of a disinvestment, the provision of data rooms up to, in a positive sense, the liquidation of the object in the context of a sale. This holistic approach avoids interfaces. Because every interface means loss of information and communication effort and therefore also economic disadvantages. We are convinced that a large part of our success at the end of the day lies in coordinating different processes in such a way that all the cogs mesh.
ACROSS: WHERE IS THE JOURNEY HEADING? WHERE LIES THE FUTURE OF RETAIL PARKS?
KIENERT: Digitalization is a very important topic. The world will become more and more complex, the requirements will continue to increase. At the same time, we see that investors are under growing pressure due to market conditions, including the impact of Corona. That means our responsibility as operators is to become more and more efficient. That means digitalization in all areas. MEC is investing very heavily in the digitalization of a wide range of areas. Our task and challenge is to "be and remain master of this increasing complexity"!
SCHRÖDER: Demand for retail parks will remain at a high level. We want to further expand our role in this segment. However, company size alone is not the only benchmark. We want to use our expertise to grow through additional mandates and new customer relationships. In the future, we will only be able to meet the multifaceted requirements mentioned above if we have the experience and management know-how gained from managing a large portfolio. In addition, you need a reasonable cost structure and, above all, creativity in the development of properties. The added value of this synergy will be in demand more than ever in the future.
ACROSS: THANK YOU FOR THIS VERY INTERESTING CONVERSATION!