Romanians can look forward to an enviable tax cut, since the country's VAT was reduced from 24% to 20% on January 1, 2016. According to the experts of Cushman & Wakefield in Bucharest, this measure had a positive impact on retail growth which reached 15.2% year-on-year growth in May, following even stronger 19% in April. There are no more current figures available yet. ParkLake, which was opened by Sonae Sierra and Caelum Development on September 1, will most likely benefit from the buying power generated by this tax cut.
The mall with its 70,000 sq m GLA and 200 shops is located directly at Titan Park. Its highlights are pioneering retail concepts as well as an attractive tenant mix which also comprises a leisure and sports activities. Many new brands that were not yet represented on the Romanian market, are now available at the new center. These brands include Forever 21, Play Park, Lanidor, Lynne, and 4F.
97% of its GLA is already let
The international gastronomic options comprising restaurants and cafés are located in the large foodcourt with its spacious outdoor terrace, where brands like KFC, Pizza Hut, Paul, Wu Xing, Brioche Dorée, Starbucks, Gloria Jean's Coffees, K-Grill, Oro Torso, Bistrot Du Paris, La Cerdac, Chopstix, and SaladBox are represented. The foodcourt's extraordinary design makes it an attractive lounge area that offers a wonderful view over Titan Park from its terrace.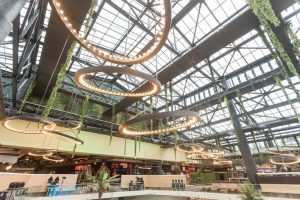 Sonae Sierra and Caelum Development invested €180 million in ParkLake's development. Over 97% of its GLA is already let. The negotiations regarding the letting of the remaining areas are already at an advanced stage. The opening directly created approximately 2,000 jobs. The center has 2,450 parking spaces and is well connected to the public transport network. There are also cycle paths that lead directly to the mall.
Ingo Nissen, Sonae Sierra's managing director responsible for development in Romania, summarizes: "ParkLake is our first project development in Romania. We are also setting international standards with this project. The shopping center combines areas including shopping, nature, and family in a unique way in Bucharest. You also find sports activities, entertainment for kids, events as well as relaxation areas – all under one roof. And all of that right next to the beautiful Titan Park."