Located on top of the world's number one music, entertainment and leisure venue, visitors can reunite with their family and friends for a 90-minute outdoor climb, enjoying a fun day out whilst experiencing panoramic views of the capital. Led by expert guides with extensive training and local knowledge, a range of climbs will be available including; daytime, twilight, sunset and celebration climbs including a glass of Lanson Champagne on the world famous roof.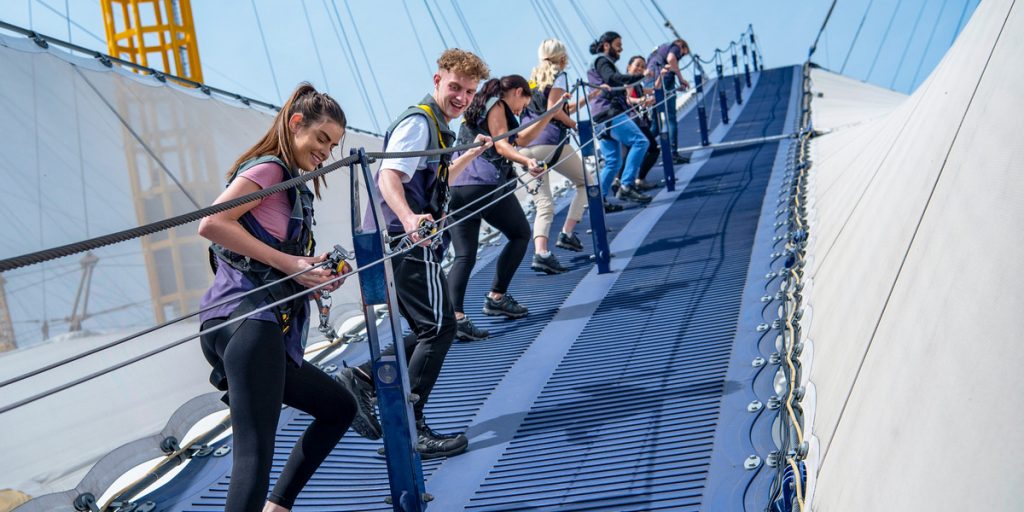 Dan Hurst, Head of Attractions – Up at The O2 said: "We are very much looking forward to welcoming visitors back to Up at The O2 and our experienced team have been working hard to ensure this can be achieved safely. While health and safety is our top priority, we are fortunate as an outdoor attraction that we are now in a position to start welcoming back visitors whilst offering them a more memorable experience than ever before."
Barrie Kelly, Chief Executive – Visit Greenwich also commented: "I'm delighted that the Greenwich recovery has now taken a significant step forward with the reopening of the unique and brilliant attraction Up at The O2 on Greenwich Peninsula. With Thames Clippers now operating on the river, visitors can get to Greenwich in fresh open space, shop at the recently reopened Icon Outlet at The O2 and enjoy a range of world class attractions along the river front."
NHS training staff who worked within the NHS Training Facility at The O2 arena during the pandemic have been invited back to the venue on Thursday 2 July to enjoy a free climb ahead of the general public reopening.
Visitors to Up at The O2 can access up to four hours free-parking with a valid climb ticket and those wishing to avoid the roads are encouraged to use the Thames Clippers River Bus service which travels from central London to North Greenwich Pier.