umdasch The Store Makers is one of the leading shopfitting companies in Europe. With 20 branch locations in Europe and the Middle East, umdasch and its four operative divisions – Lifestyle Retail, Food Retail, Premium Retail, and Digital Retail – execute over 7,000 shopfitting and 100 general contracting projects every year. Its service portfolio includes six areas of competence: Consulting & Value Engineering, Project Management, General Contracting, Shop Equipment, Digital Retail, and Shop Academy.
umdasch's experts complete work on your entire store – from store planning and the development of the shop concept to the implementation of the interior – with general contracting included. The company combines traditional shopfitting with digital components to provide a unique and future-oriented shopping experience – everything from a single source.


With its own production facilities, together with a global sourcing network, umdasch The Store Makers carry out individual projects, of whatever kind or size, from an individual project to a rollout. umdasch's customers include luxury department stores Harrods and Selfridges, customer experience stores for Victoria & Albert and Tate Modern, flagship stores for Ferrari and L.K. Bennett, as well as rollouts for Rewe, Spar, Audi, Khaadi, and many more.
A Family-owned Company
Together with its sister companies Doka and Umdasch Group Ventures, umdasch The Store Makers belongs to the Umdasch Group – a globally active company with annual revenues of EUR 1.4 billion and more than 8,100 employees at over 180 branches in 70 countries. The headquarters of the family-owned company has been located in Amstetten, Austria, for 150 years.
From November 14 to 16, 2018, umdasch The Store Makers will present its service portfolio at Mapic in Cannes, France. Within a cozy atmosphere, investors, customers, and retailers will be able to engage in inspirational discussions with umdasch's top management and talk about future retail concepts, exciting trends, and challenging technologies in the retail sector.
---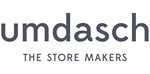 umdasch The Store Makers at Mapic
Hall Riviera 8
Booth R8, B15

Contact: mapic@umdasch.com
---
Sign up for our ACROSS Newsletter. Subscribe to ACROSS Magazine.