The downward movement of Ukraine's macroeconomic situation in Ukraine in 2014 and the first half of 2015 did not help the performance of the retail real estate market. According to UTG, the result is that this segment was characterized by the following tendencies in the first half of 2015: slipping timelines for commissioning new retail objects, decreasing rental rates, and increasing vacancies. Market players are trying to get used to new realities and work out a new strategy for further operation. Positive trends in the retail market cannot be observed, however, until the economic situation in the country improves.
Kiev retail real estate market volume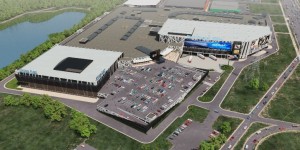 According to ICSC's classification, the total area of shopping malls in Kiev, the capital of Ukraine, excluding retail objects with an area of less than 5,000 sq m and stand-alone super- and hypermarkets, is 1,094,639 sq m. It corresponds to a retail area saturation index of 381.1 sq m per 1,000 people, less than in other European countries.
That is why the commercial real estate market in Ukraine has potential for growth. About 20 shopping mall projects in the capital with a total leasable area of 983,523 sq m are currently being developed and are at various stages of completion (design, construction, construction on hold), possibly opening in 2017-2018. Large-format shopping and entertainment malls are considered to be the key objects for successful development for Ukrainian and foreign retail chains. Getting them into operation will lead to market growth and contribute to the further expansion of international retailers (when the population's well-being improves).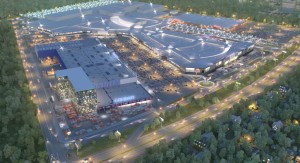 Project development has currently been interrupted, however. Within the first half of 2015, only two objects were set into operation: Doma Center, with 7,000 sq m of GLA, and Novus at 7G Zdolbunovskaya St., with an 8,200-sq-m hypermarket and 5,500 sq m of retail space. As a result, the total market supply of professional retail spaces in Kiev is about 1,094,639 sq m, a 2% increase. By the end of 2015, two additional malls will open: a neighborhood shopping and entertainment mall New Way, located at the intersection of Verbitskogo St./Trostyanetskaya St. and boasting 16,200 sq m of GLA, and a shopping center at 6 Murmanskaya St. with 7,000 sq m. The following objects are set to open in 2016: Retroville, Podol Mall, TsUM, a shopping center at Pochtovaya Square, and the new-generation shopping and entertainment malls Respublika, with 135,000 sq m of GLA, Lavina Mall, with 142,000 sq m of GLA, Blockbuster Mall, with 142,000 sq m of GLA, adding total leasable area of about 496,579 sq m.
Rental rates and demand
Due to Ukraine's economic and political situation, particularly the devaluation of its national currency, the retail real estate segment has experienced significant challenges. First of all, consumption volumes have fallen, which has negatively influenced retail turnover. As a result, most chains have reconsidered their development plans and reduced the number of stores. There has also been a reduction in active tenants from 1000 to less than 100 and a slowing of the pace at which new operators have been entering the market.
The aforementioned negative tendencies affect rental rates and retail objects' vacancy. In 2014-2015, rental rates have decreased by 30-70% and vacancies have risen from 2% to 7.5%. According to results from the first half of 2015, the average rental rate for a fashion gallery (with the area 100-200 m2) in a Kiev shopping mall is $28.60 (€25.30)/sq m/month net of VAT, which is 35% less than in the same period in 2014.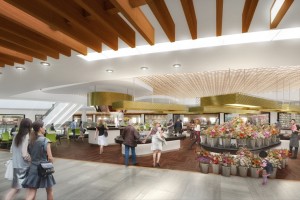 Despite all these negative aspects, UTG has observed a positive tendency and retail market revival. Within the first half of 2015, four new brands entered the Ukrainian market, including Ukrainian companies, pointing at development. It is also worth mentioning that three well-known foreign brands have returned: Bosco, Marella, and Marina Rinaldi, which folded their operations in the end of 2014, but re-introduced their stores in the middle of 2015. Apart from that, negotiations are continuously being held with huge international operators (Ikea, H&M, Intersport, Cotton, Defacto, etc.), which have not yet entered the Ukrainian market but that are expected to in 2016, together with the opening of large-scale objects.
Retail migration appears to be another more current tendency. Due to the tense military situation and operations in eastern Ukraine, most operators have ceased their operations in the Donetsk and Lugansk regions and have moved to more favorable ones (Lvov, Kiev).
Market development forecasts
Speaking about Ukraine's commercial real estate market, one can say that it is a tenant market, who can dictate its terms and conditions. Accordingly, retailers are able to get favorable terms. Moreover, a substantial difference between rental payments in new and existing shopping malls exists. US-dollar-pegged rental rates have managed to remain in existing Kiev malls, fixed on a quarterly basis, and the percent from turnover became a compensator of falling rental rates.
Consumer sentiment is gradually recovering, although the fundamentals do not point to rapid growth. Tenants have become quite selective concerning new stores opening due to the drop in income and the absence of debt financing. Retailers have optimized expenses, closed unprofitable stores, and the most progressive chains have invested in marketing. Marketing and promotions appear to be the major factor for shopping malls' successful operation.
For some retail chains, this crisis has meant active development. In particular, new possibilities and niches have appeared for the development and successful operation of Ukrainian manufacturers. Tenants are also moving from street-retail objects to shopping centers.
According to analysts' forecasts, slight growth in rental rates is possible by the end of 2015, resulting from the postponement of this year's supply for the year 2016. There is a solid background for new franchise purchase due to the improving situation in the segment, the availability of perspective spaces, and minimal rental rates. Development of the segment will be connected with the appearance of new brands in the Ukrainian market. On the whole, the situation in the segment will remain stable until the end of the year.
About UTG
UTG, founded in 2001, is the Ukrainian market leader in consultancy, commercialization, and commercial real property management, specializing in support of key commercial projects. The Company ist very well known among clients, the biggest retailers, and business angels. It provides comprehensive solutions that involve professional consultancy in the area of real property marketing. The UTG team has developed a line of innovative products and completed projects that set standards for Ukraine's commercial real property market.