Landsec has welcomed a new addition to the leisure line-up at Bluewater in north Kent with the launch of GraVity, a flagship trampoline park. Situated within the Lower Hall of the shopping center's redeveloped Plaza area, the 2,800 sq m facility opened on December 21, 2017 and has proved extremely popular with guests.
Designed by an in-house team, GraVity features wall-to-wall trampolines and large open play areas for people of all ages and is available to hire for parties and corporate group bookings.
Robert Hardie, Senior Portfolio Manager at Landsec, co-owner and asset manager of Bluewater, said: "We are thrilled to welcome two new innovative leisure concepts as part of the redevelopment of the Plaza. GraVity strengthens Bluewater's unique day-out experience, offering an enhanced variety of memorable activities for guests."
Harvey Jenkinson, co-founder and Chief Executive Officer from GraVity, added: "Bluewater's status as the UK's leading destination for retail and leisure makes it the perfect place for us to launch our flagship trampoline park. Opening our doors in such a prestigious location means we had to develop something truly special, and the park has been finished to the highest possible standard. We are thrilled to have opened our doors and we can safely say GraVity Bluewater is one of the best trampoline parks ever built."
Not just for kids
Trampoline parks seem to be on the rise at the already the booming entertainment facilities in shopping centers. Visitors want to bounce and jump. And now they have more and more opportunities to do it, particularly in British retail properties. The Frenchgate Limited Partnership has announced in mid-January 2018 that the UK's biggest trampoline park operator, Flip Out, has secured a 2,600 sq m site at Frenchgate, Doncaster.
Due to open in the first half of 2018, the unit is split over a 300 sq m ground floor and a 2,300 sq m basement that will include trampolining arena, a café, a kids' trampolining area, plus Flip Out's challenging Ninja Obstacle Course. Further to Frenchgate being the first mall in the north with this type of operator they are also pioneering the first change of use of this kind for a former BHS unit in the UK and Ireland.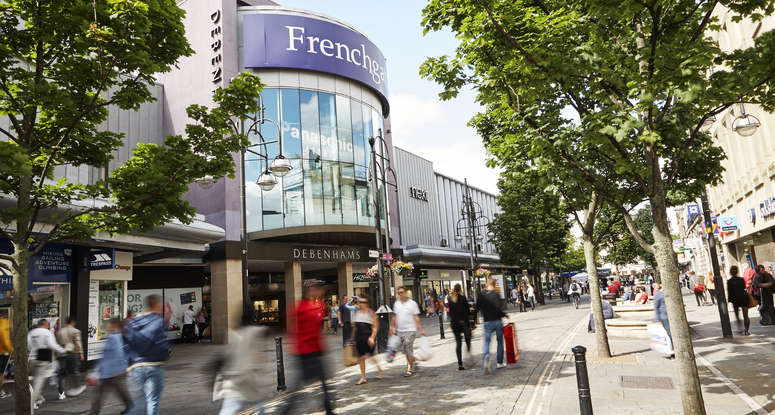 Commenting on the news on behalf of the Frenchgate Limited Partnership, Paul Devlin, said: "It is fantastic that Flip Out will be joining the center and creating a unique and exciting new leisure option for customers across the region. Completing this deal on the former BHS unit demonstrates our innovative and creative approach to leasing space and an asset strategy that is willing to be creative to ensure a high quality mixed offer. Frenchgate continues to further strengthen its position and operate as the area's leading local shopping destination."
Jon Inwards, UK Master Franchise holder at Flip Out, added: "We are thrilled to be expanding Flip Out with our first site in the region. The unique space is perfect for us and allows us to launch the complete range of Flip Out classes and activities that will add something new to the leisure offer in the area. Alongside the great range of retailers and restaurants at Frenchgate, we can fit in as part of an exciting day out for the family and we look forward to opening soon."
Bounce at the I Viali shopping park in Turin
Trampolining entertainment has found its way into Italian malls as well. Since March 2, 2018, can give it a try at the I Viali shopping park in Turin. This is where Bounce opened the country's first indoor trampoline park, supported by Carmila and Carrefour Property Italy. Launched in Australia in 2012, Bounce now has a presence around the world, with no fewer than 25 venues. "We are delighted to welcome Bounce to Nichelino, the brand's first appearance in Italy, bringing fun and pleasure to young people and families from the whole of south Torino and further afield," enthused Dino Serge Gandolfi, Managing Director of Carrefour Property Italy, and Maryse Beucher, Managing Director of Carmila Italy.
The location that Carmila and Carrefour Property Italy offer to Bounce has been designed as a space that invites people to spend and share their time; there will therefore also be private rooms for birthdays, team building or parties. "Bounce is the perfect complement to the services already available here and will establish I Viali Shopping Park as a modern shopping center in every sense, where, in addition to buying everything your family needs on a daily basis, you will find fun, entertainment and a place that will bring everyone together," explained Dino Serge Gandolfi and Maryse Beucher.
Other countries and operators are about to follow. It seems as though there will be quite a bit of trampolining going on at shopping centers in the near future.
---
Follow @across_magazine on Twitter and @across.magazine.europe on Facebook, sign up for our ACROSS newsletter and subscribe to ACROSS Magazine.
---