Vienna is becoming ever more exciting for international retailers, who increasingly concentrate their interest on prime, high-frequency locations. This is a finding from the latest Retail Market Report by the Viennese Group Otto Immobilien. The growing online trade, which already accounts for 9% of total retail spending in Austria, is an important sales driver. Clothing and electronics were among the strongest segments. In addition to classic online stores, "omni" concepts that connect the stationary business with online sales channels represent a new trend.
Otto Immobilien reckons the level of rents in prime locations in downtown Vienna will remain stable. Demand is still very high in the so-called "Golden H" between Kärntnerstraße, Graben, Kohlmarkt, and the Golden Quarter. "In prime locations, luxury labels are already paying connoisseur's prices of more than €400 per sq m per month, however" said Alexander Fenzl, Head of the Commercial Brokerage team. In secondary city-center locations, prices range between €15 and €200 per sq m per month and in thematically oriented areas of the city, such as around Rudolfsplatz, rents are at a maximum of €30 per sq m per month, albeit rising.
Shopping centers: growth substantially curtailed in Vienna
Since the second half of 2014, approximately 50,000 sq m of additional area came on the market in Greater Vienna. This included, among other things, the expansion of the Auhof Center via a third building section, the shopping mall Citygate, and ÖBB BahnhofCity. The growth in shopping center space in the Austrian capital's metropolitan area has thus slowed substantially. "As far as rents are concerned, Viennese malls in top locations lie in the upper middle portion of the spectrum, about at the level of Berlin, at €1,320 per sq m per year" said Alexander Bosak, Head of Property Research at Otto Immobilien.
 Some interesting new initiatives can be observed in the center of Vienna. A new interior design cluster has established itself under the brand "Interior Design Mile 1010," which extends from Schottenring past Rudolfplatz and through to Morzinplatz. Residents and owners have also teamed up to enliven Herrengasse through a "meeting zone" and other architectural measures. The project is known as "Initiative Herrengasse Plus." Another interesting development in a secondary city-center location is the neighborhood around Wipplingerstraße/Hoher Markt and Judenplatz, where new gastronomy projects have established themselves.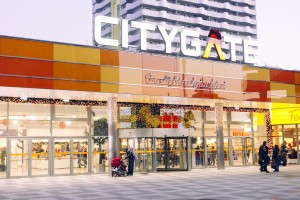 Image: "Citygate": Warburg-HIH Invest Real recently acquired CityGate, home to 55 shops on 20,000 sq m of retail space, opened in Feb., 2015. Credit: Colin Cruz
Affordable luxury as a trend
There's also movement on the refurbishment front. The Ringstrassen Galerien in the heart of Vienna right next to the State Opera is undergoing a comprehensive facelift. The object is already one of the top retail areas in the country. The turnover per square meter has for years been well above the average for Austrian shopping centers. The future Opera Mall Vienna—as it will be called—is positioning itself as "The Home of Affordable Luxury" (see page xy).
One cannot discuss shopping in Vienna without mentioning the 1.8-km-long inner Mariahilfer Straße. By area, it is comparable to the retail space provided by Vienna's city center, but Mariahilfer Straße is a considerably more compact trade destination. Last July, the often fiercely debated reconstruction of the renowned shopping street was opened. Since then, peace has returned.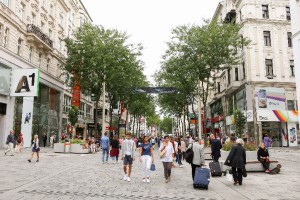 Image: "Mariahilfer Strasse": The prestigious Mariahilfer Straße is re- developed. Credit: Katharina Schiffl
The largest real estate deal ever completed in Vienna
What's happening on the investment side in Vienna? In mid-December 2015, UniCredit Bank Austria announced the completion of its biggest deal of last year, sale of Wien-Mitte complex, including "The Mall," to a consortium led by Morgan Stanley Real Estate Investing. The shopping center has 30,000 sq m of retail space and 50 shops. The contract was signed on October 22 2015. The Parties agreed not to disclose the purchase price. In a press release, however, the bank hailed the "biggest real estate deal ever completed in Vienna." And Hamburg-based company Warburg-HIH Invest Real Estate GmbH recently acquired already mentioned Citygate, within the framework of an asset deal. Vendor was Stumpf group.