ACROSS: How has HMSHost International's business in Europe been affected by the Covid-19 crisis?
WALTER SEIB: The degree to which coronavirus has impacted our industry, and our world, is simply unprecedented. Nearly every person has felt the impact, people have lost loved ones, society has changed, and the world is not as we knew it. HMSHost International sits at the crossroads of the food & beverage and travel industries as around 85% of our business comes from our operations at airports, and, in that sense, we have been doubly hit. We have felt the coronavirus move across our 19 countries with differing timelines and intensities – each one experiencing a drastic drop in travel. People have just stopped moving.
In January 2020, we felt the first tremors of the coronavirus through our operations in China, and the next four months triggered the temporary closure of nearly all of our stores across the world. At some point in March, our revenue dropped to 1.5%, and, as our CFO says, 'No modelling exists for this situation'. As a company, we quickly recognized that the journey to recovery was long-haul, not short-haul, and we saw that we needed to change the way we did business. You could say that the coronavirus accelerated our restructuring; we have become lean and agile, we have shortened decision lines, and we have positioned the company to be ready to scale when recovery comes.
During the crisis we held onto two anchors: preserving cash and preserving the safety and stability of our associates. We left no stone unturned: we tapped into government tax incentives and wage relief programs when renegotiating contracts with landlords, business partners, and suppliers, looking again at our business from both ends to see where we could generate savings. I remain enormously grateful to our network of stakeholders; as part of the industry, we are in the same situation, and it is only through working together – during the good times and the bad – that we are able to keep going. At the same time, we looked to innovation; we created and launched our new 'Your Order Please' digital ordering system, we delivered more than 50,000 successful e-learning modules, we extended one of our most important airport contracts, we tested new service models for our brands, and we opened exciting new stores.
ACROSS: What was the most difficult part?
SEIB: The most difficult part of business, for any business, is making decisions during a crisis. For this particular crisis, there was no playbook, no precedence. 'Tough situations call for tough decisions and tough leaders.' With the world drawing to a standstill our working capacity shrank significantly, and we needed to reduce overheads in all our countries. We lost more than 6,000 associates over that period of time – good people, passionate people, talented people – through no fault of their own. That was one of the most difficult parts of our journey, which pains me to this day. That is why we continue to do everything we can to preserve as many jobs as possible.
Through all the turmoil, our associates have been incredible. They have illustrated to me, and to the leaders of our company, the value of working together and their commitment to finding a way through this crisis. Whether working in our stores, working from home, volunteering their time with local charities, or finding ways to support the business while their stores are closed, they have remained loyal to the company. We have kept communication lines open and transparent, asking our people to share their ideas on how we can preserve cash and preserve the safety and security of our associates.
While the coronavirus is in every sense unprecedented, we remain hopeful and optimistic about the future. As a company, we met the challenges presented by September 11, the Global Financial Crisis, and the ash clouds of Iceland's Eyjafjallajökull volcano – each time emerging stronger than before. We learn, we strengthen our relationships, and we build new ones; and while we do not know when recovery will come, when it does, we will be ready to scale with it.
ACROSS: To what extent are your customers returning? Are there differences among the countries in which you are active?
SEIB: While we saw positive signs over the European Summer of flights picking up, with the second wave even stronger than before in some cases, the experts have revised their outlook. For HMSHost International, we expect to see some consistency in increased traveling by the end of Q1 next year. We believe that as countries open up, vaccines become available, and travel becomes possible, people will travel and will return to airport F&B. The signs are strong: In China, domestic travel is at an even higher rate than 2019, and in Europe, we see the same or increased penetration and average cheque among travelers.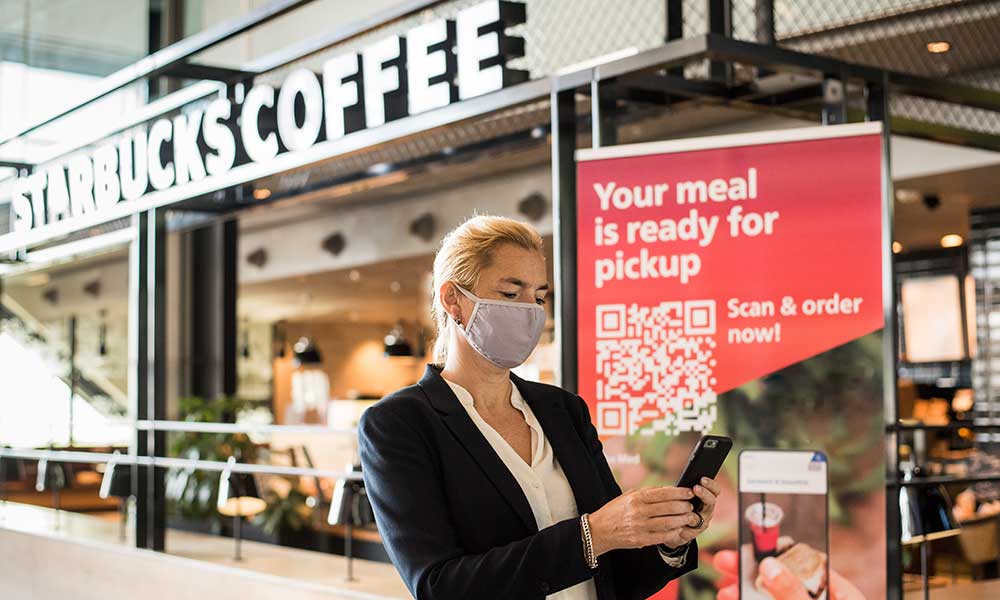 I believe that, for many travelers, the opportunity to travel again – whether for family-related reasons, business, or pleasure – will present such an enhanced sense of 'carpe diem' that their journeys will 'begin' at the airport, and they will take pleasure in spending time at our stores. That sense has been met with genuine enthusiasm from our people. Our associates live and breathe hospitality, making our stores more than pitstops, but places to be, and they are also hopeful about the return of travel.
ACROSS: What safety precautions has HMSHost International had to implement for its customers? How much money has been invested in those measures?
SEIB: As a global operator during the coronavirus crisis, a time in which every country has had its own changing set of measures and support schemes, we have had to embody that familiar phrase, 'think global, act local'. We have divided work across our regions and country offices, focusing our global office on strategy and our local teams on cash flow and operations. We have tailored our global signage and training to include local context. We have reviewed our operations, kitchen flow, and offering, improving the safety of our back of house and reducing touchpoints for our guests.
A common goal that we share with our landlords and business partners is to work together in creating an environment that implements local safety measures while conveying a sense of safety for our associates and guests alike. A great example is one of our café's in New Zealand, which was asked to remain open by the local airport authority in order to meet repatriated New Zealanders. Our incredible team stepped up in the face of uncertainty and took pleasure in welcoming returning New Zealanders while the rest of the country was in lockdown.
ACROSS: When do you expect the situation normalize?
SEIB: A lot of people have asked that question, and I always tell them the same thing: I do not have a crystal ball. Nobody does. The coronavirus has been a total game changer, and the whole world is still scrambling for a playbook. Will things ever really return to the way they were before? I do not have all the answers. I can tell you, however, that I strongly believe that we are in a business that is future proof, and recovery will come to travel. Most importantly, this crisis has shown me that human beings were not created to be alone. Wherever you are in the world, whatever you are contributing to business or society, you have to keep those around you in mind. Take time to reach out and check in – to support one another. The only way through the coronavirus crisis is by working together and taking care of the people around you.
ACROSS: Do you have any advice for other entrepreneurs with regard to the latest tricks and ideas or practical solutions for operating right now?
SEIB: As I have mentioned before, there is no playbook for this situation, but there are a few tips and tricks that I have picked up along the way. Firstly, look at the details of your business. Consider reducing menus, or the complexity of menus, and the operating hours. Investigate cashless options and how you can minimize the number of touchpoints for your guests. Our 'Your Order Please' platform has been accelerated by the coronavirus and presents advantages for our landlords globally. Secondly, do not take anything for granted. Take another look at your business to pinpoint efficiencies and areas of improvement, and work on those things. Consider the fact that the crisis has impacted the entire length of the value chain, and understand the value in working together with our suppliers to support each other at this time. Re-examine fixed costs in your P&L, and open up discussions with stakeholders on changes to the business cases that guided the original agreements. Thirdly, and most importantly, be honest and transparent with your associates, works councils, stakeholders, business partners, landlords, and all parties involved. The truth is that, while it may not always be easy and pleasant, it is appreciated and respected. If you have hidden agendas, trust and respect will be lost, and once those things have been lost, they will be nearly impossible to regain. I would just like to conclude with one of my most frequently used sayings: 'The road to success is always under construction.'