By Jens Siegfried
The ability of diverse, mixed-use schemes to respond and adapt quickly to social and economic changes gives them a great advantage over inflexible, single-use developments such as retail-dominated shopping centers and high streets. They also provide socially and economically sustainable and active spaces in which people want to spend their time, whereas retail-dominated urban centers are becoming hollowed out as a result of online competition and other factors.
When rethinking our urban centers, it is very important to design for context, particularly the surrounding architectural heritage. Whenever we design for a place with a strong architectural heritage, we avoid creating a pastiche; rather, we seek to blend and complement, with everything we create designed to be flexible as well as socially, economically and technologically future-proofed. At City Plaza in Wuppertal in North Rhine-Westphalia, for example, Chapman Taylor sought to mix the old and the new in a way that looks visually attractive and functions well as a whole. In 2014, Wuppertal launched its largest post-war urban renewal project – the redevelopment of the city's run-down railway station district. The busy urban hub is used by tens of thousands of rail and bus passengers every day. Chapman Taylor, together with investor Signature Capital, was chosen to design the area's regeneration.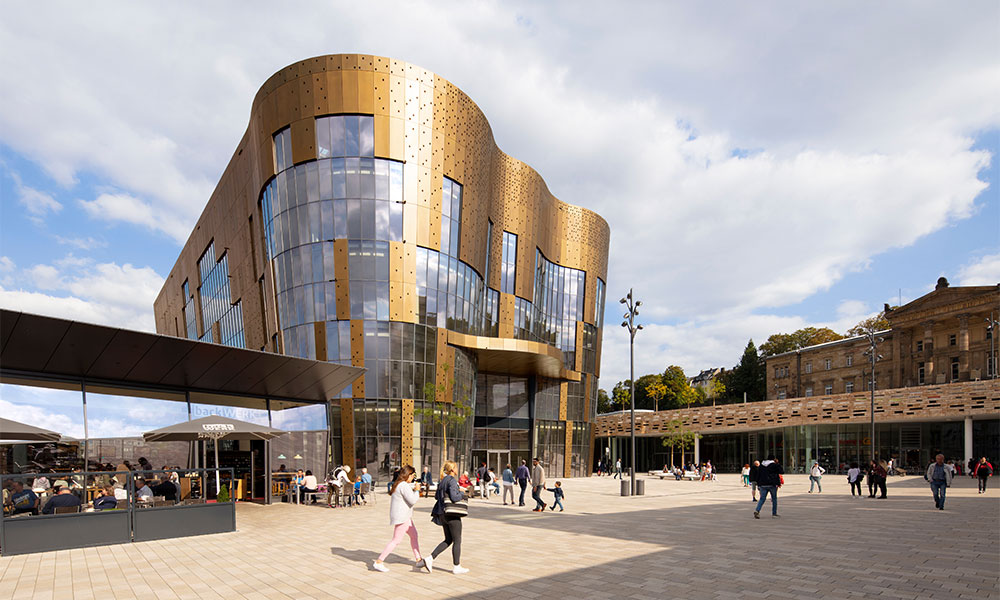 The railway station had been severed from the city center by a dual carriageway, and pedestrians had to walk through an unwelcoming underpass. That highway was lowered by six meters, and a new bridge made of steel and folded glass was built, flanked on both sides by retail/F&B pavilions (now fully leased). The bridge has transformed the pedestrian experience, seamlessly linking the station to the city center. Pedestrians crossing the bridge barely notice the street below. The upgraded square's proportions are now more human in scale, with careful building positioning creating a more intimate feel. Now, people dwell and watch the world go by, or they wander around and explore a space that was previously grubby and functional. We are currently looking at in the upper half of the square, which will create a mixed-use retail, leisure, and hospitality environment at a site that includes the listed railway station as well as two new buildings.
Creation of a Curved "Curtain Wall"
The concept for the centerpiece building drew upon the city's 18th and 19th century textiles boom and the fabrics that were traded. The building's curved facade is clad with brass panels alternating with glass to create a striking, curved "curtain wall". The five solitaire building provides flexible retail space for Primark, with the building's materiality and color helping to lift the entire area's look and feel. The award-winning development is Wuppertal's most important post-war urban development project and has served as a catalyst for further development. The regeneration has transformed Wuppertal's rail gateway experience and has provided the impetus for the city's resurgence.
In Germany, as in other countries, people now want more than just a shopping visit – they want to meet friends, eat, drink, enjoy leisure activities and entertainment, and go home feeling that they have had a memorable day. Therefore, it is vital that we create attractive spaces in which people want to spend several hours, with beautiful landscaping and a wide range of provisions. The mix of uses has to be well-considered, chosen to serve the development's specific context, including the level of demand and the existing provisions in the wider area.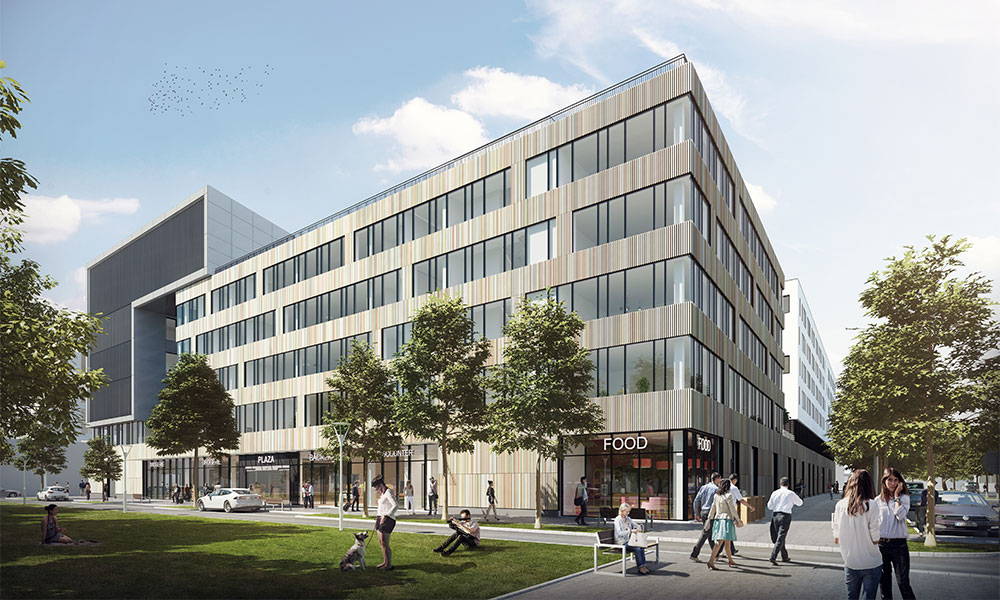 One good example of this can be seen in our design for Plaza Grafinger Strasse, a development carried out by R&S Immobilienmanagement for a new district, located on a 7,340-square-meter former industrial site within Munich's inner ring. The Werksviertel district is being transformed into an attractive area for urban living, working, entertainment, and culture. Shopping space occupies most of the ground floor, while four separate buildings stand on the perimeter, occupied respectively by a hotel, extended-stay apartments, offices, and a fitness and sports medicine center, over which a climbing center cantilevers. A landscaped podium garden occupies the podium rooftop space between the four buildings. The wide mix of uses within the development creates dynamism and vibrancy, allowing the scheme to remain active from morning to night.
Open and Seamlessly Integrated
When designing new urban quarters, a crucial element is the scheme's connectivity to the wider area – the development needs to be open and seamlessly integrated. Enclosed spaces that could be in any town or city in the industrialized world and that make no reference to their contexts are becoming a thing of the past. Our development for Quartier Fünfgassen ("Five Lanes Quarter") covers the 7,055-square-meter site of the former City Passage shopping center in Wiesbaden in Hessen. A number of developers had tried to redevelop the site and failed – it is in an excellent, central location, but it is relatively small and surrounded by existing buildings (some listed). The City of Wiesbaden took over the site and sought ideas about how to develop it in a manner appropriate for its prominent location.
Together with our client, Development Partner, we created a competition-winning design that will open up the area to the public on a 24-hour basis and link the city's prime shopping street with its main traffic artery. New streets and squares will be lined with shops and a high concentration of restaurants, cafés, and bars.
The upper levels will be occupied by a hotel, leisure facilities, and residential units. The 23,000-square-meter GBA above-ground plot will be divided into four blocks, each consisting of six levels, between which public lanes will meet at a new public square. By dividing the scheme into four blocks, we were able to ensure that each complemented the closely adjacent buildings in terms of nature, function and scale. Chapman Taylor's design enhances the existing urban connections and opens up new links to the surrounding area, activating the interior of the city block and ensuring that the quarter blends well with the urban fabric. The new quarter will create a successful, vibrant, and more future-proofed environment.
Chapman Taylor has long advocated the benefits of sustainable, integrated and mixed-use urban regeneration with a well-considered mix of retail, leisure, F&B, residential, office, hospitality, and community functions alongside attractive public spaces and excellent infrastructure. We have designed many schemes in accordance with this approach, creating attractive and sustainable places that people enjoy and in which they can feel a sense of pride.