The Austrian group comprises two core businesses: SIGNA Real Estate and SIGNA Retail. SIGNA Real Estate owns and manages an extensive portfolio of exceptional properties and is seen as a competent partner in fund management and property services. It employs approximately 150 people in this area in four independent business units. These include SIGNA Development Selection, SIGNA Funds, the real estate service provider SIGNA Real Estate Management, and SIGNA Prime Selection, which focuses on the investment and long-term holding of property in prime downtown locations in Europe.
Several retail companies work in parallel under the umbrella of SIGNA Retail. These include KaDeWe Group and Karstadt sports, Karstadt Warenhaus (department store chain), and a joint venture with EATALY Distribuzione. All the companies are led by the experienced department store and retail experts. With over 20,000 employees at more than 100 locations, SIGNA Retail achieves a consolidated turnover of approximately €3 billion per year, making it one of the greats in German retail.
CEO of SIGNA Prime Selection: "Years of experience, professional management, a solid capital base, an extensive network, motivated employees, and the search for visionary concepts are SIGNA's core competencies." Flashback: The focus initially lay on expanding unused attics. This was followed shortly thereafter by the idea of building, renting, and selling health centers in some Austrian provincial capitals. The next steps came in the years 2003 and 2004 with the establishment of a fund provider (Fondshaus) and an investment boutique for institutional investors, which made it possible to open two new locations in Munich and Dusseldorf in addition to the existing offices in Innsbruck and Vienna.
JOURNEYMAN'S PIECE "KAUFHAUS TYROL"
Kaufhaus Tyrol is not only a showcase for urban development in Europe, but is also considered to be the company's journeyman's piece. SIGNA's then 27-year-old founder René Benko began to redevelop the traditional department store in 2004 and created an architecturally valuable and highly frequented mall in the middle of Innsbruck.
MASTERPIECE "GOLDENES QUARTIER"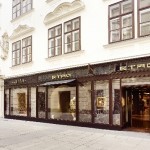 The vision for the "Goldenes Quartier" ("Golden Quarter"), an internationally renowned urban development project, began with the acquisition of two bank headquarters in the center of Vienna in 2007 and 2008. Here you will find new flagship stores from major international luxury brands in the tradition-rich heart of Vienna, with a newly created pedestrian area, modern city offices, and spectacular apartments with stunning views of Vienna. The Goldenes Quartier thus symbolizes unique and holistic urban development with a focus on exclusivity.
"KADEWE" COUP
The next big coup followed in December 2012 when SIGNA acquired the legendary KaDeWe department store in Berlin. The KaDeWe department store is not only THE icon but also the most famous and largest premium department store in continental Europe. It attracts millions of visitors and customers every year. SIGNA now also owns the other two premium stores Alsterhaus and Oberpollinger in Hamburg and Munich.
THE LOGICAL NEXT STEP: GERMAN RETAIL
The sensational acquisitions of the KaDeWe Group (formerly Karstadt Premium Group) and of Karstadt sports, as well as the purchase of the long-established department store chain Karstadt Warenhaus in the years 2013 and 2014, are the most prominent steps in SIGNA's steady development in the field of retail.
FURTHER EXPANSION IN THE RETAIL SECTOR
In order to tap the high growth potential in the premium and luxury segment even more aggressively, SIGNA managed to gain the Italian La Rinascente Group, the leading operator of premium and luxury department stores, as a strategic partner for the KaDeWe Group in 2015. The partners SIGNA Retail and La Rinascente will invest a three-digit million amount in the coming years to further enhance the three premium houses KaDeWe, Alsterhaus, and Oberpollinger.
With the opening of its flagship store in Munich in fall 2015, EATALY Distribuzione and SIGNA Retail brought the successful Eataly concept to Germany, Austria, and German-speaking Switzerland. EATALY and SIGNA first became partners in EATALY Distribution Germany GmbH. EATALY now operates 28 locations worldwide in the USA, Brazil, Dubai, Japan, South Korea, Turkey, and Italy and is one of the fastest-growing and most successful foodservice and retail companies. They plan a joint expansion into at least five other locations in Germany, Austria, and German-speaking Switzerland by 2021.
A summary of SIGNA's most prominent projects
A journey from Tyrol to Vienna and Bavaria and on to Berlin, where the Austrian group has been driving pioneering retail projects at every stop along the way.
 Kaufhaus Tyrol, Innsbruck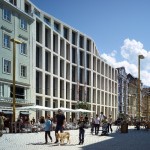 Top architecture by David Chipperfield in beautiful surroundings, a shop segment mix that leaves nothing to be desired, and the infrastructural advantages of a city center location directly on the pedestrian area of Maria-Theresien-Straße all make Kaufhaus Tyrol (www.kaufhaus-tyrol.at) one of the most modern shopping centers in Europe. The exclusive address offers first-class shopping on several floors in about 50 stores, including H&M, Esprit, Lindt, Peek & Cloppenburg, and Saturn. The British cult brand Superdry opened a location there in June 2015. The Spanish fashion chain Massimo Dutti moved into the department store in September 2015. Kaufhaus Tyrol
was chosen by the International Council of Shopping Centers (ICSC) as the best shopping center redevelopment of 2010. By the end of 2015, it had counted 30 million visitors since its opening five years before. Easily reachable thanks to good transport connections, Kaufhaus Tyrol has had a magnetic effect on local residents and guests of the provincial capital. The annual number of visitors is between 5 and 6 million. More info: www.kaufhaus-tyrol.at
Goldenes Quartier, Vienna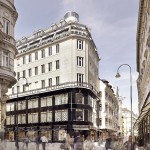 In the heart of Vienna's city center, which is a UNESCO World Heritage Site, one of the oldest areas overall is the Goldenes Quarter. Stylish, Viennese, exclusive, and cosmopolitan, it boasts contemporary architecture in a heritage ambiance. In a unique city-center location in the pedestrian area that extends through the famous streets of Kohlmarkt, Graben, and Kärntnerstraße up to Judenplatz and the palace grounds, visitors can expect an extraordinary shopping experience: 20 international labels are lined up next to each other—the majority of them for the first time—like a pearl necklace. It's more compact than almost any other place in the world.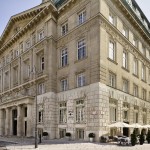 The opening of the luxury hotel Park Hyatt Vienna in 2014 marked the culmination of the establishment of the Goldenes Quarter. After a careful and comprehensive renovation, the architectural jewel of the former corporate headquarters of Bank Austria shines again. In the heart of Vienna's city center, the hotel offers 143 rooms, including 35 suites and a spacious spa, wellness, and fitness area. The former banking hall forms the stage for a spectacular restaurant and bar. More info: www.goldenesquartier.com
Alte Akademie, Munich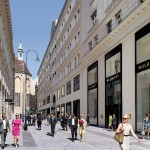 The Alte Akademie in central Munich is a former Jesuit College that was originally designed and built in the 16th century. The architecture is attributed to the Dutch court artist Friedrich Sustris. The sprawling, four-story complex with multiple courtyards was continuously extended by Duke Wilhelm V. The foundation stone of the Michael Church was laid in 1583. A Jesuit monastery campus followed soon thereafter. The building, which is commonly known as the "Wilhelminum," was used intensively by the Jesuits for 200 years for clerical purposes until the order was forbidden by Pope Clement XIV in 1773. The ban was lifted again 40 years later.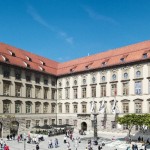 A one-stage international architecture competition is being held in coordination with the City of Munich, whereby the particular focus is placed on its planned mixed-use and the impact on the site's legal monument status and functional and historical contexts. The result will be available in mid-2016 and construction is scheduled for 2017. Through careful restoration and redesign following the high standards of the Vienna's Golden Quarter, the Alte Akademie grants SIGNA another opportunity to offer attractive locations in a distinctive retail ensemble in the heart of an urban pedestrian zone in one of Germany's most sought-after retail locations.
Over the past century, the pedestrian zone between Stachus and Munich's City Hall has established itself as one of Europe's most attractive areas for modern retail. This is also reflected in the fact that it has for many years now had Germany's highest rate of footfall. The Alte Akademie has a 130-meter front right in the middle of that pedestrian area. In addition to the valuable retail stores, office and residential spaces available on the property offer a quiet haven from Neuhauser Strasse despite their central location due to their structural arrangement around the Schmuckhof. A garage under the complex also ensures excellent accessibility and convenience. More info: www.alte-akademie.com
Ku'damm, Berlin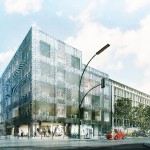 Superbly located on Kurfürstendamm opposite the famous Gedächtniskirche, or Memorial Church, SIGNA is developing the well-known "Wertheim" into a large, inner-city shopping mall. This development provides Berlin with a new highlight right in the heart of the western city. The new shopping center will offer an interesting mix of tenants on more than 70,000 Sq. m of retail space and approximately 230 stores with a wide and colorful range of fashion, accessories, decoration, drugstore products, books, telecommunications, foodservice, and services. In addition to various shops, it will offer an attractive food court and 400 underground parking spaces. Today's tenant Karstadt is a central component of this development project. Two entrances on Kurfürstendamm and as well as ones from Augsburger Strasse and Rankestraße allow direct access to the mall. Construction is scheduled for 2016, with the opening set for the end of 2019. "Ku'damm" has undisputedly established itself as a major location for Berlin retail since German reunification. Measured by pedestrian traffic, it is one of the busiest shopping streets in Germany next to Munich's Neuhauser Straße and Mönckebergstraße in Hamburg. High demand has accordingly brought well-known brands and an increasing number of flagship stores in recent years. These include various luxury labels and well-known retailers like Apple, Bershka, and Uniqlo.