BY JONATHAN DOUGHTY
More value, more freshness, more choice, more locations have all been provided to the grocery customer and, at the same time, there has been a "blurring" of the lines between retail and foodservice in food.
I know sometimes I sound like a broken record, repeating the same thing time and time again, including "food is now everywhere"—well it is, and the changing property landscape has had to adapt to this to provide the hungry community of restaurant operators, hoteliers, café owners, and food sellers with the real estate that they need. A huge increase in GLA and a massive change in the composition of our high streets, town centers, cities, and shopping and retail parks has been the result.
I am not going to talk in this article about the value of the bananas, the chicken, the bread, or the burgers that food retailers and restaurant operators provide, however. Instead, and more importantly, I am going to talk about the value of the property that they occupy. For such an esteemed publication as ACROSS, with a Europe- and world-wide property readership, this seems to be far more relevant and important. What is the real value of food to landlords, developers, and owners?
Well, simplistically, I have separated the "value" into three key areas, which I will deal with, one by one, in this article. These are "Operating Value," "Real Estate Value," and "Driving Value." Bear in mind please that I am a chef, a "cooker," so the language I use is probably not the vocabulary that is favored by my fantastic capital markets colleagues at JLL. All three of these key "value" areas have origins in the foodservice and hotel market, as well as in the property market. So let's explore them and see if I can add some value of my own to the discussion.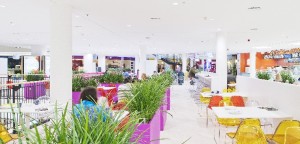 Operating Value
This is an easy one, really, as it is generally understood that having foodservice brings operating values to a project, be it a hotel, shopping center, railway station, airport, or leisure destination. Apart from the obvious benefit of it producing income for tenants, it extends dwell time, changes moods, creates "sticky points" where people like to meet, drives footfall to certain locations, and generally creates "places for people"—by the way, this is a phrase we use in the JLL business now to describe what we do across retail, leisure, office, and foodservice. These values are all acknowledged and pretty well understood and the level of engagement is high with the investor and developer community to use these tools effectively.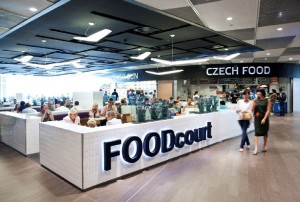 Real Estate Value
The second, and slightly more complex point, is the value that foodservice and hospitality bring to the asset. I have often been amazed at how my JLL colleagues carry out their valuations on retail assets and I have been taking some informal classes to understand the mechanics and language of valuation. I have also got into debate, on more than one occasion, on how the foodservice component is being valued in shopping center assets. In the old days, it was a tiny percentage of the space, and 3 to 5% was easy to value, with the range of unexciting, standard covenant tenants that existed. Then, we started to get asked questions, and to get involved more, on the valuation of retail assets as the foodservice components increased. Now, it is not unusual to find 15% of the GLA as food and our mutual JLL clients want a clear answer on this 15% of the asset. This is proving to be a fast-growing and highly regarded part of what we now do at Coverpoint. Our knowledge of "what's hot," what the long term trends are, good operators, and growing market segments, allows a much more considered and focused valuation to be carried out for clients, paying full regard to the food and beverage component.
Driving Value
On to the last key area, the "driving value." In the same context as the other two points, the food and beverage element of properties is growing. Understanding the value is one thing, but creating value is a whole new ball game. Actually, I don't know why I said "new" ball game, as we have been creating value for our clients for the last 25 years at Coverpoint! I suppose the point I am trying to make is the "joined-up thinking" that is now going on when assets are bought or sold. In the same way that we work on due diligence for the purchase of a foodservice company, we are now working with our clients and JLL colleagues on identifying how to unlock significant value in assets that are changing hands. In some cases, we work for potential purchasers who want to understand the "upside" from food and beverage if they were to purchase the asset and make changes. A lot more work comes on stream from existing clients, however, who also get a clear view from Coverpoint on how the asset can be enhanced "post sale" by appointing JLL to sell their property. This obviously drives interest, gives purchasers clear options for their appraisals, and drives the asset value and sale number for our selling client.
In many ways, this sums up the "added value" that both parties, Coverpoint and JLL, have been able to realize since we joined the family in November 2014. Now that we have a year "under our belts," it is fascinating to see how well we are now working with the various parts of the business in our key market areas. Many of the projects we are now getting to look at show massive potential for upside for the buyer and this is clearly being reflected in the sale price. I really don't profess to be an expert in valuation or capital markets, but our extensive knowledge and collaboration with our wider JLL colleagues allows us to provide unique support for our key clients throughout the EMEA region. The most important thing for me, as a hospitality person, is that our team continues to deliver outstanding value and great experiences to our clients. That's the real value of food.