The Mall of America (MOA), located in Bloomington, Minnesota, south of Minneapolis, is among the most visited shopping malls in the world, with 40 million visitors annually. That's more than Disneyland, the Grand Canyon, and Graceland combined. At its opening in 1992, the MOA had an area of 390,000 square meters and more than 520 stores—including the department stores Bloomingdale's, Macy's, and Nordstrom—and was the largest mall in the United States. The middle of the complex boasts an amusement park with rollercoasters and water slides. Until 2006, the park was called "Camp Snoopy," though it was renamed after negotiations with the licensees of Peanuts by Charles M. Schulz failed. It was then called "The Park of MOA." Since 2008, it has carried the name Nickelodeon Universe. There is also an Underwater World, a 14-screen cinema, a Lego Imagination Center, a dinosaur museum, nightclubs, and a Nascar simulator.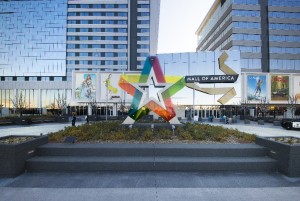 The Mall of America opened in 1992. About 12,000 people work there. It is owned by the Triple Five Group.
Astounding comparisons
The Triple Five Group, which owns MOA, lists a few comparisons to illustrate the giant's size: 7 Yankee stadiums or 32 Boeing 747s could fit inside the shopping center; 258 Statues of Liberty could lie inside of it; if you were to spend just 10 minutes in each store, it would take 86 hours to complete a visit to the mall.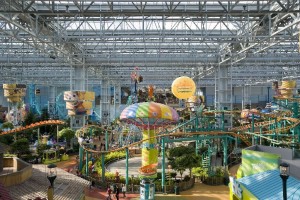 Nickelodeon Universe, large indoor theme park with 27 rides & attractions for guests of all ages.
And the dimensions are set to grow even larger: MOA plans for an additional 520,000 sq m of mixed-use space north of the existing building, in addition to the parking lot on the south side. This phase II is designed like a lifestyle center under glass, with upscale retail, hotel, and entertainment options. It will incorporate natural elements that reflect the region, such as greenery, waterfalls, and natural rock formations. The plans include an NHL-sized arena for public skating as well as private practice. Phase II is expected to attract additional upscale customers with an estimated annual household income of more than $100,000 as well as families with older children. It anticipates drawing an additional 20 million visitors annually—nearly 40% of which will come from more than 150 miles away—almost doubling the state economic impact to an estimated $4.3 billion.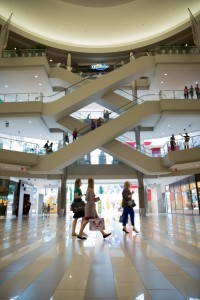 86 hours, length of time it would take to complete a visit to Mall of America if one were to spend just 10 minutes in each store.