The necessity of strict customer orientation results from the fact that added value in the field of retail parks and hybrid centers will in future lie predominantly in the management of existing properties. Large-scale new developments have already become the exception. This management approach can only be provided through integrated network organizations formed from all parties involved in the operation of the site. That is one of the key messages from the third German Retail Parks report.
Many customer groups means many kings
The type, number, and scope of customer relationships for retail real estate properties can be very complex. The wishes of the various customers, e.g. consumers, tenants, investors, and local authorities, often conflict with one another. Investors, for example, want high rents and incidental costs that can be easily allocated, but the tenants do not. Tenants want less competition, consumers more. Consumers want to shop close to home, while local authorities prefer to place retail and wholesale trade in specific locations. In order to optimally coordinate all of these customer interests with one another and achieve attractive returns in the process, the integrated interaction of autonomous specialists working towards the same objective is the most effective approach.
"Successful network organizations can be found in places like the automotive industry," said the COO of MEC, Christian Schröder. "Automotive manufacturers themselves only develop certain core modules of a model and the rest is developed by the supplier network with a high degree of autonomy." Managing Director and Fund Manager at Corpus Sireo International, Hans Stuckart, said "We organize the management of our real estate properties with our partners in exactly the same way. When all of the customers are satisfied, that is when a fund achieves its best results." The Head of Retail Asset Management Germany at TH Real Estate, Kathrin Andres, added: "Modern and forward-looking asset managers understand customers in the truest possible sense. The potential for increasing value through consistent and comprehensive customer orientation is enormous. It is not without reason that demand for professionally managed retail properties and funds is at its highest point in years."


Retail parks replacing shopping centers
Trade with retail parks is actually at record levels and the return expectations of investors are correspondingly high. With peak returns of around 5.5%, retail parks have taken first place on the wish list of retail investors and are thus on course to replace shopping centers as the preferred investment. "It is quite possible that things will also stay that way," predicted Jörg Krechky, Head of Retail Investment Germany at Savills. He gave the following three explanations: a high degree of independence from fluctuations in the economy, comparatively high resistance to digitalization, and a shortage of attractive opportunities in the shopping center sector.
When it comes to retail parks, however, there is a great enthusiasm for core markets. Macro-locations and properties that have been built or modernized within the last 10 years are in high demand. "There is still a lot of potential for investors through revitalization projects. The increasingly restrictive application of planning regulations is a serious constraint when it comes to modernizing successful locations, however," explained Uwe Seidel, the Managing Director of Dr. Lademann & Partner.
Success factors for retail parks determined
"The success of retail parks cannot be reduced to the general principle of 'location, location, location,'" said Manuel Jahn, Head of Real Estate Consulting at GfK. The 260 German retail parks were analyzed using a scoring model developed internally by the company, which considers the criteria of location, concept, selection, and management. The top 20 retail parks average 27,900 sq m in size, have a space performance of 4,400€/sq m/year, and an average turnover of €118 million. The top performers are established centers that have learned from consumers and the majority have already been revitalized. The most successful German retail park is Citti Park Flensburg, followed by Kaufpark Eiche, and Kaufpark Dresden.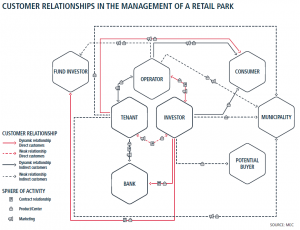 Ultimately, every customer relationship with retail parks is directly or indirectly dependent on the consumer. Will the growth of online trading result in lower space requirements? The market report offers three possible future scenarios for selling space development up until 2025. "To clarify immediately, stationary retail is not on the way out. It can safely be assumed that space requirements will remain approximately the same until 2025," says Manuel Jahn. This is also confirmed by the numerous examples of successful retailers in this report who have used innovative means to become multi-channel retailers.
The conclusion of the "Retail Parks in Germany" report is: After considering the subject of customer orientation and attempting to illuminate it from as many perspectives as possible, it is clear that the commercial real estate industry and all its entrants must deal with very complex challenges. That's because retail parks, according to the criteria in this report, are properties that require active management. This also reflects the practice. You will hardly find a retail park over 10,000 sq m that is not already managed. The high popularity of the "retail park and retail-oriented shopping center" asset class and the further professionalization of the industry that is necessary are the very things that present opportunities for new management approaches.
The "Retail Parks in Germany" report can be viewed online using the following link: Image: MEC