By Enda McShane
The global marketing technology market is worth $99.9 billion (£76bn), according to a study by accountancy Moore Stephens and research outfit WARC. That reveals not only a huge existing market, but one that continues to grow exponentially. The online experience plays an important role in the decision's shoppers make offline–and influence of digital on the in-store experience is only going to grow. In fact, by 2022, Forrester expects the internet to influence 41% of the in-store sales during customers' purchase journey. By 2020, customer experience will overtake price and product as the key brand differentiator, according to Frost & Sullivan. This is now even more important as a result of the Covid-19 pandemic.
Hence, the biggest challenge malls and marketers now face is how to connect the dots with the way that their brand constantly communicates, engages, and delights customers across multiple channels, formats, and device types. Covid-19 has created an even larger demand for personalization technology and a "touch free" experience in physical locations, the acceleration of platform-based technology in brick and mortar is bearing this out. Success lies in creating personalized experiences and delivering them in an authentic manner aimed at resonating deeply with customers so that they feel valued and appreciated, safe and informed, and as a result, comfortable and committed to physical shopping.
At the beginning of lockdown, I wrote a vision for what I thought was the future of the shopping mall. Now as we emerge from lockdown but still with restrictions, we have already begun to implement some of that vision, and we are only just reaching Q4 in 2020. One of the great lines I read during lockdown pertaining to retail was that 2030 is now 2020. Retail was going to have an over-reliance on people and technology if it is to accelerate its way out of the current position.
In the shopper game
Retail has flirted with change many times over the last two decades and in particular over the last few years, as we have seen many high street brands disappear. For many, change has always centered on the retail mix–sign a new anchor tenant or a cool new retail brand to open and things will improve. That hasn't always worked and in today's market longer term, foundational thinking is required, not quick fixes. Redeveloping malls and changing the retail mix will not deliver what shoppers want today, and it is now the shopper who is demanding more, retailers can no longer rely on a strong supply chain and play the logistics game. They are in the shopper game and that is much more difficult to understand and be successful at. Shoppers are product led.
Shoppers identify with product not the shelves they sit on. Product drives sales both online and offline, so retailers and mall owners in particular need to be able to recognize who their shoppers are and know what they want. Then they must match a buyer (shopper) with a seller (retailer) at all touch points that lead to a sale. This is the new customer journey. For those in retail that still think in channels, the time has come to start thinking in terms of journeys.
Infrastructure as a Service (IaaS)
To think and act on customer journeys you will need technology infrastructure, an integrated services layer, and an experience layer that is powered by real-time and actionable customer data.
What does this look like? First of all, this approach means placing all of your technology requirements, legacy and new, with one company that can provide you with a IaaS model, which at its core should be an upfront capital investment model where they bring the capital investment and the expertise in delivering everything from the fiber optic cabling to high density Wi-Fi, cameras, security suites, digital signage, AI Camera technology to the integrated SaaS platform and associated technology services required to deliver a return on investment over the long-term lifetime of the contract, typically 10-15 years.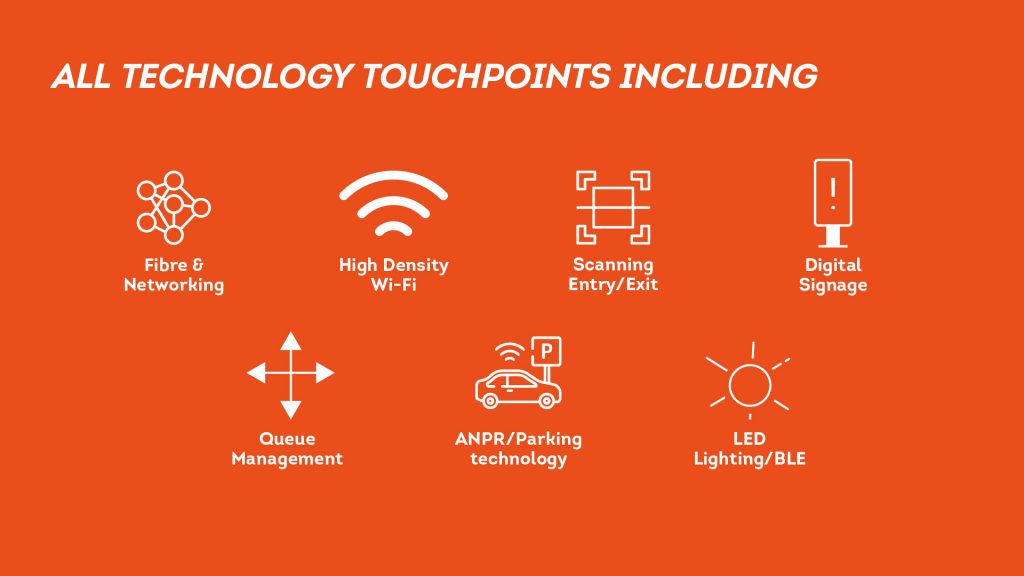 Groundbreaking for our industry, this is an approach to technology which begins with the end in mind. This is not about what you have on day one, it's what you continue to consistently have across the next decade and more of constant innovation and change.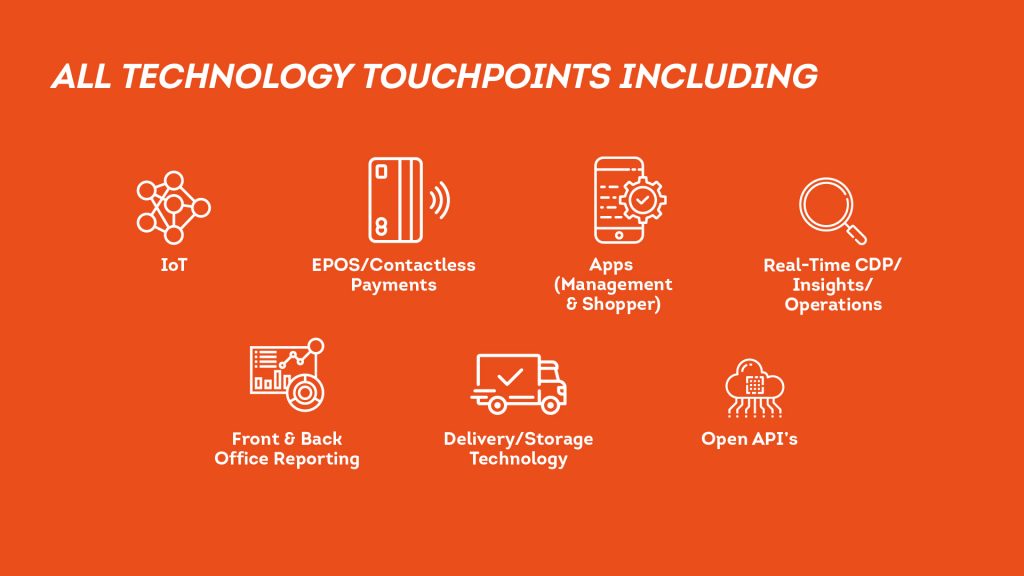 Below is an example of the three layers that will establish the mall as a platform.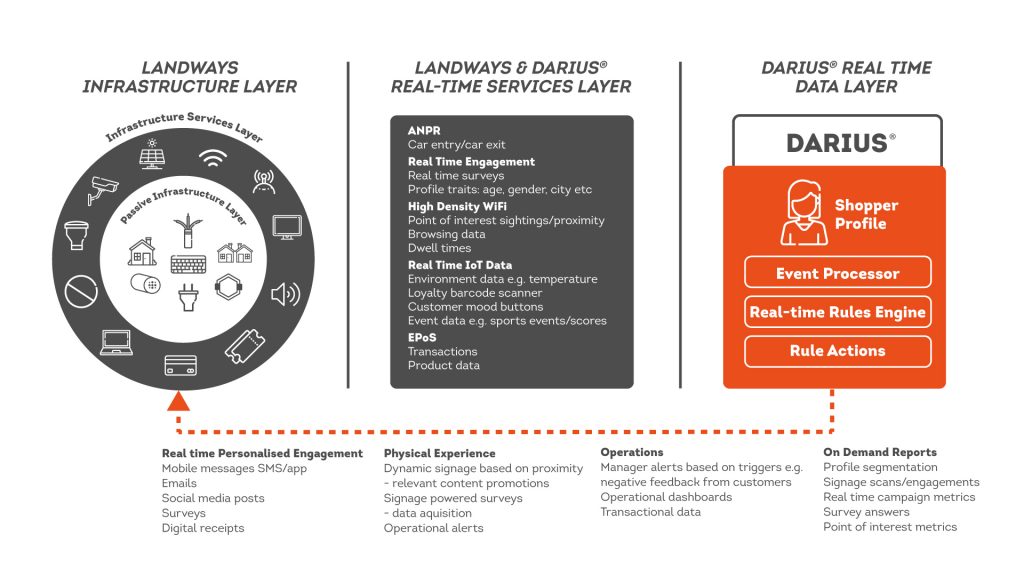 This approach to technology will become the new enabler for the change that is required right across retail, but in particular in the shopping mall or high-density retail sector. Technology will enable the mall to think and act as a platform and to be able to treat most shoppers (why not all) as registered users, building shopper profiles that will unlock all kinds of benefits based on personalization and customer preferences. This can all be done in real-time, in the physical brick and mortar location. We can finally bring the best of digital to the physical world, not the other way around.
Once the infrastructure is in place the mall can reinvent the offer. There will not be an over reliance on static retail stores. The mall (or whatever we end up calling it) will offer much more, as David Simon, CEO of Simon Malls in the US said, "We continue to redevelop our irreplaceable real estate with new, exciting, dynamic ways to live, work, play, stay & shop, that will further enhance the customer experience." The future mall will be a combination of shopping, leisure, residential, co-working, and even e-sports arenas. Imagine the "fusion" of best in class providers into a new customer (user) experience.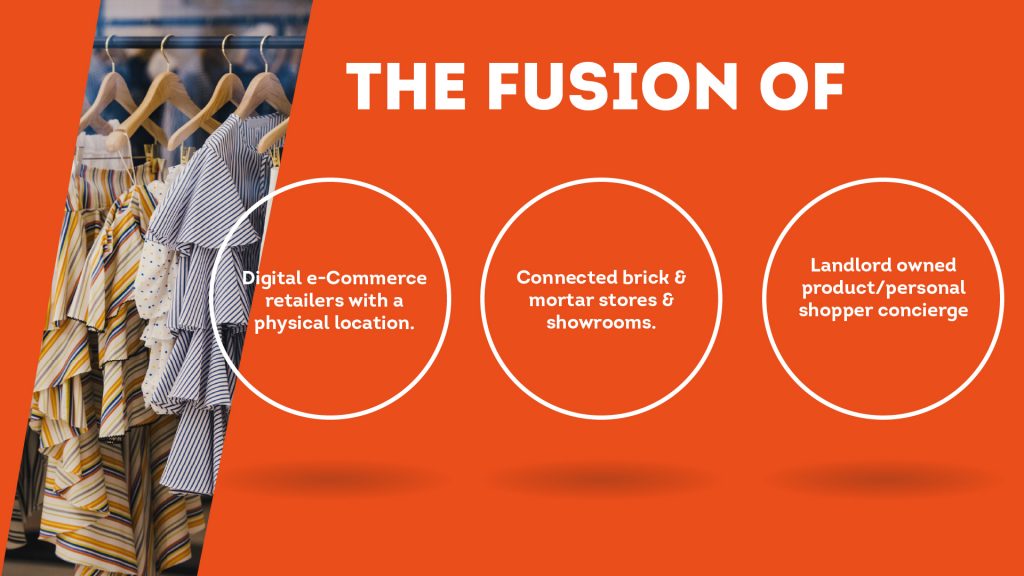 The new shopper journey
The shopper journey will be based on data. All of the technology above will deliver shopper profiles which will be "actionable" in real-time in the physical location. This is the "as a service" component of the strategy, what is infrastructure without integrated services that can deliver an ROI.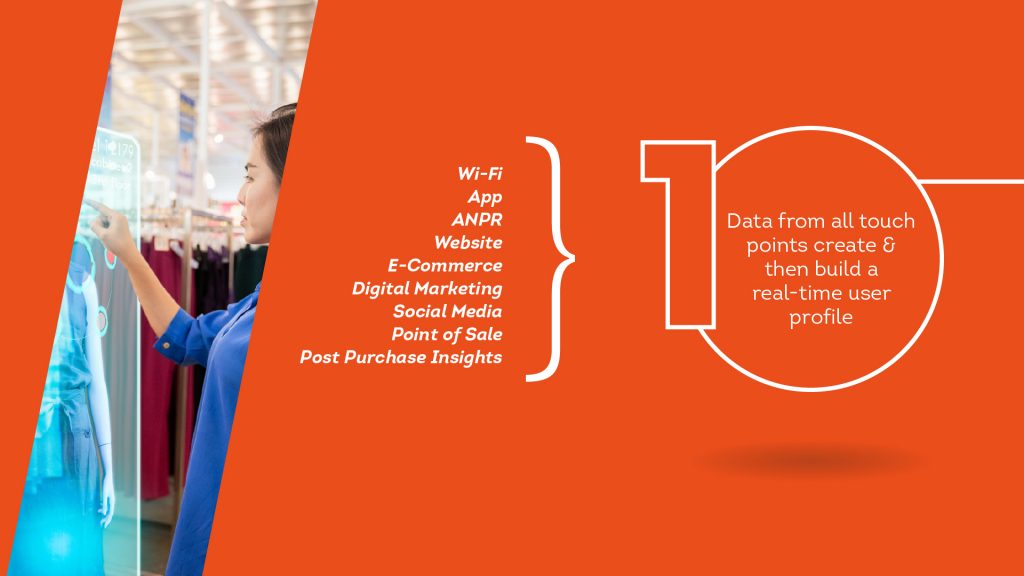 The shopper profile unlocks value, just as it does online but this time it's in the physical location. This opens up a very personal shopper journey based on proximity, rules, previous purchase history and can even extend to EPOS integration to close the loop between marketing and retailer transactions. Central click & collect or other services like home delivery would all be possible with this model.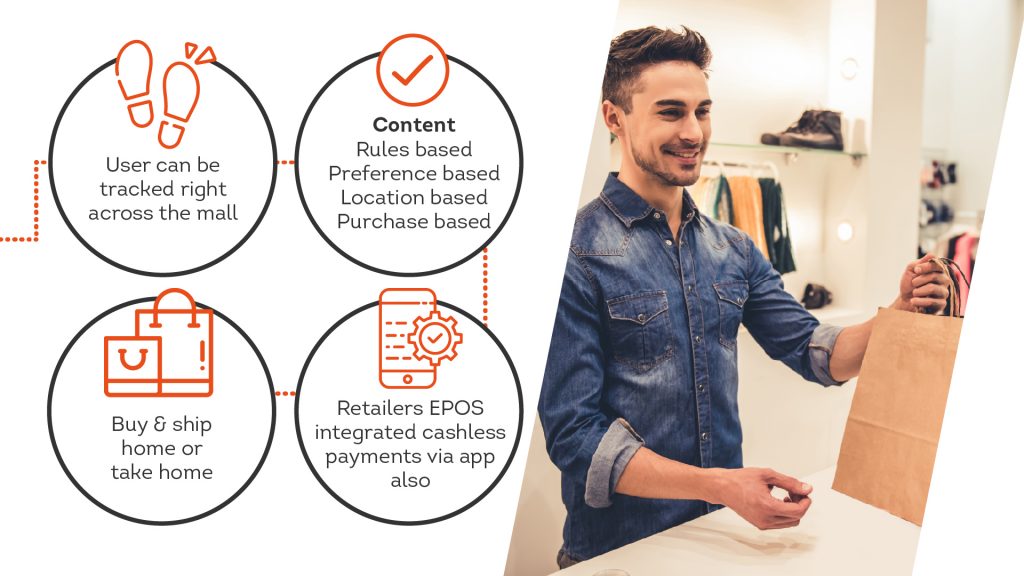 All of this is collecting data from many different touchpoints across the journey. All of this data will enable a deep level of personalization and can help pull in other digital components such as digital signage–but signage that is dynamic in terms of media content being served based on shopper profiles, or an IoT event such as weather.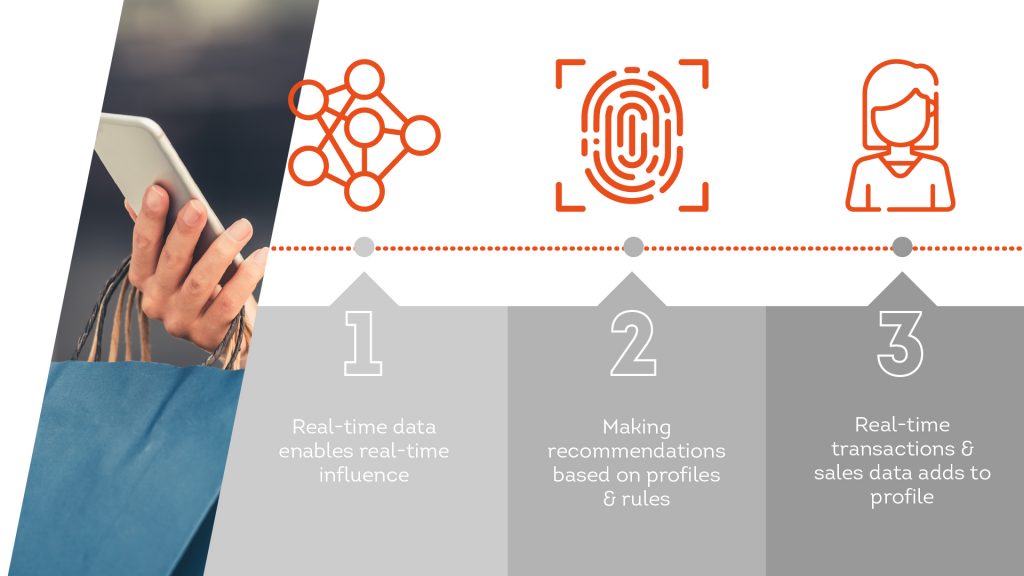 This kind of dynamic approach to digital signage will ensure that retailer and center wide content is delivered at the appropriate moment to the appropriate shopper but it will have an additional revenue generating element from media and sponsorship.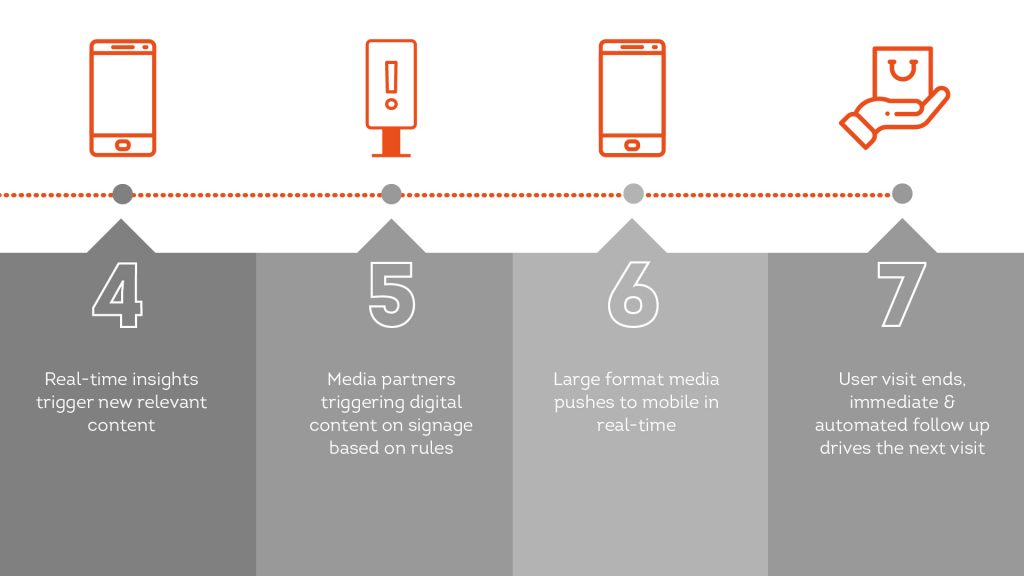 Summary
Brick and mortar retail is not dead and it will come back stronger than ever. The blueprint is already here. Learn from E-Commerce providers like Amazon but go further. Digital exists in the physical world, not just online. Malls in particular need to embrace technology infrastructure as the driver of change. Believe in what can be achieved, listen to what their customers are saying, and act on it as quickly as they can.
This particular insight from the Global Data research report suggests that, "The fact that retail can be more seamless in the experience they offer across online and offline means that physical retail can create a stronger multichannel offer than online counterparts." In short, physical can offer a digital experience but pure play online cannot offer the benefits of physical shopping unless they actually open a store or a pop-up. Those who move quickly will become the new template for success. The financial rewards will follow, and the commercial models developed will be attractive and sustainable for an industry that requires modernizing.
In summary, I believe landlords and retailers now need to begin thinking about and implementing the following:
Technology infrastructure should be the foundation (this can be done on an Infrastructure as a Service model, i.e. no capital expenditure).
Integrate the service and experience layer to the infrastructure i.e. what digital tools and what experience are you wanting your customers to have, license these don't attempt to build them.
Begin a data acquisition strategy – actionable customer data is going to be vital, in fact it's an actionable customer profile not just an email address.
Understand your customers journey – real-time communication right across the shopper journey, pre, in and post is critical.
We must bring digital to physical, not the other way around – unlock the best practice in digital and look at how you can deliver this in the physical world.
Retail and malls in particular must think like platforms.
Brick & Mortar shoppers must register as users. Registering unlocks benefits–no profile, no benefits, it's a trade-off. Post-Covid-19 we will have to register to go to the pub, so why not to go shopping if the benefits are good enough.
Product, not the shelves they sit on, drives sales. Stores are less important than access to product–how can you promote product availability in the stores that are in your mall. People want to know that they can get what they want before they leave home. This is going to be very important for brick and mortar.
Therefore, backend inventory and front-end customer data must be connected–matching people with products means sales happen.
The commercial model must change; landlord tenant relationship must align with the new retail (seller) and shopper (buyer) relationship.
About the Autor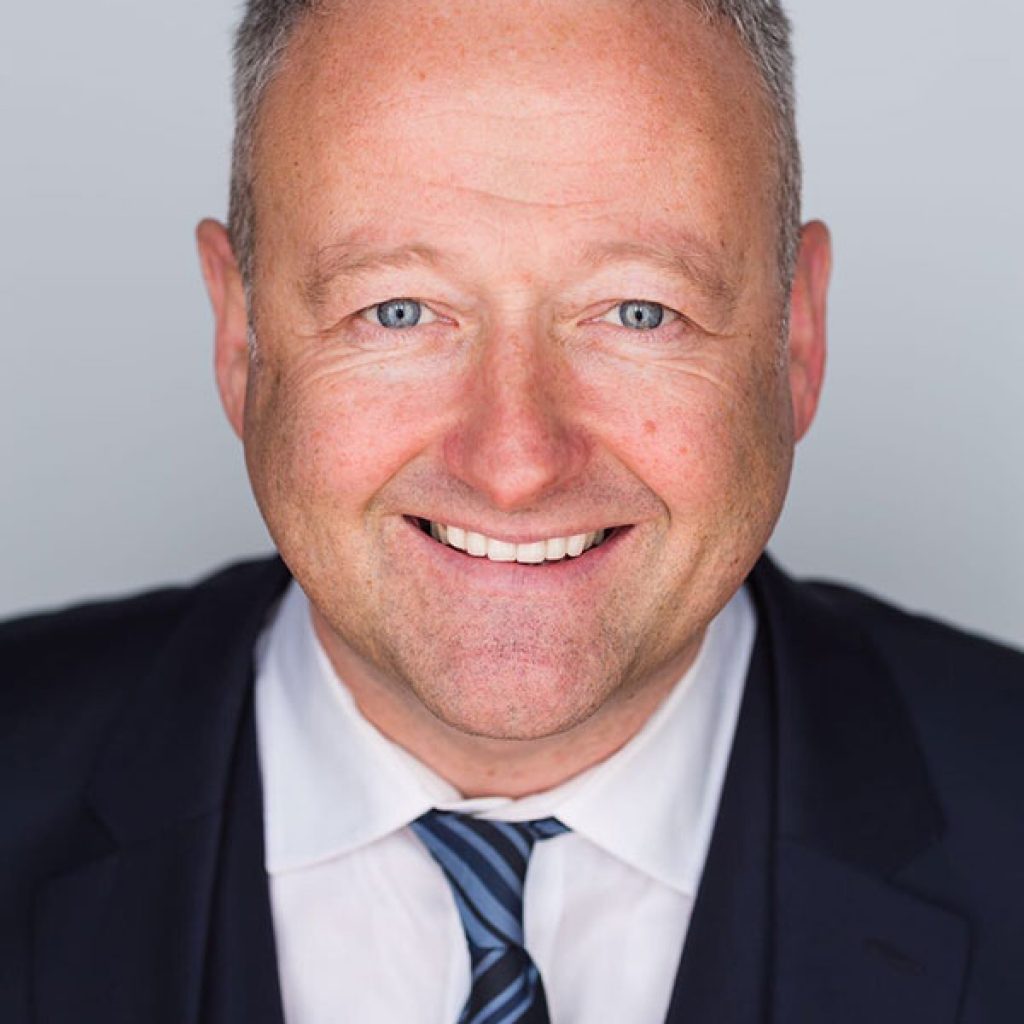 Enda McShane is CEO of Velocity Worldwide, a marketing and software business delivering their strategies alongside a real-time customer data platform for brick and mortar, Darius for Retail. Velocity has also partnered with Landways to offer the full technology infrastructure (IaaS) mentioned above on a long-term operational model, no up-front capital expenditure required.