Marcus Mack, Fund Manager at investment management company TH Real Estate, is excited about the strong fundamentals and the polycentric structure in Germany, which makes it a stable and attractive country to invest in. The current high demand for real estate presents a great opportunity to sell existing stock, whilst investment has become more challenging. Among the best opportunities are needs-based – aside from outlet malls, student and senior housing, and e-commerce logistics – retail developments that engage consumers via experiences.
Following a successful long-term track record based on three German retail funds and a current portfolio consisting of approximately 35 retail assets, TH Real Estate strives to invest in retail properties that are viable not just over cycles, but over longer-term structural horizons.
The real estate asset manager is very active in the market and has a strong pipeline of opportunities in negotiation. In December 2017, a portfolio with five retail assets in well-established retail locations across Germany was acquired by the team based in Frankfurt. The assets boast an average occupancy of 98%. In April this year, TH Real Estate acquired two newly built retail warehouses, both located in southern Germany. Both assets are food-anchored and benefit from strong local catchment areas as well as an attractive tenant mix.
"Our strong relationships with developers, agents, and retailers allow us to identify good investment opportunities, even in today's market. Acquisitions like these sustainable, forward-looking assets support the investment manager in strengthening the German retail portfolio," underlines Mack.
Throughout its history, the retail sector, in general, has evolved and restructured as a result of cultural trends as well as new, society-shaping innovation and technology. The UK is Europe's largest e-commerce market, with online sales currently accounting for almost 18% of total retail sales. Germany follows closely behind with an estimated market share of 15% in 2017, which is expected to reach 22% by 2025 (Center for Retail Research, 2018). Germany had a strong mail order business before widespread use of the internet, so this is a natural evolution. Technology has enabled consumers to access retail markets anywhere and at any time, breaking down barriers between online and offline channels as they demand a seamless retail experience. The German food sector, however, continues to rely on physical shops, with only 1% of sales being generated online .
Share of e-commerce of total sales for selected categories: Online food sales negligible

Consumer confidence in Germany continues at a high level
According to the latest TH Real Estate research, Germany, Austria, and Switzerland comprise one of the most stable real estate markets in Europe. Investors looking for stable real estate markets have traditionally started with those countries. Volatility is significantly lower than elsewhere in Europe. The good economic situation is also reflected by consumers, who are more confident than they have been in a long time. For example, since September 2017, the Consumer Confidence Index has reached a new high in Austria (Macrobond, April 2018).
Consumer Confidence Index in Europe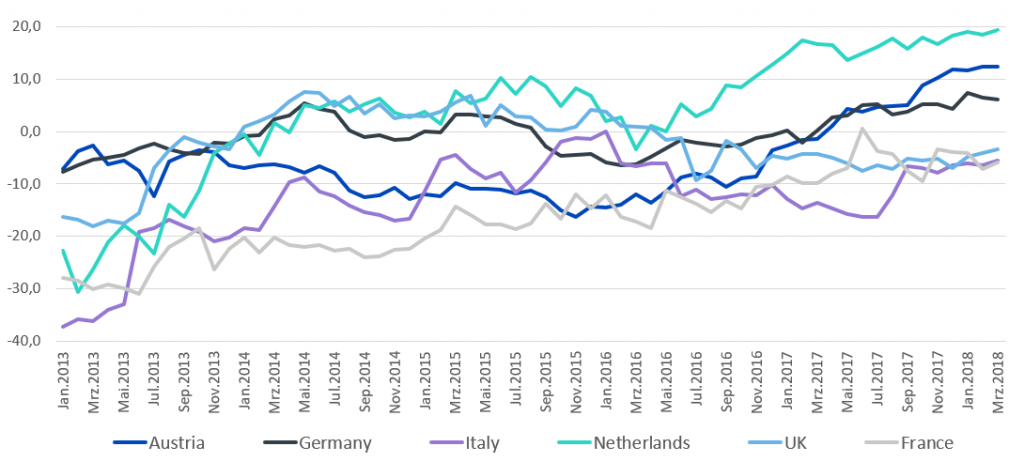 "We believe that the German retail market is more active than ever before. Retail warehouses, in particular, are performing very well due to strong local catchment areas and an attractive tenant mix. As a result, there is high demand in the sector from investors", says Mack, Fund Manager at TH Real Estate who has approximately 15 years of experience in this sector.
Mack and his team have recently set up a new Germany-focused retail vehicle. It offers German institutional investors an exclusive opportunity to invest in German core retail real estate and gain access to a potentially stable income return. This retail project has gotten off to a strong start, having already secured capital commitments and its first retail park asset. It pursues a core strategy of investing in new build and existing schemes in attractive locations across Germany. With a target portfolio size of €400 million, it has a proposed term of 10 years, with a two-year renewal option.
TH Real Estate manages several funds, including six German Spezialfonds, and oversees, more than €3.4 billion assets that are under management in Germany, of which 70% (approximately €2.4 billion) is in the retail sector.
---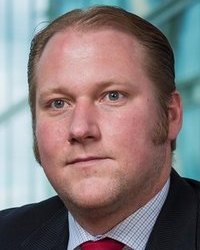 With 15 years of real estate experience, Marcus Mack is responsible for the investment and fund management of several German retail funds and a segregated mandate within TH Real Estate. As the Fund Manager of the new German retail fund vehicle, again, his focus is on core retail warehouse parks and hybrid malls.
Since joining the company in 2007, Marcus Mack has worked on a variety of funds, with a particular focus on Germany. Before joining the business, he worked as a freelancer for several international real estate investment companies.
Mack graduated from the European Business School, Germany, with a MSc in Business Administration, majoring in Real Estate and Entrepreneurship. He also studied at the Leiden University School of Management and the Rotterdam University School of Management in the Netherlands, where he graduated with an MBA in International Management.
---
Sign up for our ACROSS Newsletter. Subscribe to ACROSS Magazine.