ACROSS: IMMOFINANZ RELIES ON A SUPER-REGIONAL BRAND STRATEGY FOR ITS RETAIL PORTFOLIO. SPECIFICALLY: VIVO! FOR SHOPPING CENTERS AND STOP SHOP FOR RETAIL PARKS. WHAT BENEFITS DO YOU HOPE TO OBTAIN THROUGH THIS STRATEGY AND WHAT EXPERIENCE HAVE YOU HAD WITH IT IN THE RECENT PAST?
DIETMAR REINDL: A very positive experience. We set great store by a high degree of standardization and rapid expansion in Central and Eastern Europe with a high level of recognizability for the two retail brands. Our tenants know what our brands stand for and that they can very quickly obtain broad market coverage with them in many countries.
ACROSS: MANY OWNERS AND OPERATORS ARE GOING IN THE EXACT OPPOSITE DIRECTION WITH THEIR BRAND STRATEGIES AND MOSTLY EMPHASIZE THE UNIQUENESS AND INDIVIDUALITY OF THE INDIVIDUAL SITES. IS THAT THE WRONG WAY?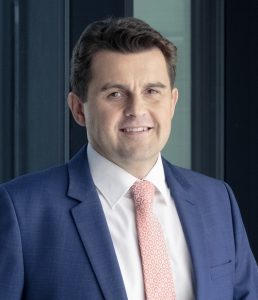 REINDL: That depends on the approach. From the perspective of consumers, building a brand is unnecessary, because what matters for them is the tenant mix, the location, and the potential services offered at each site. From the perspective of a real estate group with retail real estate in several countries, however, the establishment of a brand is advantageous. Our customers appreciate the guarantee of quality. Both our tenants and Immofinanz thus benefit from the synergies provided by the brand.
ACROSS: WHAT DOES A VIVO CENTER OR A STOP SHOP PARK STAND FOR? WHAT DO YOU THINK RETAILERS AND CONSUMERS SHOULD ASSOCIATE WITH THESE BRANDS?
REINDL: Our retail park chain STOP SHOP is ideally suited for medium-sized and smaller cities in regions with lower incomes. A typical STOP SHOP is built in the shape of a U, L, or I and has plenty of parking right outside the building as well as easy access to the road network. They offer basic necessities, from clothing to electronics, groceries, and sporting goods. In addition, a large supermarket is usually located in the immediate vicinity. Our VIVO!s are single-story shopping centers with a focus on fashion and entertainment with strong anchor tenants. They follow the "easy shopping" concept, combined with all the amenities of a shopping center.
ACROSS: YOU OPENED SERBIA'S SECOND STOP SHOP PARK IN NIŠ IN APRIL. WHY NIŠ? AND WHAT MAKES THE SERBIAN MARKET SO INTERESTING FOR YOU? AFTER ALL, YOU'RE PLANNING TO OPEN UP TO 10 NEW RETAIL CENTERS IN SERBIA IN THE NEXT COUPLE OF YEARS.
REINDL: Niš fits perfectly into our STOP SHOP growth model. The city has more than 260,000 people who previously had only limited opportunity to purchase daily necessities all in one place. With our STOP SHOP, Niš now offers a new shopping experience at affordable prices—not just for famous international fashion brands, but also for local suppliers. The location is imminently accessible both by car and public transport and the first weeks surpassed both our expectations and those of our tenants. In the next three to four years, we want to build eight to 10 additional STOP SHOPs in Serbia. The opening of the next STOP SHOP site in Serbia is already certain: Valjevo in August this year.
ACROSS: WHAT GROWTH STRATEGY ARE YOU FOLLOWING WITH YOUR RETAIL BRANDS IN OTHER COUNTRIES? HOW MANY VIVO! CENTERS AND STOP SHOP PARKS ARE THERE? HOW MANY OF EACH OBJECT WILL BE ADDED IN THE COMING YEARS?
REINDL: Our retail park chain STOP SHOP now includes 56 locations in seven countries. Taking further project developments and one or more possible acquisitions into account, we should have a three-digit number of STOP SHOPs in only about five years. We would then be the clear leader among retail park operators in Europe. That's because the typical competitor in individual countries is usually a local developer with a handful of retail parks. Only Immofinanz can offer tenants and customers such a network of retail parks extending over several European countries. We are also working to increase the quality of stay in our STOP SHOPs. We are currently rolling out our VIVO! brand across our existing shopping centers, thereby creating a significant presence with 10 locations in four countries. That is a good basis for further growth. I can well imagine one additional VIVO! center being added each year. We are currently working on a project development in the Polish town of Krosno.
ACROSS: YOU ARE CONSIDERING SELLING YOUR RUSSIA PORTFOLIO. WHY RETREAT FROM RUSSIA? WHAT DIFFICULTIES ARE YOU CURRENTLY FACING IN THAT MARKET?
REINDL: We announced the acquisition of a 26% stake in CA Immo on April 18th as a first step in the proposed merger of the two companies. In this context, we decided to sell or spin off our Russian portfolio before the proposed merger. It has different market characteristics and a different risk profile than the rest of our portfolio. We therefore believe that the combined group will have a clearer and simpler "equity story" if we separate ourselves from the shopping centers in Moscow beforehand.
ACROSS: IS THERE ALREADY INTEREST OR ARE THERE CONCRETE NEGOTIATIONS REGARDING THE SALE OF YOUR RUSSIAN RETAIL PORTFOLIO? ARE YOU LOOKING FOR A PACKAGE DEAL OR TO SELL THE OBJECTS INDIVIDUALLY?
REINDL: We are at the beginning of that process. Please understand if I do not go into greater detail. We are planning either a sale or spin-off. A spin-off would—similar to the BUWOG case—create a new listed company held by Immofinanz's current shareholders. We expect to be able to begin the process of separation in the second half of this year and complete this prior to the merger. A sale is of course also possible.
ACROSS: WHAT COUNTRIES ARE CURRENTLY VERY ATTRACTIVE FOR YOU IN THE RETAIL SECTOR?
REINDL: We are currently focusing on our core markets Austria, the Czech Republic, Slovakia, Hungary, Romania, and Poland, but also on Serbia, where we are, as mentioned, very active.
ACROSS: YOU HAVE RECENTLY SHIFTED TO A UNIFIED BRAND STRATEGY IN THE OFFICE SECTOR AS WELL, CORRECT?
REINDL: That's right. Based on our excellent experience with our retail brands, we are preparing the introduction of an office brand. This not only guarantees a high degree of recognizability, but also stands for a very specific service promise to our tenants. More details will follow shortly.