With its 1,300-sq m sales area, the new supermarket is one of the biggest of its kind in ALDI Nord's store network. It was built using ALDI's latest shop design and provides a product range that is specifically tailored to the requirements of Quarree's customers. Besides its bright and friendly shopping atmosphere with more space, broader aisles, as well as an expanded fresh food department, customers will also find a particularly comprehensive convenience range.
It already became clear on the first day that Quarree's customers were looking forward to supermarket's opening, as many shoppers came by the store throughout the entire day. Christmas angels handed out chocolate to the store's visitors. Furthermore, the store featured many different bargain-offers and goodies on its opening day, including free coffee, waffles, popcorn, punch, fruit and a sweepstake.
The opening of ALDI Nord is part of a comprehensive modernization and restructuring initiative. This initiative will be realized by the end of 2020 at Quarree and will include an expansion of the existing product range. Customers who travel by subway can access the ALDI store directly via a comfortable and weather-proof passage and therefore integrate their shopping into their way to or from home and save some time along the way. Those travelling by car can access ALDI Nord directly from the parking garage for a stress-free shopping spree with the whole family.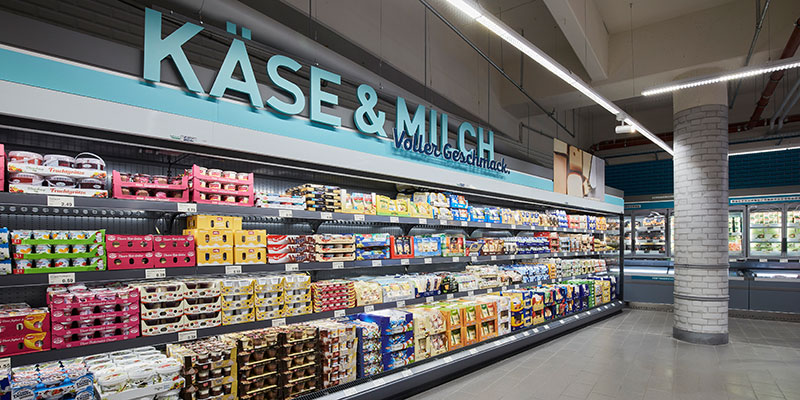 Car traffic now flows unimpeded through an underpass due to the recently added railway bridge at Hammer Straße. As a result, Quarree is now significantly easier and quicker to reach. Additionally, the BUDNI drug store will change locations within Quarree and become ALDI's new neighbor on January 9, 2020. The first elements featuring the modern look of the new Quarree were already realized during the renovation works for the new ALDI supermarket, including a new floor and parts of the ceiling. New design elements will be added over the course of the coming months.
Frank Klüter, Centermanager of Quarree Wandsbek says, "We are very happy that ALDI Nord opened its doors to our customers as planned on December 2, 2019, after extensive refurbishment works. The new ALDI Nord completes our existing food offer, which includes Quarree's deli counters and the weekly market right outside our door, as our customers have longed for a supermarket to join us. It is also great that the way to the new ALDI now shines a light on the new renovations in this area. If you are on your way to ALDI you will see that is about to become really beautiful here!"