On September 25, Forum Lviv opened its doors to the public and welcomed thousands of shoppers and curious Lviv residents. The scheme is Multi's first shopping center in Ukraine. It is located in the historic inner city of Lviv and one of the most prestigious retail projects in the country. Multi Ukraine developed and owns the mall with two Ukrainian real estate partners, Galereja Center and Bud House Group. Forum Lviv covers an area of 69,000 sq m with retail, restaurants, entertainment, a cinema, and an underground car park.
"We are very pleased to have opened Forum Lviv. We developed and brought the shopping center to fruition under exceptionally difficult circumstances. We truly believe that it is one of our greatest achievements and a milestone for Ukraine as a country. We have managed to create a feeling that Forum Lviv has always been here and is an essential part of the beautiful heart of the city. It is the first project in Ukraine developed to high European standards and it is BREEAM certified. We have established a reputation for Forum Lviv as a must-join project among retailers and are proud to have a 95% occupancy rate at completion," said Jaap Blokhuis, CEO of Multi Corporation.
The largest Zara in the country
The shopping center hosts 35,000 sq m of national and international fashion brands, including the largest Zara in Ukraine, Women's secret, Springfield, Bershka, Mango, Massimo Dutti, LaCoste, Pull&Bear, Stradivarius, Reserved, Sinsay, Cropp Town, Amstor, Comfy, Intimissimi, Intertop, and LC Waikiki, with its first store in Western Ukraine. It also houses a food-court zone, the electronics supermarket Comfy, supermarket Silpo, Igroland children's entertainment, and a Planeta Kino cinema with Lviv's first 4DX screen.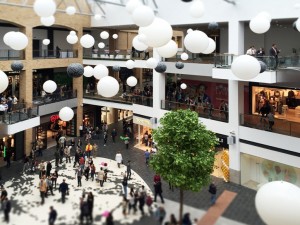 Forum Lviv is located in the city center on Pid Dubom street, just a short walk from the city's main square and famous opera house. The three-story mall is topped by a level complete with cinema, leisure facilities, and restaurants overlooking the city. It also has an underground parking garage with 600 spaces, the first of its kind in the city. The concept was created by TTDesign, Multi's in-house design group, acclaimed for its outstanding urban development and architectural concepts. The local architect is the office of Tebodin Ukraine.
Lviv, which is located near to the Polish border, is the cultural and economic center of Western Ukraine. The city has more than 700,000 inhabitants and plays an important role at the regional level. The city center was incorporated into the Unesco World Heritage List in 1998 and dates mostly from the Habsburg period. Lviv is increasingly popular with tourists, partly thanks to the successful organization of Euro 2012 in the city.