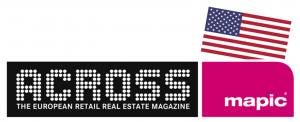 Dania Pointe, Dania Beach (Florida)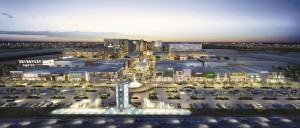 Dania Pointe is a 40-hectare, premier mixed-use development with 100,000 sq m of retail and restaurant space, in addition to Class A offices, hotels, luxury apartments, and public event space. Its accessibility from Interstate 95 and immediate proximity to the Fort Lauderdale-Hollywood International Airport, Port Everglades Cruise Port, and the Dcota Design Center make it an attractive retail destination in Broward County. The shops at Dania Pointe will consist of a mix of shopping, dining, and entertainment venues, which will appeal to over one million consumers living in the surrounding trade area and the projected 15 million domestic and international tourists expected to visit Broward County per year.
Kirby Collection, Houston (Texas)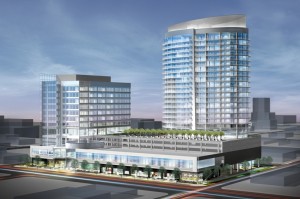 The Kirby Collection is a new luxury mixed-use development in the River Oaks neighborhood of Houston, scheduled to open in the fourth quarter of 2017. The 100,000-sq-m residential, office, retail, and entertainment project features two levels of prime retail space totaling 6,000 sq m, which will be home to classy restaurants, nightlife, and shopping. A 25-story, 36,000-sq-m residential tower will house 199 apartments, including seven two-story townhouses and seven two-story loft spaces with private yards. The penthouse level will feature a Skyview Suite available to all residents, offering a chef's kitchen and panoramic views of the Houston skyline. Likewise, Kirby Collection's 13-story, 20,000-sq-m Class A office building is in close proximity to four of the city's largest employment hubs. Kirby Collection is a blend of classic and contemporary design, offering luxury and convenience for those who choose to live, work, and play in the same location.
Hudson Yards, New York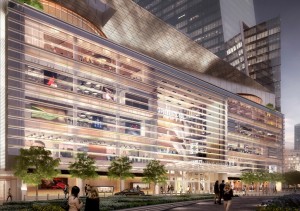 At the epicenter of Manhattan's New West Side, Hudson Yards is the largest private real estate development in the history of the United States and the largest development in New York City since Rockefeller Center. The site, anticipated to host 24 million visitors each year, will include more than 1.5 million sq m of commercial and residential space, five state-of-the-art office towers, more than hundred shops, a collection of restaurants, approximately 5,000 residences, 5.7 hectares of public open space, and an Equinox-branded luxury hotel. Hudson Yards will feature seven levels of cutting-edge shopping, offering a mix of fashion brands. A three-level Neiman Marcus, the first ever in New York City, will anchor the 93,000-sq-m of shops there. The restaurants will offer an array of international cuisines amid stunning surroundings. With easy access to the High Line, Public Square, and Culture Shed, the shops and restaurants at Hudson Yards promise to be one of the city's most enticing destinations morning and night.
City Point, New York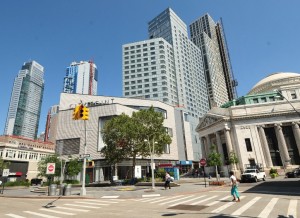 Set to open in the heart of downtown Brooklyn in fall 2016, City Point is a 170,000-sq-m mixed-use development of new construction, including retail, residential, entertainment, and office space. The center is anchored by a Century 21 Department Store, CityTarget, and Alamo Drafthouse Cinema and will include the best of Brooklyn's food purveyors, creating an authentic experience and gathering place for Brooklynites. City Point is a mixed-use project with an iconic design that will anchor the thriving academic, residential, and commercial communities in Downtown Brooklyn. It is owned and being developed by Acadia Realty Trust.
The Boulevard, Staten Island, New York

Kimco has recognized the great potential in Staten Island and is in the process of transforming the Hylan Plaza into a shopping center befitting this growing borough. It will become The Boulevard – the downtown hub on the Hylan Boulevard commercial corridor. With its location, the mall is easily accessible from all parts of the island. To take it to the next level, Hylan Plaza is undergoing a transformation: The Boulevard will be a newly-constructed, multi-story lifestyle center providing a "main street" shopping experience. The seamlessly connected mix of fashion, necessities, restaurants, and entertainment is sure to draw a crowd. Lively sidewalk activity, outdoor dining, and window shopping will make The Boulevard the premier downtown hub on Hylan Boulevard.
Westfield World Trade Center, New York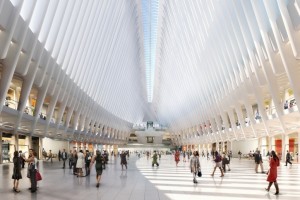 Westfield World Trade Center will be an iconic destination that speaks to New Yorkers and redefines the Lower Manhattan experience. It will transform 320,000 sq m of space into a fashion, culinary, and artistic experience including a dynamic mix of 150 local and global brands and unique dining opportunities. It will serve a diverse community with New York-centric services and amenities, must-see events, state-of-the-art digital technology, culture, and entertainment. Westfield World Trade Center is located in and around the Oculus, designed by world-renowned architect Santiago Calatrava, and includes multi-level store presence in 3 World Trade Center and 4 World Trade Center.
The Broughton Street Collection, Savannah (Georgia)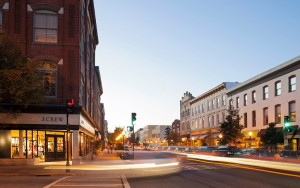 The Broughton Street Collection is a mixed-use redevelopment project encompassing retail, restaurant, residential, and office uses in the heart of historic downtown Savannah. Broughton Street is steeped in beautiful architecture with historic buildings dating back to the late 1800s. It is a place where 14 million annual visitors and local families alike can come and spend the day shopping, dining, and taking in the history. The project encompasses more than 20,900 sq m of street level retail, representing approximately 65% of the total inventory on the thoroughfare. The mix includes 3,700 sq m of planned restaurant use with options for rooftop and multi-level space. Second- and third-floor office space will feature exposed brick walls, 3.7-m ceiling heights, and beautifully restored wood flooring. The Broughton Street Collection also features twenty residential lofts.