Owned and managed by CapitaLand Mall Asia, The Star Vista is an urban retail sanctuary set within a uniquely integrated and natural environment. Strategically located within one-north (Singapore's biomedical, infocomm technology, and media hub), it is the first major mall in the Buona Vista estate and is directly linked to the Buona Vista mass rapid transit interchange station. Part of a civic, cultural, retail, and entertainment hub, the mall comprises about hundred shops spread over a net lettable area of 15,150 sq m from Basement 1 to Level 2 and sits below a 5,000-seat state-of-the-art performing arts center.
The Star Vista serves the needs of the more than 400,000 residents, students, and working professionals in the immediate vicinity, such as those at Fusionopolis (dedicated to R&D in the infocomm, media, science, and engineering industries) and Biopolis (a biomedical R&D facility), with its varied retail and food and beverage offerings. The catchment population is set to increase with growing MRT commuter traffic and the development of Mediapolis (a self-contained digital media cluster) in the coming years.
Green Mark Gold awarded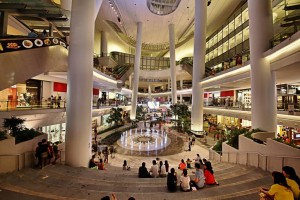 A green architectural landmark, The Star Vista takes advantage of its natural surroundings to bring lush vegetation and water features into the civic plaza, turning the shopping experience into a pleasant stroll surrounded by nature. It enjoys the distinction of being Singapore's first naturally-cooled mall, leveraging the porousness of the building design, which encourages air movement and creates a naturally cool environment in the common areas. This was made possible after studies on wind flow and the optimal ways to enhance air flow through the scheme for the comfort of visitors. At the base of its spectacular, 33-meter (or 10-story) high Grand Foyer is a 200-seat amphitheater and water feature that helps cool breezes flowing through the building. Supplemented by mechanical ventilation, the result is an all-year-round naturally cool ambience set amidst lush surroundings, akin to taking an evening stroll in the park. In recognition of its efforts to be environmentally-friendly, The Star Vista has been awarded Green Mark Gold by Singapore's Building and Construction Authority.
By leveraging its building design, which is integrated with natural surroundings, The Star Vista has successfully established itself as a chill-out, lifestyle mall, with more than half of its net lettable area set aside for dining outlets. Many of these dining outlets offer alfresco dining options, which are increasingly popular with local diners. Since opening in September 2012, the mall has become a draw for visitors from all over Singapore who come here to relax, shop, and dine at one of its more than fifty food and beverage outlets.