Major train stations have long been established locations for retail and catering thanks to their extremely high traveler and visitor frequency. What's special about this is that the properties were designed primarily to serve a transport function, with the shopping function usually only added on and expanded later.
Their visitors have different needs and reasons for their actions than, say, visitors to city centers or malls. Convenience, killing time until departure, grabbing food in passing, taking advantage of basic services, and shopping for souvenirs and trinkets are among travelers' motives.
The industry mix in transport properties therefore typically focuses strongly on gastronomy and travel needs. Train stations offer more than cafes and newspaper kiosks, however. Major transport hubs have long housed numerous shops, supermarkets, drugstores, clothing stores, shoe shops, and much more. The industry mix is constantly refined and improved.
With regard to Germany, the EHI Retail Institute's latest White Paper "Travel Retail" reports that Leipzig's main station, with its 129 retail rental units, is home to the greatest diversity of shops among stations in the country.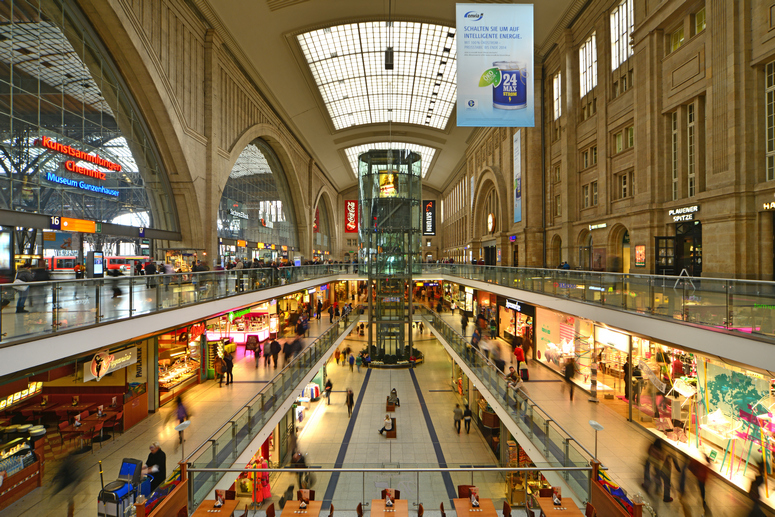 ECE operates the shopping center, which received around 69,000 visitors every day. Munich's main railway station is a distant second, with 85 tenants. The main stations of Hamburg and Frankfurt am Main are tied for third place with 77 tenants each.
Gastronomy in front
In the last survey by the EHI Retail Institute in 2014, 45% of the lettable area in German train stations was devoted to retail, followed by gastronomy with 43%. The last 12% was devoted to services. This ratio has flipped. The most common segment is now gastronomy, with 48%. Retail tenants now follow in second place with 43% of the space. Services are significantly rarer, at 9%.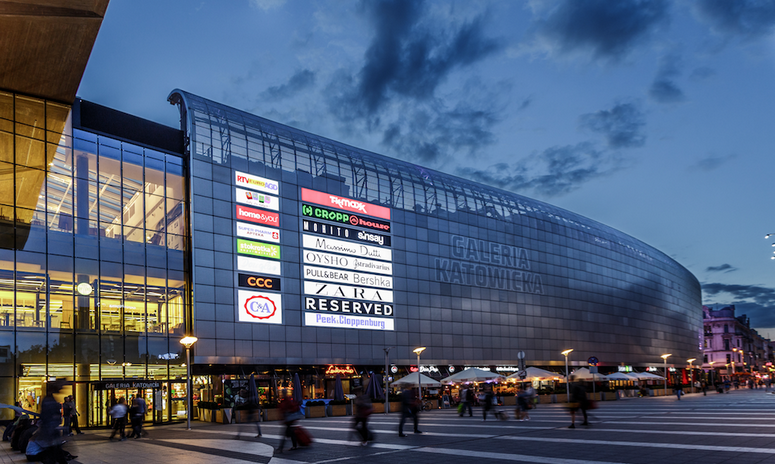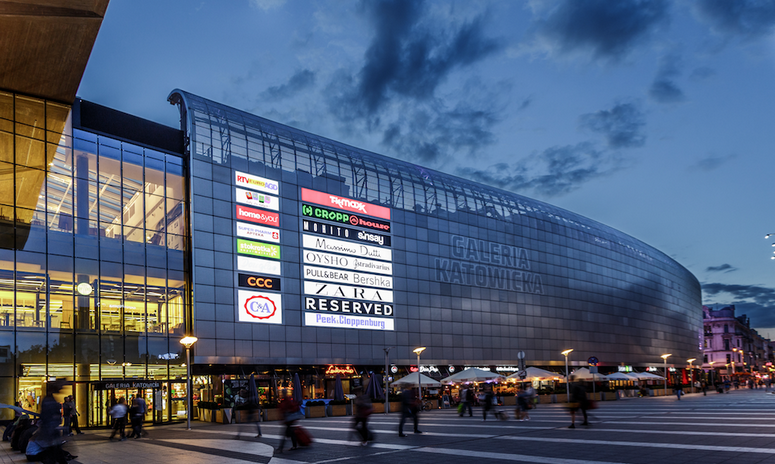 Gastronomy tenants are of course also relevant in Galeria Katowicka in the eponymous Polish city. The wine bar "Centrum Wina," the Italian restaurant "Pasta Masta," and the café "You Dessert It" have enriched the food and beverage offer there since last year.
The 47,500-sq-m (GLA) shopping center, which opened in 2013, is immediately adjacent—and directly linked—to the largest train station in southern Poland and is situated above a regional bus station.
Meyer Bergman reported sales growth of 13% for Galeria Katowicka in 2016 compared to the previous year, while footfall grew by 8%.
Opportunities and challenges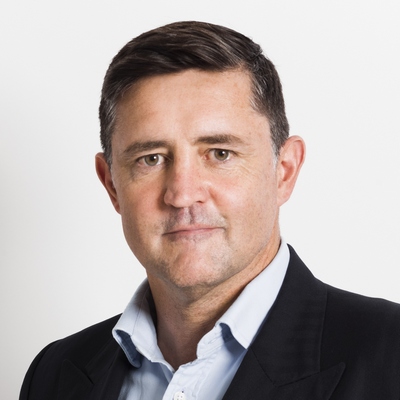 Peter Evans, Asset Manager for CEE and Vice President of Meyer Bergman, explained: "Investing in shopping centers that are part of a transport hub presents both opportunities and challenges. The natural footfall generated by the transport element can come into conflict with those visitors who are there purely to shop. It is therefore vitally important to identify the reasons visitors are in the center, acknowledge them and provide what they want."
He stressed that, since Galeria Katowicka's opening, the tenant mix, food and beverage offer, toilet/relaxation areas, and wayfinding have been adapted to cater for transitory and shopping customers.
"These initiatives include onward travel information points around the shopping center, free toilet and washing facilities, cafes and rest zones, free Wi-Fi, and facilities for charging electronic equipment, as well as daycare facilities, a dance school, casual dining restaurants, a ten-screen cinema, and a full fashion, health, and beauty mix," Evans summarized.
But where there is light, there is shadow: The high frequency at stations also often takes its toll on the malls therein. Keyword security. Action is needed—and it's being taken. For example, the Austrian Federal Railways (ÖBB) heavily restricted free Wi-Fi access in Vienna's Westbahnhof in an effort to curb fights and other incidents.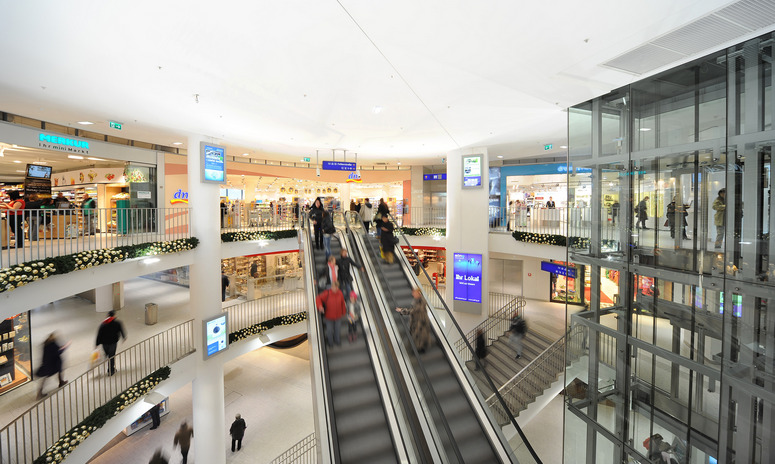 The Westbahnhof train station is home to BahnhofCity Wien West ("Train Station City Vienna West"), with 90 shops on three levels. Free internet use has been cut to 15 minutes per day.
Before the change, male youths—often from Afghanistan—would sit around for hours with their phones in hand. Bullying and even bodily injury followed. An increased ÖBB security staff presence and more police did not bring about the hoped-for relaxation of the situation. Much worse could still be to come.
Heavily frequented locations, like train stations with shopping malls, could increasingly become potential targets for terrorist acts in the future. Even though attacks have been rare so far, it is nevertheless possible that such malls could become the target in the future.
Etele Plaza's strategic location in Budapest
Several new malls in and around European stations are arising that are prepared for the security issue. For example, Futureal is building Etele Plaza, a 53,000-sq-m shopping mall in Újbuda in southwestern Budapest.
The scheme is strategically located at the city's newest and largest public transport hub and next to two major highways and six different public transport terminals featuring a metro line, three trams, 27 bus, and 23 coach lines, carrying up to 165,000 passengers per day.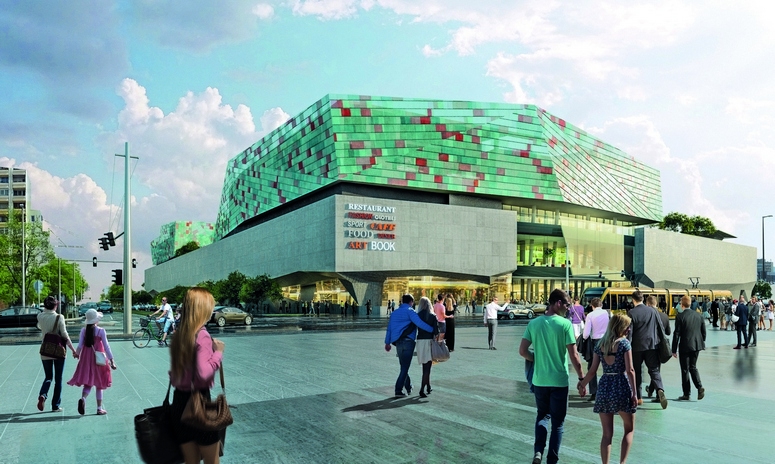 This intermodal hub includes national, international, and regional train services, along with tram, metro, bicycle, and bus services, and will allow the center to attract both local and more remote shoppers. Once completed (scheduled for the fourth quarter of 2019), Etele Plaza will provide a large variety of shopping and entertainment facilities in its catchment area and is expected to attract up to 40,000 visitors per day.
Further west on the continent, in Paris, Union Investment early this year acquired "Grand Central" at Saint-Lazare station, a project developed by The Carlyle Group. The station is the second largest in Europe, with more than a hundred million passengers per year. In addition to around 20,100 sq m of retail and office space, Grand Central has three entrance halls, two restaurants, a bar, and a public auditorium.
The project was designed by Jacques Ferrier Architecture and includes creative features such as a public promenade, several terraces on a total of 2,000 sq m, and a green roof that can be used for agriculture.
Philip La Pierre, Head of Investment Management Europe at Union Investment Real Estate GmbH, commented: "Attractive investment opportunities are currently few and far between in the Paris real estate market. Grand Central is one of the most outstanding new commercial developments in the city."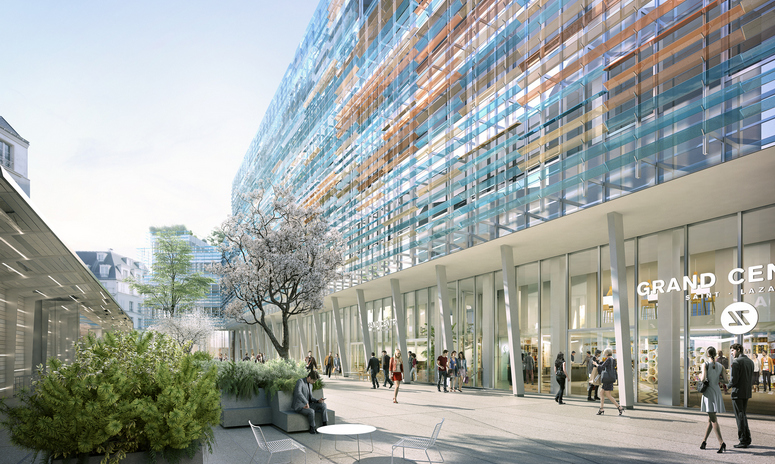 Hub in the middle of the city
Train stations feature a further plus in connection with retail space. Usually centrally located, often in the inner city, malls in train stations clearly benefit from the trend towards inner-city shopping centers. Are stations perhaps even better than city centers?
In Switzerland, at least, this is an entirely reasonable question—often to the annoyance of representatives of urban businesses. Looking at the latest comparable figures from the market research institute GfK Switzerland from 2015, Bern's railway station is the most successful shopping center in the country. It generated sales of SFr. 32,409 (€30,371) per square meter.
By comparison, the most prolific classic shopping center, Glatt near Zurich, turned over exactly SFr. 13,967 per square meter in 2015. Alone the opportunity to make use of extended opening times in some European countries gives area managers a corresponding advantage. Less advantageous, however, are the development conditions for retail spaces in historically developed transport nodes.
Large investments, detailed architectural planning specifications, and necessary compromises on space design make implementation difficult. Moreover, the coveted trade areas are often owned by national railway companies, which requires bidding, planning security, and, usually, compromises in contract design.
A glance around Europe shows that shopping centers in and around train stations are still in high demand, however. The French property specialist Altarea Cogedim, for example, is developing retail space on five levels at Gare Montparnasse Paris. The opening is planned for the year 2020. After completion of new transport lines, the station will be frequented by up to 70 million people per year.
There is also the shopping center project Viva in Odense, Denmark. It houses around 100 stores and is close to a station. Completion is planned for later this year.
Follow ACROSS on