ACROSS: Looking back at last year, we can see that that SES, once again, had strong growth. What was the driving factor? What makes SES better than comparable companies?
Marcus Wild: Due to the fact that we were able to recognize developments in the shopping center industry at an early stage, we are in a privileged position. A few years ago, malls that explicitly relied on food anchor tenants were ridiculed. Today, this is a huge advantage. One only has to take a closer look at which new shop concepts have been successful in the market: Nowadays, innovation mainly takes place where health, beauty, and food are concerned, in other words, in the food and near-food sectors. And this is exactly why we are excellently positioned and why, in particular, we benefit from our INTERSPAR hypermarkets as the centers' food anchors.
Another reason is that we regarded architecture and room quality as extremely relevant some time ago. As early as 1994, we saw that a high standard of building design and quality of stay, with natural daylight ambience, natural planting, etc., were essential success factors for a mall. In addition, a decade ago, we began attracting top restaurateurs to our centers. Initially, it was more of an investment – now we are getting returns.
Ultimately, gastronomy sales have doubled at some of our centers. Regional top gastronomy partners are our strength. At EUROPARK Salzburg, for example, two of our gastronomes have been awarded Gault&Millau toques. It is our strategy to continuously increase the gastronomy share. We're currently at more than 10 percent in some of our centers.
All of these reasons comprise the makings of our success.
Moreover, we have always served as the investor, builder, and operator simultaneously. When building for oneself, certain issues are considered from a more long-term and sustainable perspective.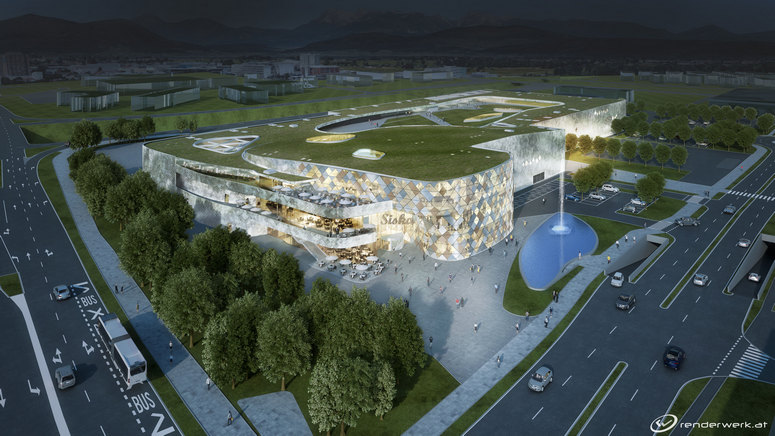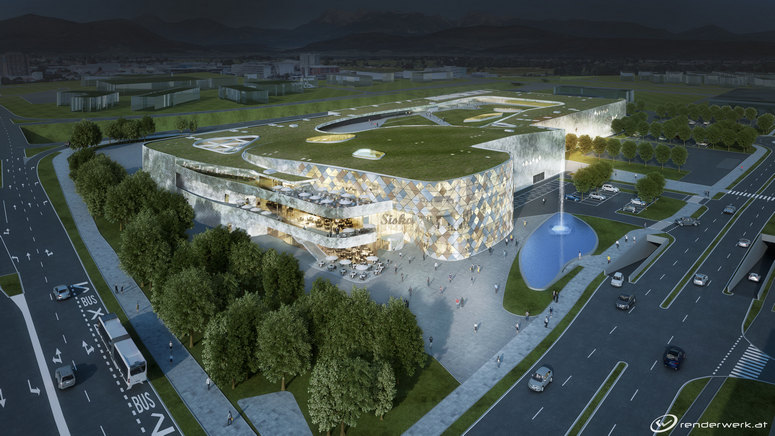 ACROSS: In Slovenia, SES is the market leader, and it is currently pursuing a strong expansion strategy.
Wild: Exactly. We are developing a mall in one of the most prominent areas of Ljubljana, in the densely populated Šiška district north of the center of the Slovenian capital, which will introduce a new dimension to the Slovenian market. The center is being built in a top location – at the exact point where the northbound exit road leads out of the city. It will include approximately 32,000 sq m of rental space and will house around 90 shops.
The gastro share will be 10 percent. Naturally, the building will bear the SES signature and will be multifunctional in design: flooded with natural light, a spacious entrance area, a top food court, and a huge activity zone on the roof. The rooftop activity zone will offer space for outdoor restaurant areas and fitness activities, such as basketball and volleyball, and will simultaneously serve as a place of retreat and relaxation from hectic city life.
ACROSS: What is the total investment in Šiška and what concepts are visible there?
Wild: The total investment amounts to hundreds of millions. As I have said, there will be 90 retail concepts – of various sizes. There will be a mix of international shops and regional shop partners. Of course, we will be strongly represented by our own lines. These will include a modern Interspar and one or two gastronomic concepts that we have influenced. Ninety percent of the space has already been leased.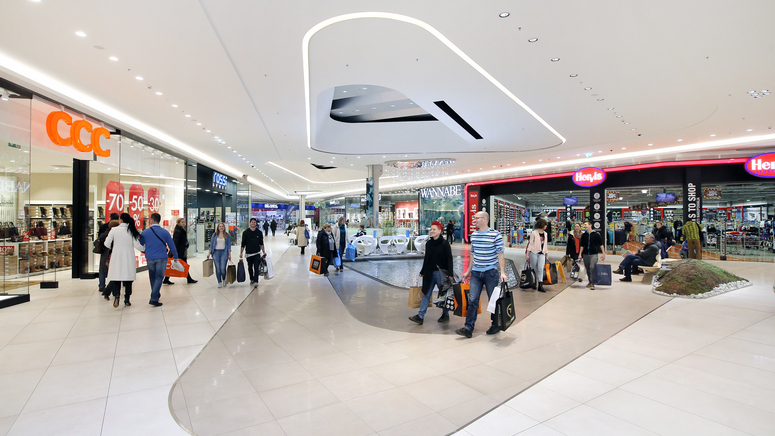 ACROSS: SES is known for attracting new labels to its respective countries. Will there be any surprises in Slovenia?
Wild: Yes, there will be some surprises. I don't want to reveal any details yet.
ACROSS: What is the current status of Šiška? When are you going to open?
Wild: We had a relatively long development time there. The opening will likely take place in approximately 1¾ years. We are currently concreting the ceilings of the underground parking garage. The project is scheduled to open in the fourth quarter of 2019.
ACROSS: How attractive is the Slovenian market for international retailers? Comparatively, Slovenia is a relatively small country.
Wild: Generally speaking, Slovenia, surrounded by Austria, Italy, and Croatia, is a very dynamic and interesting country. It is a country that is a member of the eurozone, which is enormously important to many interested parties. Employees are well qualified and the country's structure is modern. There are a number of very good Slovenian retail concepts. SES is a platform for new concepts from Slovenia for other countries.
In general, we make sure that our centers correspond with regional characteristics, especially in terms of gastronomy. We also attach great importance to regional touches in terms of architecture and furnishings. We do not want to be a chain of shopping centers – we want to create an identity in each region. That is exactly what we are doing on the Šiška project.
ACROSS: SES has a nationwide presence in Slovenia.  A lot is also happening at your other locations in the country, is there?
Wild: Our Interspar local supply center in the Ljubljana suburb of Vič has been undergoing extensive refurbishment since March 2018. Operations are ongoing, as refurbishment work only takes place at night.
Approximately six million euros will be invested in new interiors, quality of stay, modern building services, and an indoor playground for small children. From September 2018, the family shopping center's new, modern look will be presented. An amount in the double-digit million range is being invested in the refurbishment of the Ljubljana Citypark with an aim to attract new shop concepts.
---
About SES Spar European Shopping Centers
SES develops, builds, and operates shopping centers in six countries. The company currently manages approximately 30 shopping locations in Central, Southern, and Eastern Europe.
The leasable area is over 800,000 sq m. SES is the market leader in the shopping center segments in Austria and Slovenia. In 2017, tenants at SES locations generated gross sales of 2.88 billion euros. S
ES also offers its know-how in the areas of project development, construction management, leasing of shop space, and center and facility management. SES is a member of the Spar Austria Group.
---
Sign up for our ACROSS Newsletter. Subscribe to ACROSS Magazine.