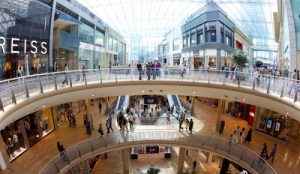 Opening its all-important first store in the city, Russell & Bromley will be offering its full range of luxury footwear and handbags for women and men with a 260 sq m unit on the upper east level of the mall.
The new store will be trading alongside Diesel and Swarovski. As one of the most successful British family brands, Russell & Bromley's keen focus on design brings fashion, luxury and style to its collections.
The signing follows Russell & Bromley's decision to open new stores at Westquay, Southampton and Victoria Gate, Leeds, as the retailer expands its presence in prime regional destinations.
Iain Mitchell, UK Commercial Director at Hammerson, commented: "Following the recent announcement of Coach's debut in Bullring, we are pleased to welcome yet another aspirational brand to Birmingham for the first time.
"Leading retailers are increasingly focusing their store expansion plans on prime regional shopping centres, and as the leading retail destination in the midlands, Bullring is the perfect fit for Russell & Bromley."
Follow ACROSS on