ROS Retail Outlet Shopping exhibited a new stand design at this year's MAPIC edition with its latest concept based on "the joy of outlet shopping". The Austrian company was pleased to present its entire portfolio of 12 operating outlet centers with center extensions and further new developments across Europe, including the latest takeover of Designer Outlet Luxembourg in October 2022.
The premium outlet village Designer Outlet Luxembourg is located in Messancy, Belgium, at the crossroads of Luxembourg, France and only a 40-minute drive from Germany. In addition, high purchasing power is concentrated in the catchment area, with Luxembourg having the highest GDP per capita in the European Union.
Four center extensions and two new developments in the pipeline
ROS Retail Outlet Shopping is currently focused on the upcoming expansion projects of Designer Outlet Gdansk in Poland, which will provide an additional 2,000 sq m of gross lettable area with a unique food court as well as City Outlet Geislingen with an extension of 650 sq m, which will both open in 2023. Further new expansions are the center extensions of the premium outlet villages Designer Outlet Croatia and Designer Outlet Algarve with 10,000 sq m gross lettable area in total, which are planned to open in 2024. New developments are the first franco-belge premium outlet village Designer Outlet Hautmont located in the North of France close to the Belgium border with 16,000 sq m gross lettable area and the modern outlet mall Designer Outlet Krakow with 20,000 sq m.
Furthermore, ROS has been awarded with the golden statuette at the XIII PRCH Retail Awards organised by the Polish Council of Shopping Centres for the Designer Outlet Warszawa in the category of Redevelopment & Expansion. The expansion included additional 5,500 sq m, more than 25 new stores, a newly designed food court and further 500 parking spaces in a convenient multi-storey car park with direct access to the shopping aisles. Today, Designer Outlet Warszawa is the flagship outlet destination in Poland.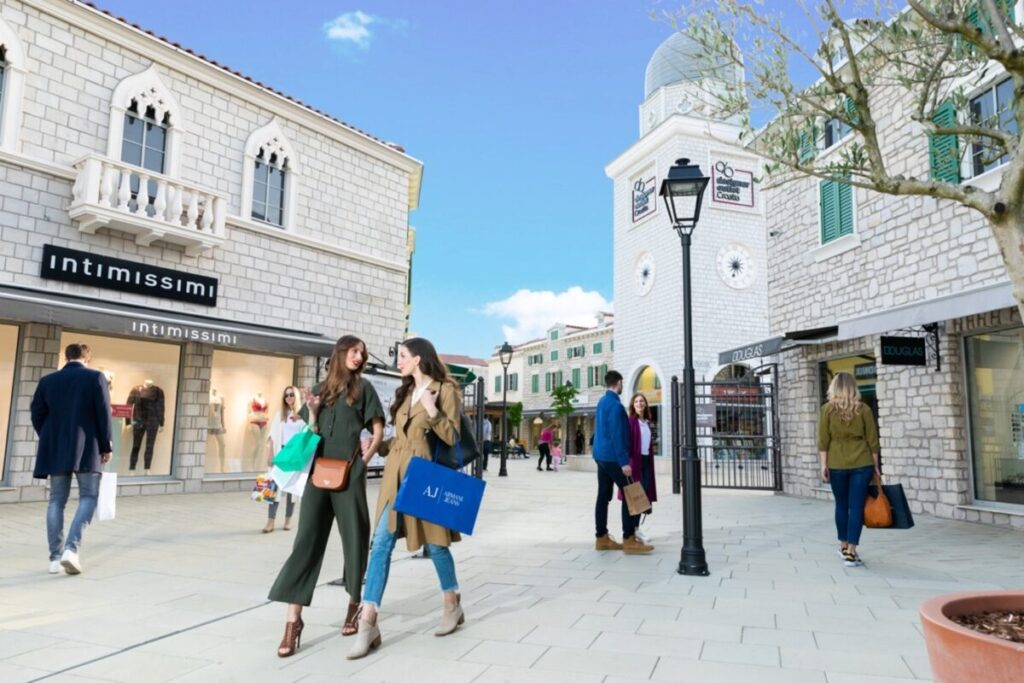 Double-digit sales growth
ROS Retail Outlet Shopping shows an average of +18% sales performance across its portfolio year-to-date 2022 compared to the pre-pandemic year 2019. Recently, the managed outlets also achieved excellent results of +17% on average during Black Week – some locations had record breaking sales.
Trading-up strategy, Digitalisation and ESG for further growth
ROS Retail Outlet Shopping is following its trading-up strategy to attract customers, enhance the shopping experience and reinforce ESG to increase the asset value in the European outlet market.
Digitalisation is another major priority for the outlet operator, both in terms of sustainability in facility management and marketing. Earlier this autumn, ROS partnered with Coniq to launch a new Premium Club loyalty program for Premier Outlet Budapest. With the 'Earn & Burn' function as well as exclusive offers, the loyalty club not only improves customer services, but also boosts revisits and sales through the App.
Upgrading the customer experience through digital marketing and technologies is becoming increasingly important. Digital signage, promotions and unique events, such as the collaboration between Designer Outlet Algarve x Vogue, enhance the on-site shopping experience and transform the retail space into 'phygital' experiences.
In 2022, ROS launched its #bettershopping programme across its portfolio to raise awareness and responsibility for the ecological impact of the retail industry. In this regard, ROS Designer Outlets not only inform about their brands' sustainable collections and the 'green' services available in the centers, such as e-charging stations, but also ensure transparency with detailed information about the photovoltaic systems used, BREEAM certification as well as other related measures to ensure resource efficiency and reduce their carbon footprint.
In addition, circular fashion is promoted by having placed 'drop box' containers in the ROS centers to give used clothes a second life.