Bart Rabaey, Chief Investment Strategy Officer for Mitiska Reim is sharing his insight.
In terms of winners, retail parks have experienced a strong performance during the unprecedented times of the past 18 months, as the segment has continued to thrive on the back of its long-standing formula for success, based on convenience, essential shopping and value for money.
Research we conducted last year with CBRE into the Belgium market confirmed once again the attractive and stable drivers for retail parks–low rents of seven to ten times less than shopping centers and high streets, and higher yields of 5.5% for prime retail parks which surpass not just other sectors of retail but most mainstream real estate segments.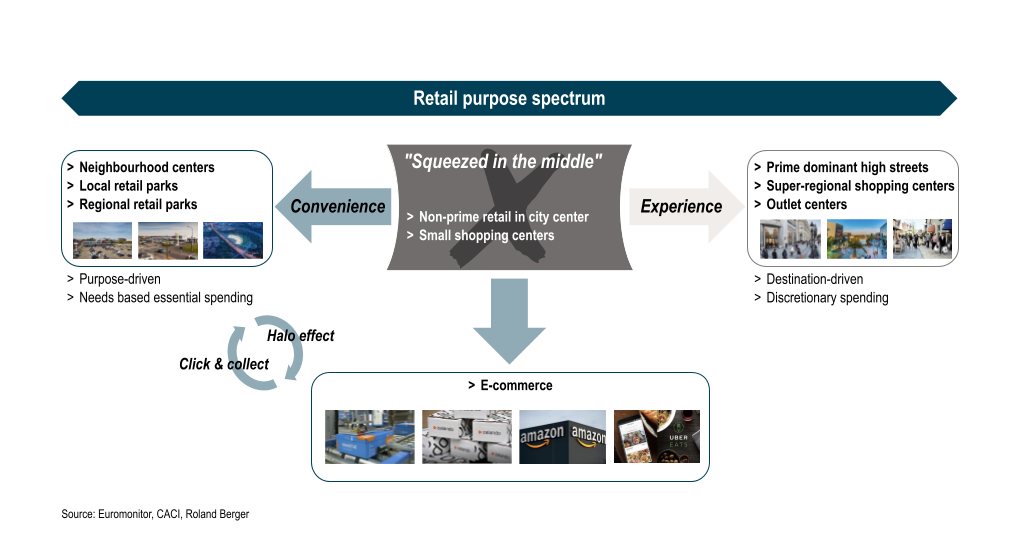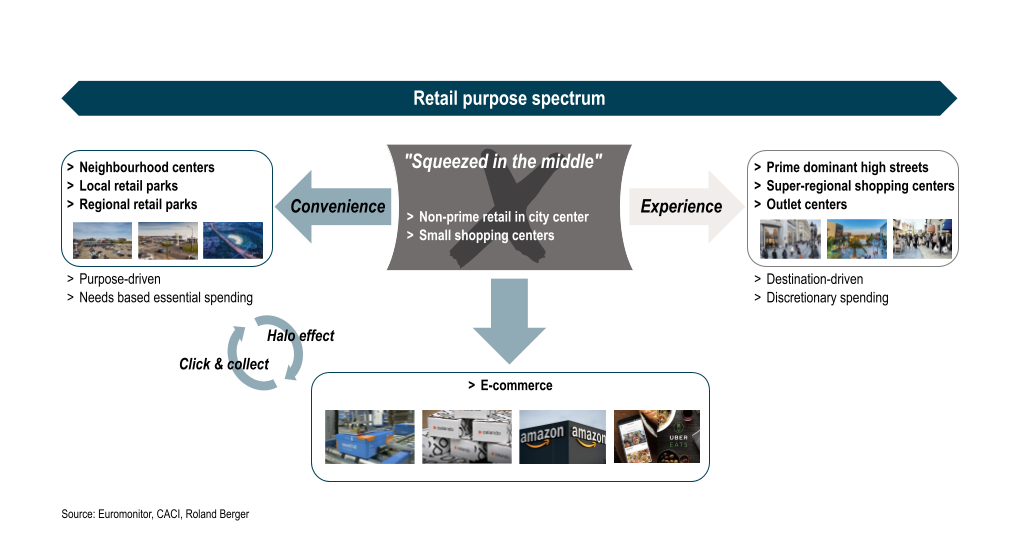 When examining consumer behaviour, the polarization between winners and losers really becomes clear. Consumers have become progressively time-poor but at the same time value-orientated, leading to their selection of retail channels becoming increasingly based on either experience or convenience.
For experience, the destination-driven shopping offered at prime dominant high streets, shopping centers and outlet centers is expected to pick up post-COVID and once again attract consumers' discretionary spending.
Balancing what consumers want and need
But a trend the pandemic has really brought to the fore is that of convenience, as consumers have become more purpose–driven in their shopping and have been choosing retail parks and e-commerce for their needs-based essential spending. The retail park offer which combines supermarkets for daily groceries in combination with complementary, often value-oriented, stores as well as essential services, sited on easily accessible locations, has been very effective at attracting consumers.
This polarisation between convenience and experience will continue to work in favour of both retail parks and prime retail by positioning them as differentiated offerings at each end of the spectrum. But it is the "squeezed middle" of non-prime retail in city centers and small shopping centers which lack a clear unique selling proposition, and have therefore been the most impacted during the pandemic and face the most competitive headwinds from both physical retail and e-commerce moving ahead.
The mutually beneficial relationship between retail parks and e-commerce
There is no denying that one of the biggest beneficiaries of the disruption in physical retail over the past 18 months has been e-commerce. But looking ahead, there is also clear evidence of the growing convergence between physical and online sales, and a mutually beneficial relationship between retail parks and e-commerce.
In a recent outlook report on the UK market, Savills found that online retail sales, as a proportion of total retail sales, have softened since the peak during lockdowns and are expected to settle at around 26.3% by 2022. The remaining 73.7% of retail sales will therefore still be through physical stores, emphasizing the ongoing pivotal role of bricks and mortar.
Savills also highlighted retail parks as being in the most advantageous position in relation to online purchasing. Products typically sold in retail parks are more defensive to online retailing than goods traditionally sold on the high streets, and the ability to see and touch items is still an important factor for consumers.
Trend developments post-lockdown
Research by McKinsey in the US found that store-based pickup options have experienced tremendous tailwinds and innovations throughout the pandemic. Some retailers have reported year on year growth of over 200%, with around 60% of consumers saying they plan to continue to use click and collect post-pandemic, continuing to drive shoppers to stores.
Offering large units with relatively low rents and high car parking provision, retail parks have not only become the most convenient location for servicing daily shopper needs, but are also ideally suited to support omnichannel retailers offering click and collect orders, processing customer returns and servicing home deliveries.
But interestingly, physical stores also positively influence online sales. Referred to as the 'halo effect', research by CACI found that across the UK, online sales were 106% higher within a store's catchment area. In selected categories such as electronics, fashion and sportswear this rises to over 120%. Furthermore, over half of all online sales are influenced by a store either through click and collect, return in-store, showrooming, inspiration or advice.
Retail parks are the clear winners
As we look to the future, the convenience offered by retail parks has pushed them to the top of the shopping list for both consumers, retailers and investors alike.
Because of their accessible locations, affordable buildings and flexible design, we believe the success formula of retail parks will continue to make them an attractive and resilient asset class, positioning them as best placed to benefit from the beneficial 'halo effect' between physical and online sales, and making them stand out as the clear winners in the omnichannel future of retail.