ACROSS: MAPIC 2016 is just over. What brought this year's event in Cannes for TH Real Estate?
STEPHAN AUSTRUP: TH Real Estate holds a large retail portfolio, therefore, as one of the key events for the retail industry, MAPIC presents an excellent and time-efficient opportunity for us to meet our partners and key decision makers in the sector. My impression from this year's event was that people took more time for honest and open conversations.
Retailers seemed keen to explain the changes to their business plans and strategies in order to adjust to new consumer habits. There seems to be a growing understanding amongst the retail industry of the big impact online shopping has and the industry has therefore started to adopt and develop solutions to merge both the "offline" and the "online" areas. Nevertheless, everyone is aware that there is more disruption to come.
At MAPIC, the shrinking pool of viable retailers was an issue that dominated conversations. For example, announcements regarding closing stores was discussed, as well as many insolvencies, especially in the fashion sector. We are finding that for some particularly weak brands, the growth of online retailing is only one of several factors which are limiting those concepts.
ACROSS: What conclusions did you draw in Cannes, then?
AUSTRUP: All in all, I gained three main insights from MAPIC. Firstly, strong anchors are getting bolder in their negotiation style and further expanding their footprint. They are focussed on boosting dwell times either in their own shops or by providing advanced food and beverage (F&B) and leisure offers.
Secondly, those retailers which are expanding are cautious, pursuing a more sophisticated strategy as opposed to trying to quickly conquer new markets.  For example, their meticulous approach includes opening a few stores in different locations, choosing between shopping centres and the high street, analysing performance and consumer habits, adopting their concept, and then progressing with a roll out.
Thirdly, F&B is thriving as a key amenity – now actively sought by retailers. Thereby, the focus lies on fast, casual, and healthy food and that customers want to understand the provenance and quality of ingredients. The good news is that there are more and more professional operators with sound business models available in the market. This development involves lower financial risks for landlords who wants to create a real "dining experience".
ACROSS: TH Real Estate is a significant retail player across Germany. Could you please give a short survey on the company's portfolio?
AUSTRUP: With a global AUM of €29.1bn of retail assets, TH Real Estate is one of the largest global players within the industry. In Europe, we manage a portfolio of €13.2bn with more than 200 assets across all retail segments: high street, outlet centres, retail parks and shopping centres.
Germany is an important market for TH Real Estate. Within the retail warehouse sector, we are one of the institutional investor pioneers in this sector managing a portfolio of 25 retail parks on our Spezialfonds platform. With a shopping centre portfolio of c. €1.0bn and two outlet centres, we currently have €2.0bn of retail properties under management.
By the end of 2016, we will have invested a further c.€320m in retail assets, with a significant future pipeline of investment planned for the next few years. We currently have several funds which are actively investing. With strong consumer confidence, a stable economy and ongoing attractive financial conditions, we are looking forward to deploying more capital into the German retail sector.
Although the current market environment is very competitive, TH Real Estate's market presence, our strong network of developers and our track record with investors continues to allow us to source a good pipeline of investment opportunities.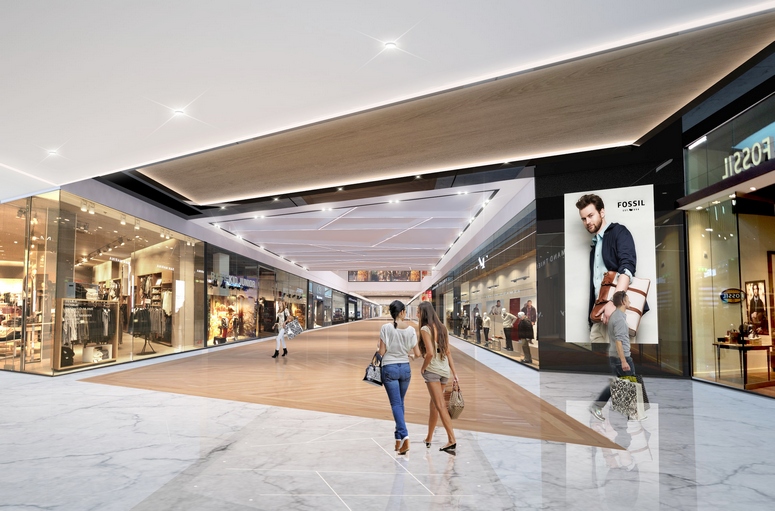 ACROSS: Actually, the famous Gropius Passagen in Berlin are being refurbished. What is the status of this refurbishment and what will be its effects?
AUSTRUP: Gropius Passagen, the largest shopping centre in Berlin, is currently being redeveloped. The first stage of the refurbishment project was completed in 2015 and included the 'Fashion Mall' with new brands like Calzedonia, WE Fashion, Hallhuber and Hunkemöller. In 2016, further stores such as Only, and recently a Camp David flagship store with a phenomenal double height shop front, was opened. We also implemented new customer facilities, comfortable seating areas and other amenities.
We have received very positive feedback from our customers as well as from retailers; the new mall area is a perfect showroom for what's coming next. In the past couple of weeks, the works on the second phase have started, which cover the area from the main entrance through the central rotunda to the area in the centre, where we will welcome Primark next to our existing anchor tenant Kaufhof. In the third and final stage of the major refurbishment, we are going to develop a new dining plaza in conjunction with the cinema, and reorganise the southern part of the mall.
With our partner Unibail-Rodamco, we developed a vision to diversify the tenant mix and customer experience at Gropius Passagen, thereby strengthening its market position within south-eastern Berlin. We benefit from the positive development of Berlin in general, particularly the area around the asset. Moreover, developments like the new airport in Berlin will – once opened –create approx. 40,000 jobs. The Gropius Passagen is probably the most complex and exciting example, but by far not the only one within our portfolio, where we create value for our investors through a pro-active asset management strategy.
With the ongoing extension of 10,000 sq m GLA at PEP, for example, the scheme will become the largest shopping center in Munich. In our retail warehouse portfolio, we also have several ongoing projects in which we are strengthening the market position of our assets through an extension or repositioning, and the creation of super convenient shopping destinations.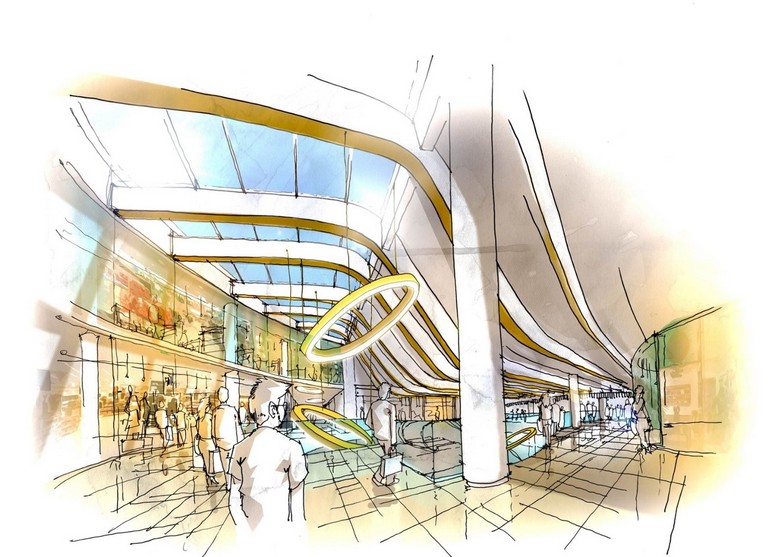 ACROSS: Beside refurbishment, changing consumer behaviour – keyword: online shopping – is a trend within the retail real estate market. Concerning this, how do you adapt your asset management strategies?
AUSTRUP: For TH Real Estate, retail asset management is a holistic approach. Obviously omni-channelling and digitalisation are key drivers of change. In all acquisitions and business plans for our existing portfolios, we consider the impact from these changes on retail formats, the required floor plates of retailers and whether the property provides necessary flexibility in layout.
In other words, we check the resilience of our assets and their flexibility to sustain and perform in the long term. Using our strong relationships with retailers, we ensure that our asset management teams understand the changes within the business models of our tenants. Thus, they can identify those who are likely to be successful and closely monitor those who struggle or might fail.
Another component is the implementation of new digital strategies and therefore also the marketing and service approach – initially within our large schemes, but more and more in smaller assets and retail parks. As well, we also benefit from our wide range of products, e.g. outlets malls which are at the forefront of service and active retail management.
We also benefit from our research and the research and experience of partners, like Westfield, ECE and Unibail-Rodamco. We then tailor and adapt these concepts according to the profile, shopping habits and expectations of the local customers. Within our European team of retail experts, we share best-practise examples, exchange regular case studies, and recommend those specialist companies whom we like to work with.
With our colleagues in the US and Asia, we can serve our clients and funds with the expertise of retail real estate specialists around the globe who have profound local market know-how.
ACROSS: Doubtlessly, the German shopping-center-market is considered to be quite saturated. Nevertheless do have any "insider tips" for regions with potential?
AUSTRUP: TH Real Estate has adopted a broad research approach which is based on the systematic analysis of global megatrends. It determines their impact on real estate markets and identifies growing cities and metropolitan areas. Thus, even in a quite saturated market, we still find regions with potential. Obviously, in the retail sector, urbanisation, ageing demographics and migration, as well as technology are the key drivers of change.
In Germany, we benefit from a stable economic and financial environment, with high consumer confidence and therefore sound rental growth. Moreover, the retail sector especially, profits from the polycentric urban system in Germany, which allows investments outside the strong performing Big Seven cities. The growth of online sales is another factor which has an impact on sales and therefore will change the retail landscape in our cities.
Using analysis from our research team, we can identify those cities and properties that are sustainable or even benefit from this evolution. Particularly in a saturated market like Germany, where good investment opportunities are rare and yields relatively low, a strong market presence and pro-active asset management approach are key elements to strive to deliver good returns for our funds and clients.
ACROSS: As Head of Retail in Germany, what are your plans and targets for 2017?
AUSTRUP: In 2017, we are looking forward to deploying further capital into the German retail sector. Specifically for our pan-European open-ended flagship product, the European Cities Fund, and our funds in the retail warehouse sector as well as other mandates looking for dominant shopping centres. We have recently launched a vehicle for the Southern European market and in Germany, we continuously look at similar core-plus and value-add opportunities for new vehicles.
But for me, the long-term view of TH Real Estate is even more important. With our local expertise and network, we provide our clients a platform to invest into the strong German retail sector. Our retail team is able to spot interesting investment opportunities and cannot only identify, but also deploy value-creation potential.
I am looking forward to the completion of the ongoing projects at Gropius Passagen in Berlin and PEP in Munich, as well as several other assets, where we can demonstrate that through the strategic investment in our properties, we are contributing to the long-term delivery of Tomorrow's World.