L'Esplanade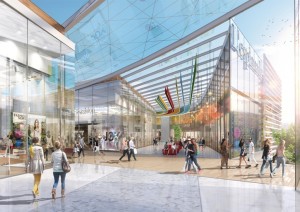 Located at the heart of Belgium's wealthiest province of Walloon Brabant, Louvain-la-Neuve's attraction is enhanced by its university and 231-hectare science park. L'Esplanade has grown consistently in this region of economic and demographic expansion since it opened in 2005. This mall is part of a large and dynamic urban plan, especially with the opening of the new train line in 2020, linking Louvain-la-Neuve to Brussels' city center. Many recent openings by fashion, beauty, and home shops, including Desigual, Superdry, Undiz, MAC, Sud Express, and Hema confirm the attractiveness and dynamism of the mall. With its catchment area predicted to grow by 7.4% by 2020, the center has embarked on a 20,000-sq m GLA extension with two new concourses that will allow it to welcome 50 new retailers in 2018 for an even more intense shopping experience.
Batignolles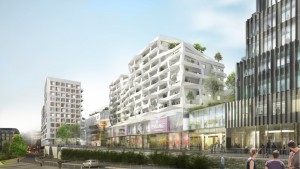 Located in Paris's 17th arrondissement, between rue Cardinet and boulevard Peripherique, the Batignolles Mixed Development Zone (MDZ) has been designated by the Mayor of Paris as the flagship regeneration project for the northwest of the French capital. Imfined Group has been selected as an investor and Seefar as asset manager for a 10,000-sq-m shopping mall project to serve a district that is currently undersupplied with retail stores despite the strong purchasing power of its catchment area. The center will take advantage of the close access to Metro line 14 as well as of its own parking facilities. Batignolles is scheduled for completion in 2018.
Outlet Collection Winnipeg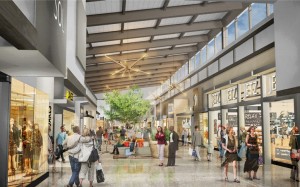 Set to open in May 2017, Outlet Collection Winnipeg will be the first pure outlet center in Greater Winnipeg – one of the largest cities in Canada. This 37,161-sq-m enclosed shopping destination will feature over 100 renowned outlet brands and marquee anchor tenants. Strategically located on a high-traffic, easily accessible major corridor in the most affluent quadrant of the city, it will offer an unparalleled retail mix to local shoppers and tourists from neighboring provinces and the United States. Outlet Collection Winnipeg will be a destination that will enliven the surrounding commercial development through attractive landscaping, intuitive wayfinding, comfortable public spaces, and integrated public transit.
Incity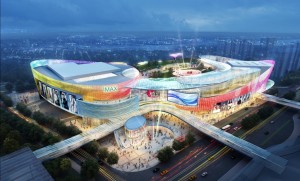 SCPG, which operates more than 30 shopping malls in the Pearl and Yangtze River deltas, has chosen the Nanxiang area of the Jiading district for its Shanghai debut. The 330,000-sq-m Incity shopping mall will become the benchmark for all projects in the SCGP's flagship Incity series. Shanghai Incity is under construction next to the Hujia Expressway, close to the Shenhai and Huxiang expressways, and has connections to two lines on the Shanghai Metro. These strong transport links are expected to draw 2 million people from the surrounding 10-km area. Projected to open for business in 2019, it will offer more than 450 national and international mainstream brands covering a commercial area of 190,000 sq m. The scheme will feature an ecological retreat and balcony garden, as well as a courtyard and open-plan space, making it one of the greenest retail developments in Shanghai.
Raffles City Changning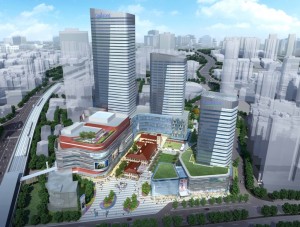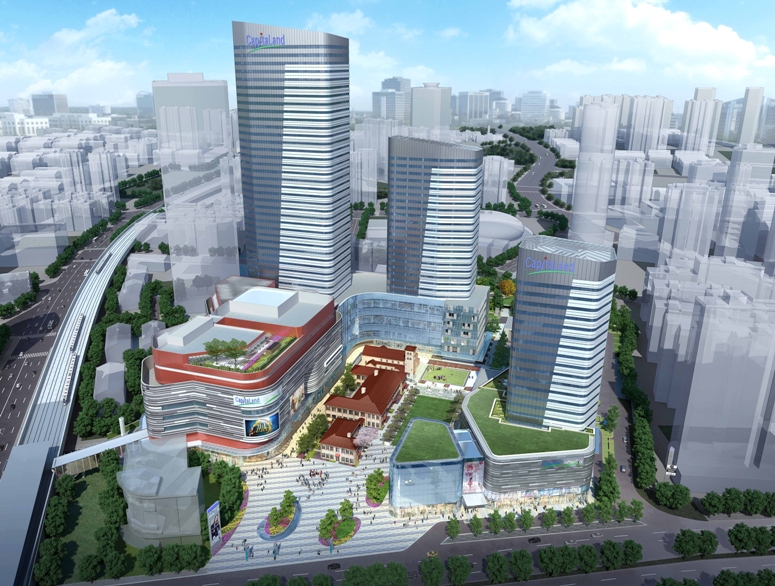 Building on the success of Raffles City Shanghai near People's Square, CapitaLand is developing its second Raffles City project in Shanghai in the prime Changning District. Located at the center of Shanghai's Zhongshan Park business district, the integrated development will be directly connected to three busy subway lines. Covering a total gross floor area of about 261,000 sq m, it comprises a shopping mall with 77,000 sq m of net lettable area spread across two retail podiums, three Grade-A office towers, and five blocks of heritage buildings restored from the former St Mary's School. Targeted to open in 2017, the mall will offer street-level retail frontage along Changning Road that will provide branding opportunities for retail flagship stores and upscale restaurants. Complementing the retail offerings in the mall, the heritage buildings and the lawn between the two retail podiums serve as an ideal venue for film premiere parties, fashion shows, and exclusive product launches.
City Center Almaza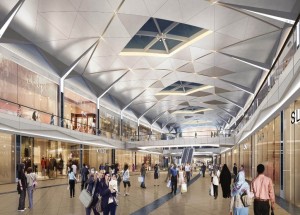 City Center Almaza, due to open in Cairo in 2018, will be the third "City Center" shopping mall in Egypt. As the largest mall network in the Middle East and North Africa, Majid Al Futtaim's City Centers are large-scale, mixed-use shopping destinations, complete with retail outlets, restaurants, and leisure and entertainment facilities. With a total investment of EGP 3.5 billion (€400 million), City Center Almaza will offer 103,000 sq m of GLA, including more than 300 well-loved regional and international brands like a Carrefour hypermarket, a state- of-the-art 16-screen VOX Cinema complex, Magic Planet family entertainment center, and a host of indoor and outdoor food and beverage and dining options. Almaza, meaning "diamond" in Arabic, inspires City Center Almaza's architectural narrative, set to deliver the highest levels of community relevance in public space design, retail provision, and leisure and entertainment facilities.
Ikea Center Lappeenranta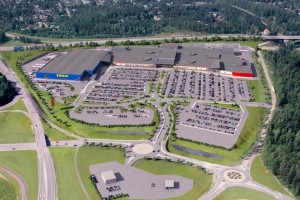 In 2020, Ikea Centers plans to open a completely new and modern shopping center next to the Ikea store outside the Finnish city of Lappeenranta. The mall and the Ikea store will be integrated under one roof and, together, will offer one of the region's most versatile shopping destinations. It will not only be attractive to Finnish customers, but also to an increasing number of visitors from Russia, as it is 20 km from Nuijamaa border station and just 200 km from Saint Petersburg. The shopping center is located about 7 km from the city center on Highway 6, which is of regional importance and has a high volume of traffic, with an average of about 15,000 vehicles per day. The mall will include 2,600 parking spaces as well as bus and taxi stops.
Steel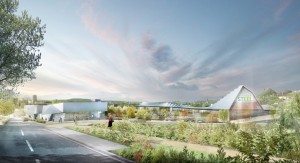 Strategically located at the gateway to Saint Etienne, Steel will become an icon for the French city. The architecture (by Sud Architectes and Atelier Rivat) and powerful design show the conceptual ambition of the project; its creation will be unique thanks to spectacular roofing and facades dressed with oven metal strands imagined by the designer Joran Briand. The merchandising mix will focus on home and sport equipment with unique brands on a surface area of 52,000 sq m. Steel will welcome 60 shops and restaurants with creative concepts. This venue will offer a special customer experience: 5,000 sq m of indoor activities, a powerful and innovative entertainment offer, 37,000 sq m of landscaped areas, and an ecological pond. Outdoor areas will be convertible, so that people can use them as playgrounds.
Verona Adige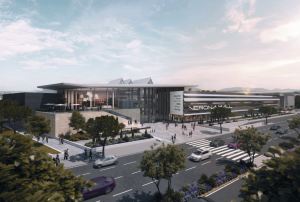 In the Italian festival city of Verona, ECE is developing the new Verona Adige shopping center with a leasable area of 42,000 sq m and approximately 130 shops and service providers. Among others, the mall will feature a 4,500-sq-m Interspar hypermarket, an exciting mix of Italian and international retailers, and high-quality dining options. The center is located in the metropolitan area of Verona, has good transport links, and offers more than 2,500 parking spaces. ECE acquired the shopping gallery from its former developer CDS Holding in May 2015, who will construct the project and conduct the initial leasing services in coordination with ECE. Groundworks have already been completed and construction work proper is scheduled to begin in October 2015. ECE will take over the management of Verona Adige after its opening in spring 2017.
Nowa Stacja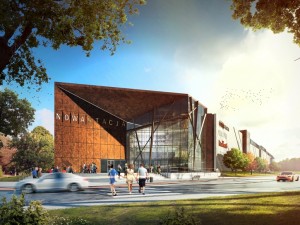 Nowa Stacja is a new shopping mall in Pruszków, a satellite town in the Warsaw metropolitan area. It will be located near the railway station, in the revitalized post-industrial part of the Polish city. Its 27,000 sq m of GLA will feature 120 retail and service units. The ground floor will offer clothing stores for women and kids, with some of the biggest international brands, such as H&M, while a supermarket and multimedia stores will offer a wide selection of merchandise. Shops for the young and a food court area will be located on the first floor. Nowa Stacja will also have an entertainment zone on the top floor, with a seven-screen multiplex cinema, climbing wall, dance school, and fitness club. Play corners and a seasonal ice rink will be on offer for families with children. The project, planned to be finished in the first half of 2017, is targeting BREEAM certification.
Dhahran Boulevard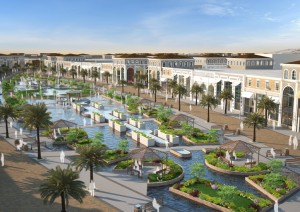 Arabian Centers, a leading developer, owner, and operator of international-standard shopping malls in Saudi Arabia, is launching another major project in the eastern region of Saudi Arabia. Dhahran Boulevard, a part of the Mall of Dhahran Complex in Al Khobar, is beautifully located in the hub between Dhahran, Al Khobar, and Damman and represents another Arabian Centers flagship retail mall. The 150,250-sq-m development will be the Rodeo Drive of the Kingdom, a brand new thoroughfare lined with palm trees and water features and populated by premium retail and dining offers. Planned to open in 2017, the Mall of Dhahran and Dhahran Boulevard together form one of the largest retail spaces in the Gulf Cooperation Council (GCC) with over 300,000 sq m of retail space.
Økern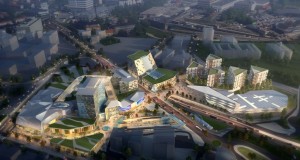 Økern has a unique location in Oslo's most ambitious city development project. Steen & Strøm is responsible for creating an urban- and future-oriented site comprising a total area of 163,000 sq m, including a water park, cinema, residential area, and culture, in addition to a new shopping destination that will be one of the largest in Oslo. The new shopping center will be an international landmark both in terms of design, architecture, and retail mix, offering an inviting and urban city structure with spacious outdoor areas. Økern has excellent infrastructure as a major hub in Oslo, which makes the center easily accessible by car, metro, and bus. Adjacent to the metro, a new bustling square with restaurants and cafés will offer a welcoming ambiance for people to shop, dine, and enjoy. The Norwegian capital is one of Europe's fastest-growing cities and the population is expected to increase by 15% by 2025 and by 24% in Økern's primary market. More than 10,000 new apartments are planned to be built within 1 km of the center in the coming years.
Mall Of Arabia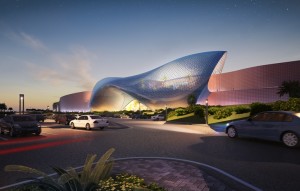 Developed by Arabian Centers, Mall of Arabia Riyadh will be a crown jewel for the country's mall development company. The 163,000-sq-m development will feature over 300 stores, a five-star hotel with direct walking access to the mall, an upscale residential complex, and the latest in digital technology and exclusive customer service propositions. In addition to the high-street retail offering, Mall of Arabia Riyadh will host a premium and luxury mall featuring some of the worlds' most desired brands. Situated in the prime area of the city, North West, Mall of Arabia is at the center of Riyadhs' infrastructure development, featuring upscale housing, educational facilities, and the Diplomatic Quarter, and includes the most affluent districts of Riyadh. With its opening scheduled for 2018, the shopping center is set to become the new destination for the region.
Outlet Collection Edmonton International Airport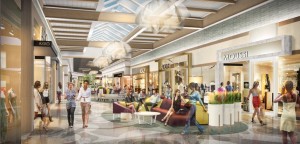 Set to open in October 2017, Outlet Collection Edmonton International Airport is a 38,555-sq m, fully-enclosed outlet center, located just steps from Edmonton International Airport (EIA). With 8.2m passengers a year, EIA is the fastest-growing major airport in Canada. More than 74,000 vehicles pass by every day. Outlet Collection EIA will feature over 100 marquee outlet brands and renowned anchor tenants. Edmonton's first and only pure outlet center will feature warm modern fashion-forward districts and a contemporary dining hall within an industrial chic shopping environment. This will be the third of a series of Outlet Collection centers that Ivanhoé Cambridge has introduced to the Canadian market. It will follow and build upon the same formula as the Outlet Collection at Niagara, which opened in May 2014, followed by Outlet Collection Winnipeg, opening in May 2017.
Ikea Center Loulé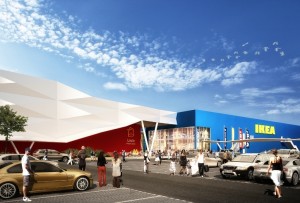 The project is located in the municipality of Loulé, in Portugal's southernmost region of Algarve. Ikea Centers' second shopping center in Portugal, the Algarve project will be a flagship for the company and the leading retail destination in the southern part of the country. Scheduled to open in 2017, it comprises a 42,000-sq-m shopping center, plus a 24,000-sq-m Ikea store, the first fully integrated Ikea store in Portugal and the group's first in the region. The scheme will also be linked to a 17,000-sq-m outlet village – the first in Algarve. The mall's 110 shops will include a strong fashion component, as well as cinemas and some 30 restaurants – both indoor and outdoor – creating a lively atmosphere along the gateway. The Loulé project will have a strong focus on innovation and sustainability, providing optimal efficiency of resources in operations, as well as having a positive impact both environmentally and socially.
City Center Al Zahia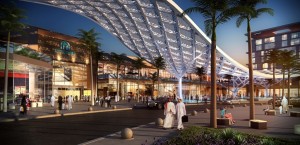 City Center Al Zahia will be a super-regional, mixed-use shopping mall, complete with hospitality options alongside 330 premium regional and international brands. Set to deliver a well-considered mix of existing and new brands making their retail debut in Sharjah, City Center Al Zahia will offer 136,300 sq m of GLA, including a Carrefour hypermarket, a state-of-the-art 16-screen VOX Cinemas complex, a Magic Planet family entertainment center, Little Explorers advanced edutainment center, and indoor and outdoor dining facilities. Designed with contemporary flair, City Center Al Zahia features a distinctive perforated metal structure that encompasses the mall and presents it as a prominent lantern-like landmark within a community celebrated for the Sharjah Light Festival. While inside, the carefully selected palettes, spatial clarity, high volumes, and diffused natural lighting provide a sophisticated neutral background for the retail storefronts designed to deliver an ultimate customer experience. The center represents a total investment of AED 2.36 billion (€570 million) and is set to be the eighth City Center in the UAE, due to open in 2018.
Hoog Catharijne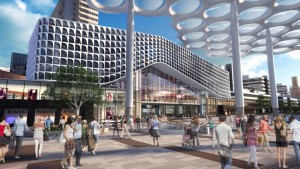 The shopping heart of Utrecht is one of Klepierre's major properties in the Netherlands. Hoog Catharijne is not only the geographic axis between the old city center and Utrecht's Central Station; it is the place to go for good old-fashioned Dutch shopping. With 26 million visitors a year, Hoog Catharijne is the most frequently visited shopping centers in the Netherlands. But there's more to experience under one roof: relaxation and recreation go hand in hand with the Vredenburg concert hall and the Hoog Catharijne cinema so close by. The central location makes the scheme and its 103 stores the retail heart of the country. Hoog Catharijne's shopping experience will become even more special thanks to the extension and refurbishment project planned for 2019. 80 new retailers will integrate to create the largest mall in the Netherlands: an experience on 100,000 sq m of GLA. Movie theatres, several towers, a casino, and 600,000 sq m of offices will further enhance this fashionable destination. This project is part of a vast urban renewal plan that also calls for an expansion of the train station, which will enable the latter to accommodate hundred million passengers a year by 2030.
Reino de Leon Retail Park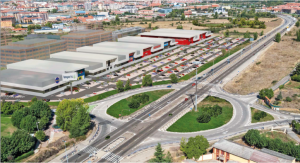 The Reino de Leon retail park is located in Leon, an important city in northwest Spain. Due to its advantageous location in the expansion zone of the city and located by the main traffic axis (LE-20), only five minutes away to the city center, its catchment area will reach more than 310,000 inhabitants. The project will be a novelty in the commercial offer of Leon since it will be the first big-box retail park there. The total development will be done over an area of 54,758 sq m and will have a GLA of 26,141 sq m, with more than 1,000 parking spaces. The commercial mix will have the most relevant retailers by sector: sports, home improvement, electronics, food, fashion, and hospitality. Construction work is scheduled to start in 2016 and the opening is planned for 2017.
Kungens Kurva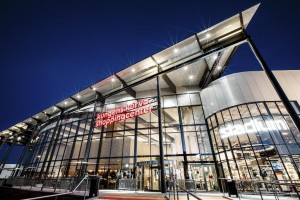 Sweden's largest shopping destination will soon be even bigger. Kungens Kurva, 15 km south of Stockholm, is the country's largest mall. It also boasts the world's largest Ikea and over hundred high-volume retail stores within home furnishings, electronics, fashion, and groceries. 15 million visitors come here every year. In April 2014, Ikea Centers opened the first part of Kungens Kurva shopping center with 22 stores covering a total of 25,000 sq m. In 2020, the developer is planning for another 30,000 sq m of shopping with a mix of local stores and big chains, while Ikea looks into the possibility of building a brand-new store to serve Sweden's most densely populated catchment area, comprising 1.5 million inhabitants, with easy access from all of Stockholm and Södertälje.
Lulu Silicon Oasis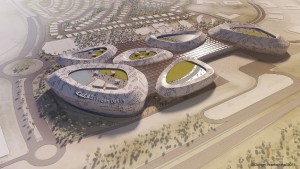 Design International has been appointed by Lulu Group International as the architect on a new signature shopping mall in Dubai. Lulu Silicon Oasis will be situated at the "Dubai Silicon Oasis" site, 12 minutes' drive from Downtown Dubai and 15 minutes' drive to Dubai International Airport. The project features a design of interlinked "pebbles," all representing a different area of the mall: entertainment, urban fashion, luxury, kids and sports, leisure, and a Lulu Hypermarket. The retail offering will be on two levels, with a total GLA of 64,040 sq m. This will be complemented by underground car parking and a cinema on the top floor. Like its namesake, the interior design focuses on an "oasis" of tranquility, with an abundance of greenery, water features, and natural light.
Las Rozas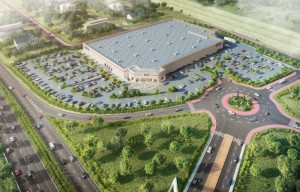 In Madrid, Bogaris is developing the third Costco Wholesale store in Spain. The project is located in Las Rozas, on the northern outskirts of Madrid – the city with one of the highest per capita income in the country. The total site area is 37,643 sq m with a GLA of 15,000 sq m. Located in Sector SUZS "Cerro de la Curia," Las Rozas, the plot has a big façade towards the A-6 highway with easy access to it from both directions. The estimated investment will be €25 million and there will be more than 250 new jobs created directly by this project. Urbanization works are planned to end in 2016 with the store opening in 2017.