The project scope includes lounges and dwell zones, floors and ceilings in partial areas, and the furnishing of the outdoor areas. The entrances were enlarged and newly equipped. Kplus konzept also developed a new brand design. The mall belongs to the portfolio of Deka Immobilien Investment GmbH and is operated by ECE.
An open, only partially covered structure gives the mall character. It has a spacious and bright design, a central location in the city center, a broad mix of sectors and tenants with a cinema, restaurants, doctors offices, and other service providers – in addition to the extensive retail offering.
On the one hand, an urban center, on the other hand, the word "park" which is a symbol for recreation and tranquility – the combination of both qualities provides the common thread for storytelling and design: a high feel-good factor merges with the urban flair of the shopping destination.
The branding: typeface, logo, and figurative mark were tailored for the elaborated positioning. The key visual is a circular graphic motif that represents the mall's claim to be a city center – everything strives towards the center. Derived from the circle, the logo also communicates the city-park connection.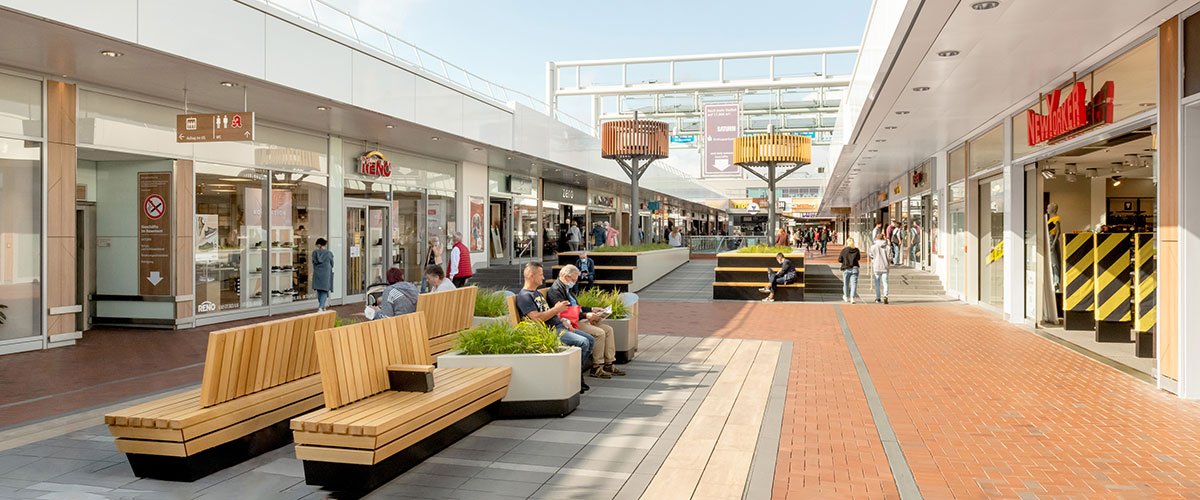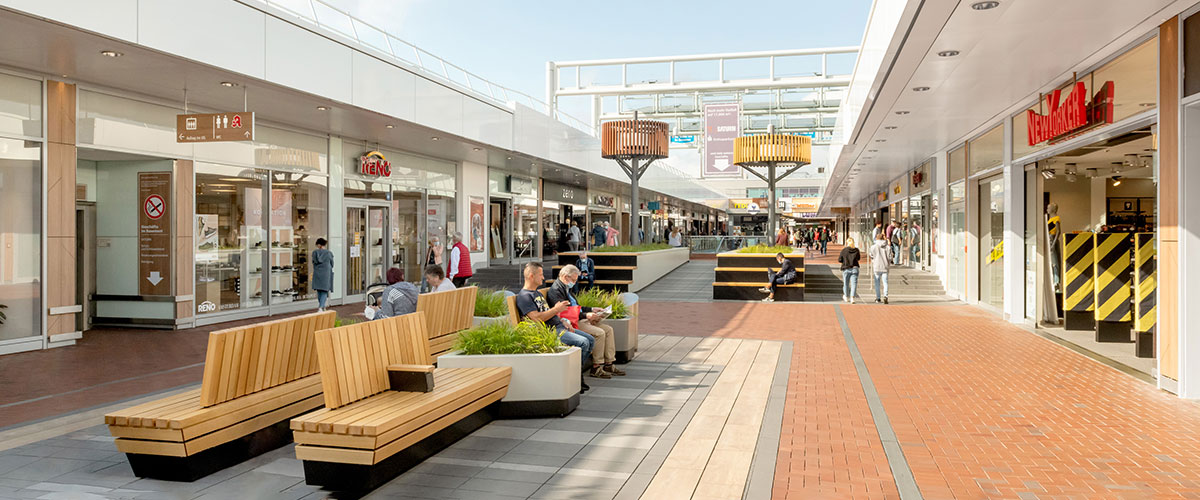 Storytelling can be experienced in the mall in four subareas:
The open, spacious entrance area on the west side has become the "marketplace" – a culinary attraction with food court and see-and-be-seen potential. The open-air "promenade" is the urban boulevard with a concentrated shopping offer. The width of the promenade allows for lounge furniture in the central area and an additional large-format video wall.
The "Stadtgarten" (city garden) opens up as an oasis in the midst of surrounding stores; with benches and greenery, it becomes a place-to-be with a high quality stay.
The "Veedel," the Cologne term for "city district," refers to the shopping street directly at the entrance of the bus station, where the younger crowd meets. A concentrated mix of chain stores and fast-food offerings gathers here. The different outdoor seating furniture, designed by kplus konzept, is tailored to the various zones in the center with the matching decorative "tree lights".
A wood look runs through the center in various variations and characterizes the furnishings, many panels, wall and ceiling cladding, and the façade. The ramification of trees, transformed into an abstracted design element of vertical lines and diagonals, is used as a bracket and identifying feature throughout the entire mall design.