Suning Holdings Group has opened its newest shopping center, Xuzhou Suning Plaza with 160,000 sq m GLA, in Xuzhou, Jiangsu Province, in East China through its subsidiary Suning Real Estate.
This step should be seen against the backdrop of rising economic and purchasing power in second- and third-tier Chinese cities. It is also the country's most ambitious project to enhance its retail offer and open the regional market to international products.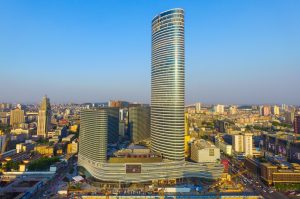 Around 1,000 prestigious Chinese and international brands are found in Xuzhou Suning Plaza. About half of these are newcomers to the city like Hugo Boss, MCM, G Givenchy, Michael Kors, and Vivienne Westwood.
The premiere of these brands attracted more than 500,000 visitors on the first day and generated sales of $7 million (€6.4 million). "We are very satisfied with the high number of visitors to the new Plaza.
Given the strengthening of purchasing power we are seeing in China's second- and third-tier cities, we expect consumer demand to grow there," said Jin Ming, President of Suning Real Estate.
20 Suning Plazas already in operation
With 2.6 million inhabitants, Xuzhou is a third-tier Chinese city and a fast-growing economic motor in Jiangsu. According to the Chinese government's statistics authority, per capita income in Xuzhou rose by 9.4% year-on-year in 2016, making it one of the top performers in the province.
Suning has already built 20 Suning Plazas, most of them in second- and third-tier cities like Nanjing, Wuxi, Zhenjiang, Fuzhou, and Taiyuan. With booming economies and an unsaturated market for international brands, these cities offer greater potential for foreign companies than big cities like Beijing and Shanghai.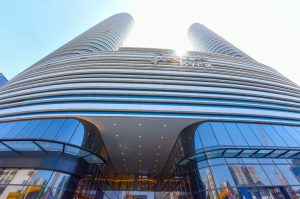 Suning's success in attracting foreign brands to China is the result of more than just choosing suitable locations. Instead, the group, founded in 1990, wins over tenants with its strength in the integration of resources in different industries and its vision of "digital intelligence."
It collects data through its online and offline distribution channels to keep track of current consumer and demand trends and to set up targeted marketing plans for companies. Its comprehensive retail services and convenient payment options on various devices allow the company to provide an upgraded shopping experience for consumers.
Suning has developed into a pioneer in the evolution of the Chinese retail industry and has maintained its growth despite constantly changing consumer culture and technological landscapes.
"In the age of the internet, success depends on opening up and sharing. It no longer matters how much a company owns. The magic word is 'integration,'" said Zhang Jindong, Chairman of Suning Holdings Group.
Follow ACROSS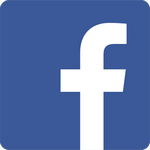 Share this article