Planeta Perm | RUSSIA
On April 22, 2021, Planeta Perm, a shopping and entertainment center located in the industrial district of Perm in the Volga region, was opened. Its estimated catchment area is about 700,000 people, with an estimated daily footfall of about 35,000 visitors. The total gross floor area is 150,000 sq m, and the gross leasable floor area is 83,105 sq m. Ample parking can be found in the 2,400 above-ground parking spaces and 500 underground parking spaces. A wide range of retail, leisure, and entertainment offers are available at Planeta Perm: Lenta, a grocery hypermarket, Superland, a family activity park, M.Video, a home appliance and electronics store, Sportmaster, a sporting goods hypermarket, and Leonardo, a hobby hypermarket. The shopping galleries feature leading international, Russian, and local brands, including House, Cropp, U.S. Polo, Love Republic, Mohito, Women's Secret, "Gut! Clothing", Incanto, Sinsay, Ostin, Colin'S, Velvet Season, BeFree, Gloria Jeans, L'Etoile, and many others. Brands that have been present in Perm for some time, as well as those that are new to the city, such as Reserved, Velvet Season, Helly Hansen, Gold Apple, and others, are featured. A large, modern food court, which has a total capacity of 1,100 people, is also available and includes operators such as KFC, Burger King, McDonald's, "Chicken in English", Gelateria Italia, "Sushi make", and others.
---
Laurier Québec | CANADA
Ivanhoé Cambridge has announced the completion of its redevelopment project at Laurier Québec in Québec City as well as the arrival of a new 7,800-square-meter Sports Experts in the space previously occupied by Sears. This new store, which is still under construction, will meet the evolving needs of an active clientele and will offer a shopping experience featuring many innovations. "This announcement is proof that Laurier Québec's transformation has inspired confidence in our tenants, with a local retailer choosing us for its largest store in Canada," said Johanne Marcotte, Vice President, National Operations and Leasing Québec, Retail. "In addition to attracting new tenants, such as Caisse Desjardins de Sainte-Foy and Winners, our investments in the improvement of the commercial offer and shopping experience confirm that customers are still keenly interested in renewed environments at shopping centers." The major $60-million project will revitalize Laurier Québec's common areas and breathe new life into the northern sector of the property. In addition, the center's northern facades have been upgraded and a new entrance has been added on Hochelaga Boulevard. Laurier Atrium, a new space for chatting and relaxing, adjacent to the food court, will also provide vertical access to the three levels occupied by Sports Experts.
---
Lulu Mall Trivandrum | INDIA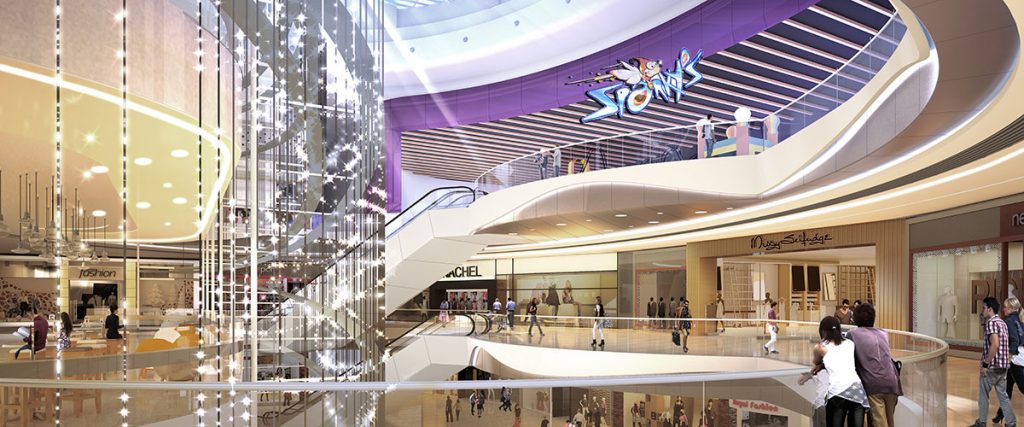 Lulu Mall Trivandrum, designed by Design International on behalf of Lulu Group, will be located in Thiruvananthapuram (previously called Trivandrum), the capital of the Indian state of Kerala. The rich, naturalistic heritage that characterizes the Thiruvananthapuram area served as the starting point in the design process for the new shopping destination. The overall area of the project development is 191,500 sq m and consists of a shopping center GBA of 92,500 sq m, comprised of more than 300 national and international brands as well as 12 anchor stores. The mall will house a 12-screen multiplex and a family entertainment center, which will include a 1,850-square-meter trampoline park. The mall will also feature a 2,500-seat food court as well as several restaurants and cafes that offer various regional, international, and specialty cuisines. Ashraf Ali M.A, Lulu Group's Executive Director, commented: "Lulu Mall Thiruvananthapuram is a prestigious project for the group, marking our retail presence in the state capital. The design is the core component that makes our mall remarkably unique. We are now focused on getting the mall ready for the earliest possible launch."
---
Mission Rock | USA
MVRDV has recently unveiled its design for a 23-story mixed-use building in Mission Rock in San Francisco. It is the result of 12 years of planning and community input aimed at transforming 11 hectares of asphalt and a windswept parking lot into a new community gathering point for the city's residents and visitors. Mission Rock is a public-private partnership with the San Francisco Giants, Tishman Speyer, and the Port of San Francisco to build a mixed-use waterfront development near Oracle Park. It is designed as a neighborhood whose ensemble of mixed-use buildings will be connected via the public spaces that surround them and penetrate their ground floors. It includes residential, commercial, and retail spaces, as well as parks and open spaces. The planning phase of the project began in 2007 and took 10 years to complete. Construction of the development began in 2020 and is scheduled to be completed in 2026.