---
TAIWAN
Taipei Twin Towers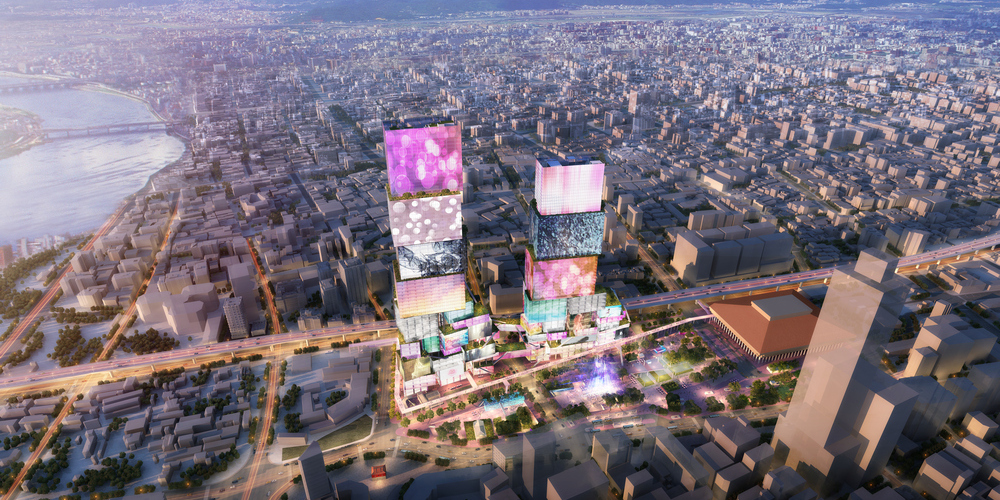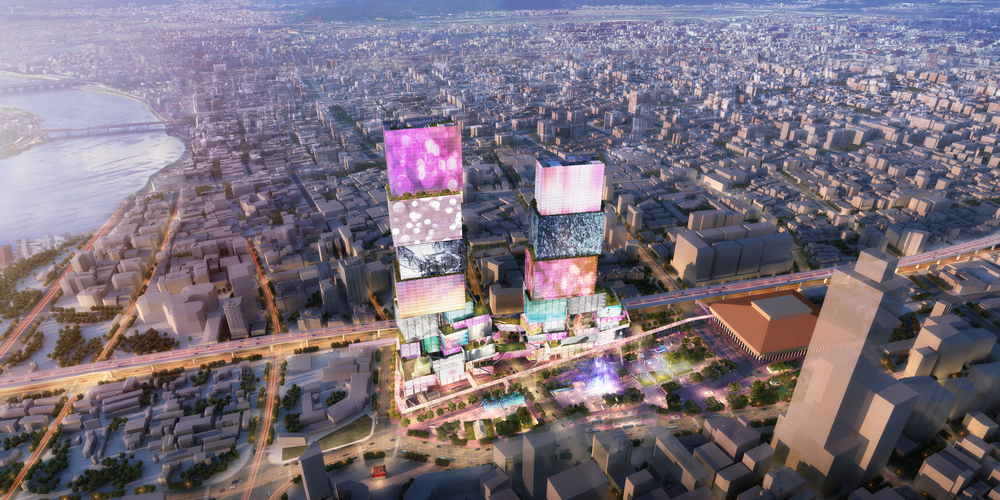 MVRDV's plan for the Taipei Twin Towers, designed as part of a consortium led by Nan Hai Development, has been selected to revitalize the central station area of Taiwan's Capital.
The design is characterized by a pile of blocks that creates a vertical urban neighborhood, and by the facades of those boxes – including a number of interactive media facades – which artistically communicate the diverse program contained in those blocks. The aim of the project is to provide a vibrant and charismatic destination that re-establishes the central station area of Taipei as the city's premier location for shopping, working, and tourism – a Times Square for Taiwan.
The retail blocks are stacked in such a way that, at their centers, public atriums are created, which allow for a natural ventilation system. Outside, escalators and walkways connect the terraces on top of the retail blocks together and provide alternative access to the stores, creating a vertical shopping experience that rewards exploration. An elevated walkway that connects the station to the surrounding destinations will also become the backbone of the area.
Thanks to the small size of the retail blocks, each can only contain a small number of tenants – in many cases, just a single store. This could provide the opportunity for each block to communicate its unique character through an individual facade. A number of these facades are also proposed to feature interactive media displays, making the buildings dynamic hosts for the showing of major cultural spectacles, sporting events, and, of course, advertising.
---
MEXICO
The Landmark Guadalajara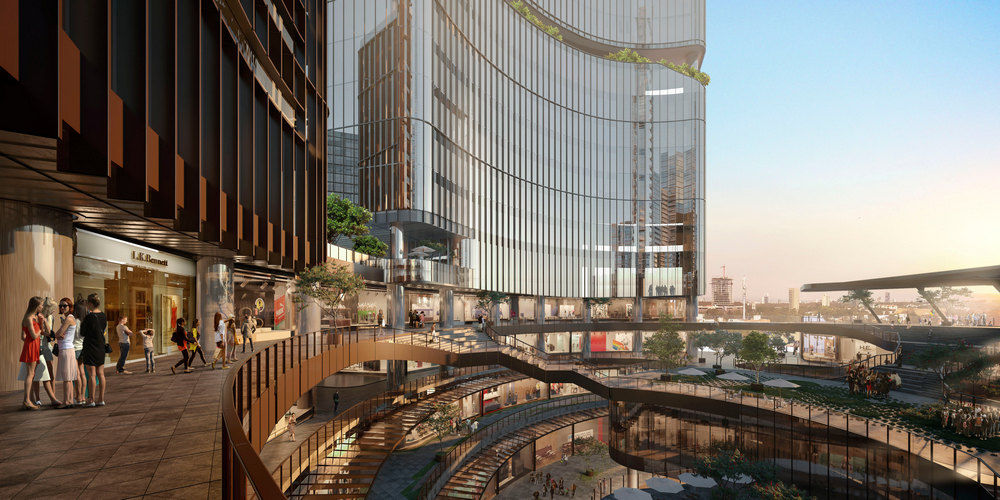 Thor Equities Group has announced that Max Mara, Hugo by Hugo Boss, West Elm, Design Within Reach, Under Armour, and Fogo de Chão have signed long-term leases at The Landmark Guadalajara in Mexico, a new 232,200 sq m development comprised of prime retail, office space, and luxury residences.
"We are pleased to welcome these premier global brands to The Landmark Guadalajara, which is helping to meet the area's increasing demand for superior retail experiences, Class A offices, and premier residences," said Joseph Sitt, Chairman of Thor Equities Group.
The project includes 29,000 sq m of office space anchored by WeWork, 70 retail stores, and 150 luxury residences that offer 180-degree views of the city. Designed by Sordo Madaleno Arquitectos, the property features modern and innovative architecture. It is located in the Puerto de Hierro district, a prestigious neighborhood in the metropolitan area of Guadalajara.
---
CANADA
The Well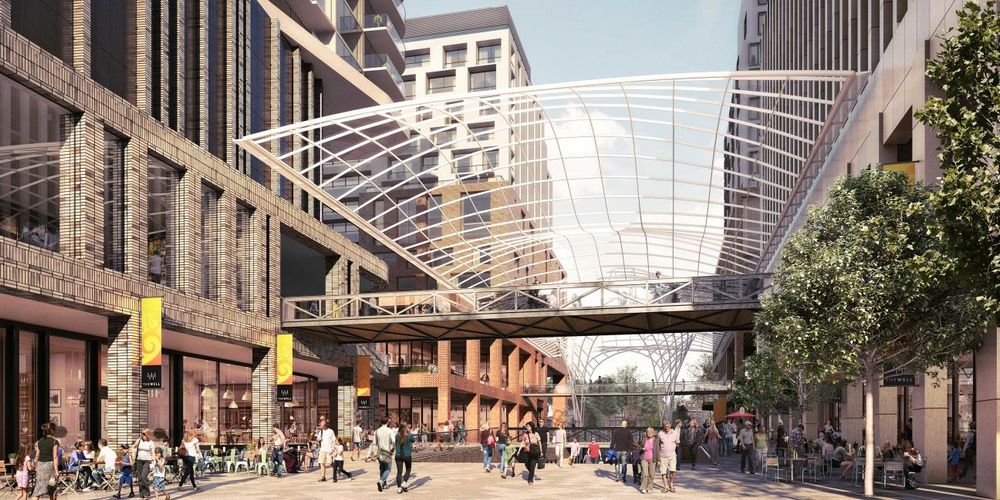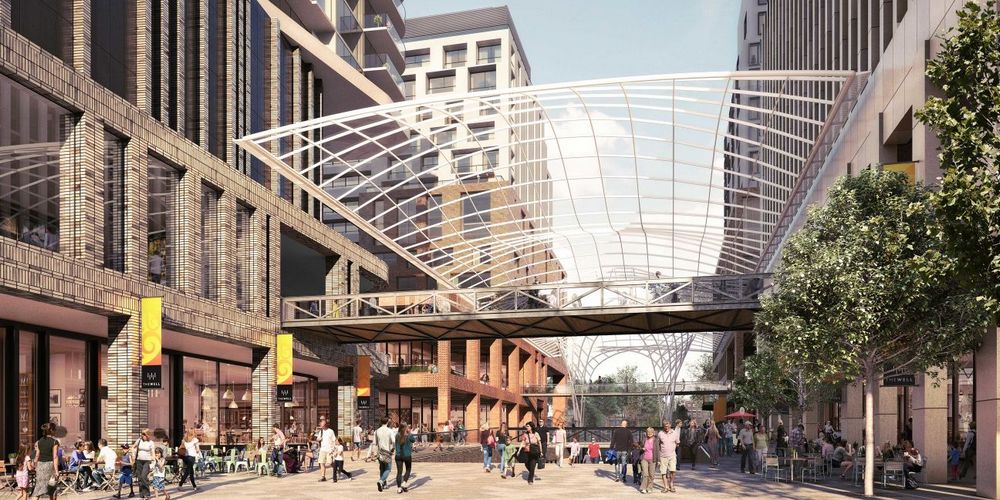 The Well is an ambitious mixed-use endeavor in Canada, located in the heart of Toronto's West End.
Bordering Front, Spadina, and Wellington, the design includes 46,500 sq m of retail and food services, 102,000 sq m of office space, and 1,800 residential units spread throughout seven buildings connected to a 3-level retail base.
Visitors, employees, and residents will be drawn to its robust retail mix, dynamic amenities, entertainment, and cultural events. The Well is set to become a gathering place, reflecting the heart and soul of Toronto, inspiring and improving the quality of life.
The retail and office areas are due to open in 2021. Completion of the apartments is scheduled for 2023. RioCan is in charge of the project.
---
THAILAND
One Bangkok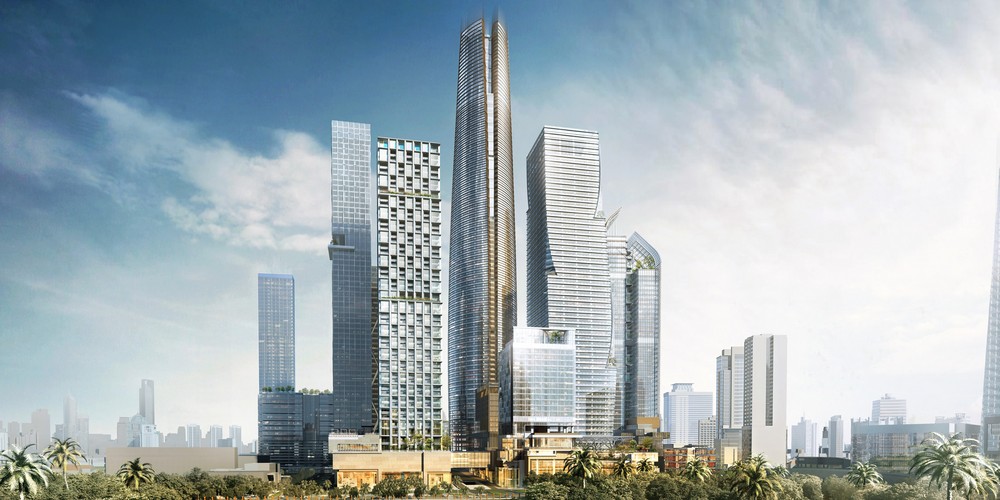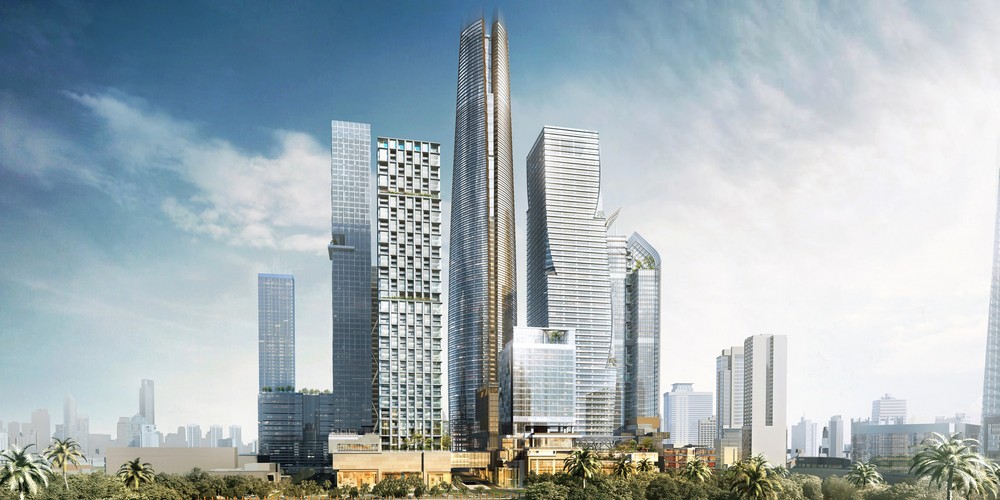 TCC Assets Co., Ltd. and Frasers Property Limited jointly intend to develop 16.7 hectares, in the heart of Bangkok, into a "must-visit" destination city district.
The project, called "One Bangkok", will create Thailand's first fully integrated district that is built on people-centric principles as well as a focus on environmental sustainability and smart-city living. It is the largest private sector property development initiative undertaken in the country, with an estimated investment value of over USD 3.5 billion.
The project is set to become a new global landmark when its first components open in 2022. "One Bangkok" will comprise next generation office buildings, luxury and lifestyle hotels, a comprehensive array of retail and leisure offerings within differentiated precincts, ultra-luxury residential towers, a rich variety of civic areas, art and culture facilities, as well as eight hectares of greenery and open spaces.
The land, leased from the Crown Property Bureau, enjoys a prime location at the corner of Wireless Road and Rama IV Road, with direct links to mass transit systems, right next to Lumphini Park.
---