---
China
SHANGHAI ITC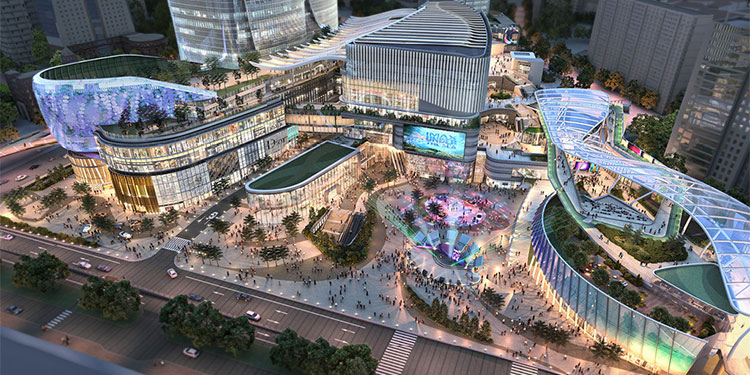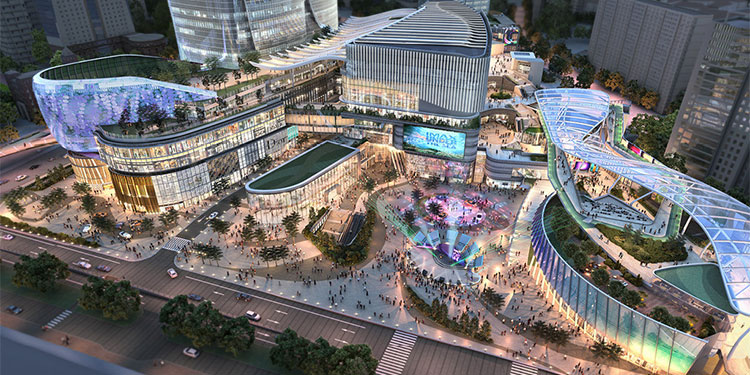 Lead8, an international firm of architects, planners, interior designers, and graphic designers, has recently unveiled its design for the Shanghai ITC mixed-use destination being developed by Sun Hung Kai Properties. The firm is responsible for the delivery of the retail architecture, the retail planning, the hotel, the signage and wayfinding, as well as the pedestrian bridge design for the 700,000-square-meter development in Shanghai. The Shanghai ITC scheme, which is currently one of the largest sites under development in the city's center, is an integrated development combining four plots of land. The project will include grade-A offices, a premium retail mall, and a luxury hotel, all with direct access to the Xujiahui metro station, which is where five lines converge. "Shanghai ITC is a city-scale development and a future-looking design that aims to seamlessly integrate into this bustling shopping and entertainment district. Our concept has aimed to physically connect this new development with the surrounding sites, and we thank Sun Hung Kai Properties for the opportunity to set a new precedent for Xujiahui," commented Simon Chua, Co-Founder & Executive Director of Lead8. The project is being constructed in phases with completion expected by late 2023.
---
UNITED ARAB EMIRATES
AL KHAIL AVENUE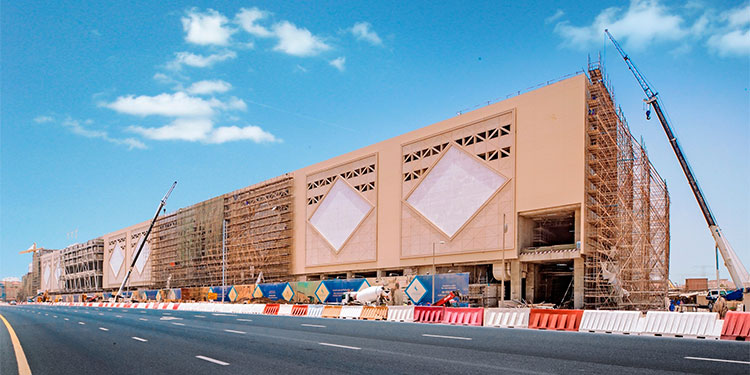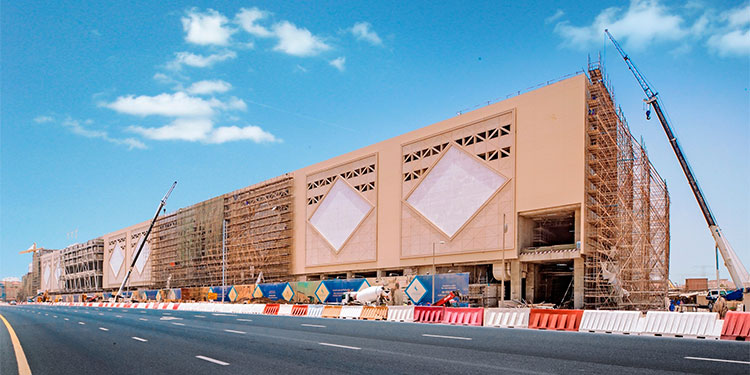 Nakheel is investing AED 114 million in roads and bridges that will provide direct access to Al Khail Avenue, its new retail, dining, and entertainment development at Jumeirah Village in Dubai. The company, which is funding the roads project in full, has appointed Wade Adams Contracting LLC to build the access routes. Contract work has recently begun and is due for completion next year. The links will take motorists directly from Al Khail Road into Al Khail Avenue's 4000-space, multi-story parking garage, providing seamless entry to and exit from the mall, which is under construction on the edge of Jumeirah Village Triangle (JVT). There will also be access points from JVT itself. Operated by Nakheel Malls, the retail arm of Nakheel, Al Khail Avenue will have 350 shops, restaurants, entertainment outlets, and services, and it will be connected to a 267-room hotel, operated under the DoubleTree by Hilton brand. Opening in 2020, the scheme will serve hundreds of thousands of residents living and working in JVT and its surrounding areas, including Nakheel's Jumeirah Village Circle, Jumeirah Islands, Jumeirah Park, and Al Furjan residential communities as well as commercial hubs, such as Jafza and Dubai World Central.
---
TAIWAN
MITSUI SHOPPING PARK NANGANG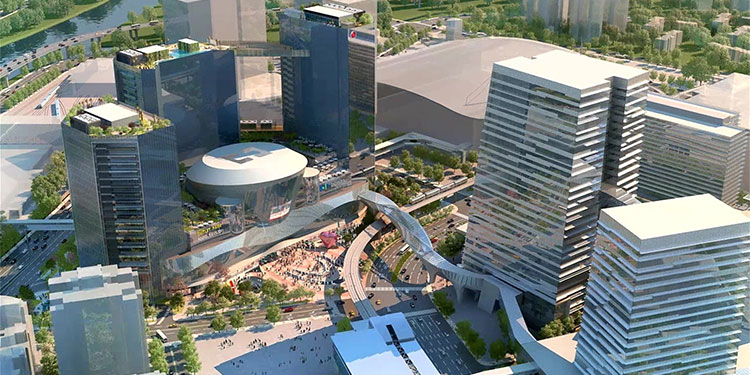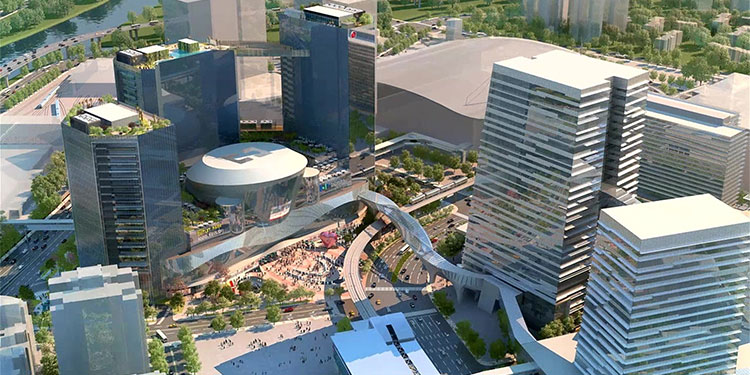 Mitsui Fudosan has announced that project company Mitsui Taiwan's work on Mitsui Shopping Park Nangang, a project that was announced in January 2017, is progressing steadily. A ceremony commemorating the beginning of construction was jointly held with Taiwan Life, a subsidiary of CTBC Financial Holding and real estate developer for the entire building. Construction is set to begin soon, and the facility is scheduled to open for business in 2021 as Mitsui Fudosan's first LaLaport in Taiwan. Mitsui Fudosan has also decided to develop a second LaLaport business in the country, Mitsui Shopping Park LaLaport Taichung. Shopping Park Nangang will be located approximately 20 minutes by car from Taipei Station in the Nangang District in the eastern part of Taipei. The location is near Nangang Jingmao Park, which is being developed and will feature a new city center with multi-faceted neighborhood offerings, such as office, retail, and residential facilities as well as a convention center. The new city center is expected to undergo further development. Mitsui Fudosan will undertake bulk rental of the retail mall portion of a multi-use building that consists of offices and halls. The project will bring a wide range of popular Taiwanese and Japanese shops together.
---
EGYPT
CITY CENTRE ALMAZA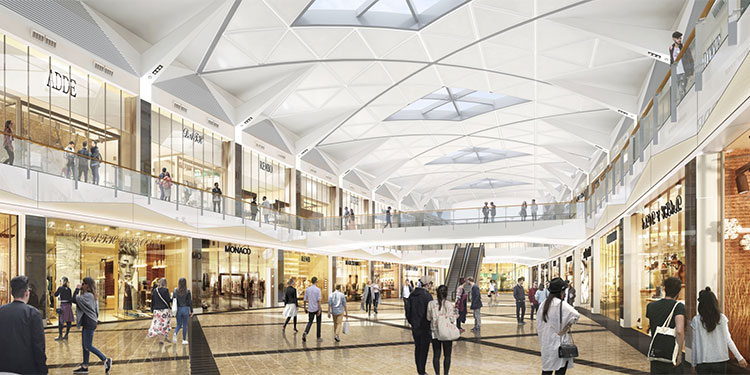 A new retail and entertainment scheme in the Egyptian capital of Cairo, which will be supported by the EBRD, will be environmentally friendly and will create jobs for young people. The Bank is providing a USD 200 million loan to develop City Centre Almaza, owned by Majid Al Futtaim. City Centre Almaza is located in East Cairo and will be launched in Autumn 2019. It will cover an area of around 103,000 sq m and will be developed in line with latest standards in order to adopt energy efficiency measures, reduce electricity and water consumption, and reduce greenhouse gas emissions. This will help it achieve Gold-level certification under the LEED green building certification scheme. It will be one of only two LEED Gold certified shopping centers in Egypt. In addition, an on-site learning facility will be created, which is expected to improve access to training and employment opportunities in retail and hospitality for young men and women. The participants will develop new skills and gain employment opportunities through the training. The EBRD has invested almost €5 billion in more than 90 projects in Egypt since it started operations in the country in 2012. The Bank invests in all sectors of the economy in order to support the private sector and sustainable development.