GERMANY
Cano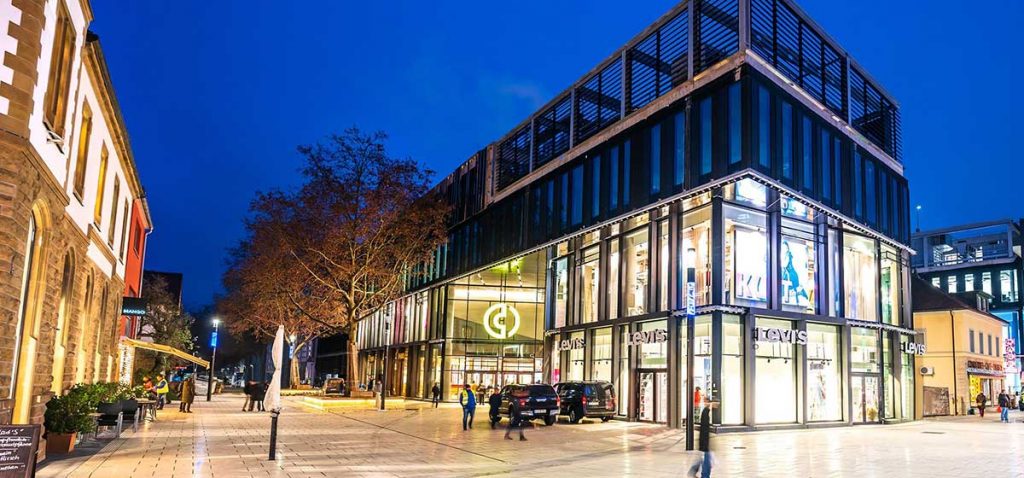 On December 12, 2020, ECE opened Cano, which it developed and constructed, in the southern German town of Singen following a construction period of around two and a half years. The shopping center offers a sales area of approximately 16,000 sq m, which is distributed over three floors, and it features some 85 stores. Of those stores, roughly 55 are concepts that are brand new to the city. As of the opening date, the center is almost fully leased and offers a diverse mix of popular national and international brands as well as concepts from the surrounding region. ECE has invested around 165 million euros in the development of the mall and will also operate the center in the long term. The center is owned by ECE European Prime Shopping Center Fund II. Cano is located directly in Singen's city center, on the main shopping street, opposite the main train station, and is expected to attract customers from the entire Lake Constance region as well as from neighboring Switzerland. Its catchment area is home to around 370,000 inhabitants in Germany and around 200,000 inhabitants in Switzerland.
---
SERBIA
Galerija Belgrade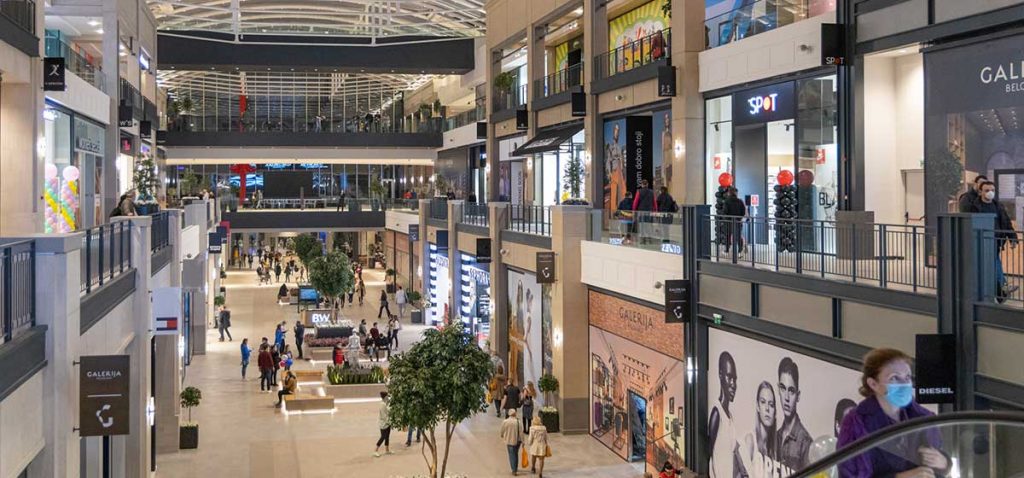 Galerijа Belgrade opened its doors on October 30, 2020 in the presence of Eagle Hills' Chairman Mohamed Alabbar and the President of Serbia Aleksandar Vucic. As part of Belgrade Waterfront, the scheme is an attraction on the local market, both because of its location on the river bank, and because of the size, facilities and product and service range it offers. All international standards of the industry were applied for the design of Galerijа Belgrade. With a total area of 300,000 sq m, the biggest green roof in the region, and as many as 3,600 parking spaces, it offers a new shopping experience which will be further expanded over time. Visitors will find popular international and local brands in one place and enjoy dozens of cafes and restaurants with a beautiful view of the river. In addition to the biggest trampoline park in this part of Europe, there is also Cineplexx Galerija Belgrade–a multiplex cinema with nine halls and more than 1,700 seats, equipped with IMAX technology for movie projection. The architecture is inspired by the spirit and streets of Belgrade with its stone and glass exterior as well as interior floors and facades made of natural materials.
---
POLAND
Galeria Andrychów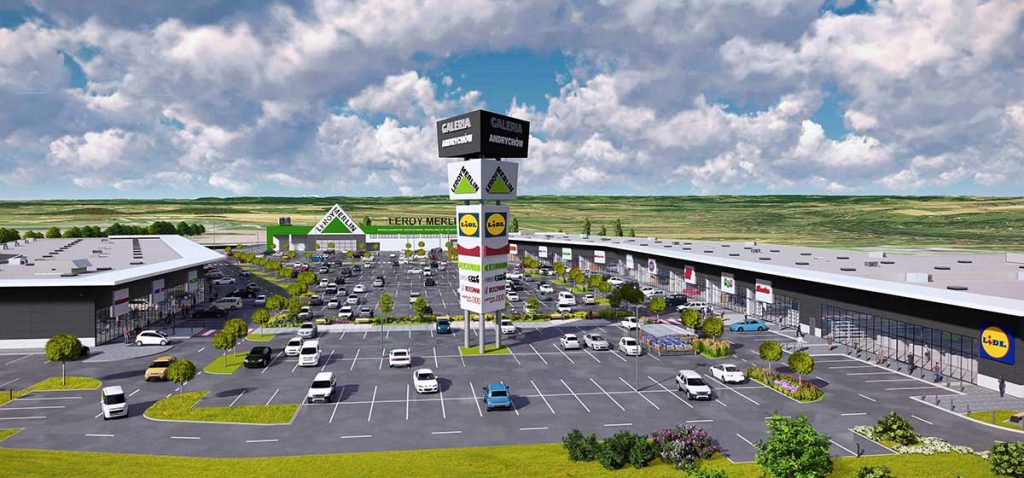 Last October, construction work officially began on the new Galeria Andrychów retail park – a joint project between Acteeum Group and Equilis Europe. Work in Andrychów in southern Poland began immediately after the investors signed the contract with the general contractor Karmar S.A. Galeria Andrychów is the first retail project in the city and the region to be developed on such a large scale and covers a total GLA of 24,000 sq m. It represents another joint venture between the two investors, after Galeria Chełm, and it is scheduled to open in the fall of 2021. Galeria Andrychów is almost entirely leased, months before its planned opening, with leases signed for more than 90% of the space. Among the featured brands are well-known and popular chains, such as Leroy Merlin, Lidl, CCC, Smyk, Rossmann, Media Expert, Martes Sport, Jysk, KiK, Sinsay, House, Cropp, Deichmann, Divers, Pepco, Dealz, Hebe or Komfort, as well as local stores. The plot of land on which the new retail park is being built is located at the intersection of Krakowska, Biała Droga, and Przemysłowa streets, with direct access to the national road and in the vicinity of the planned Bielsko-Biała – Głogoczów bypass. Galeria Andrychów will offer 680 parking spaces.
---
KOSOVO
Prishtina Mall
The fall of 2022 is set to begin with the opening of Prishtina Mall, the largest shopping center in South East Europe (SEE). According to the developers, the importance of this mall is not only local, but also regional in nature. With a location that connects the entire SEE region, a building area of 239,111 sq m, and a leasable area of 114,000 sq m, it is expected to become the premier destination for leisure and entertainment beyond Kosovo. Accredited by Edge for its eco-friendly structure and accessibility for everyone, the interior of Prishtina Mall offers a sensational change of scenery for its customers. It was designed by LaguardaLow Architects, and its architectural value lies in the way the local beauty of the landscape is incorporated into the interior: high ceilings, glass-domed atriums that break through all floors to let in sunlight, green gardens filled with plants, and 7,623 sq m of F&B units for rest, enjoyment, and relaxation. "We are creating something that is sure to be industry-leading and will certainly put Kosovo on the map for shopping and entertainment. It will be the envy of many, and it will bring enjoyment to the numerous people who choose to spend their time with us," commented Mike Pugh, CEO of Prishtina Mall.
---
GERMANY
Drehscheibe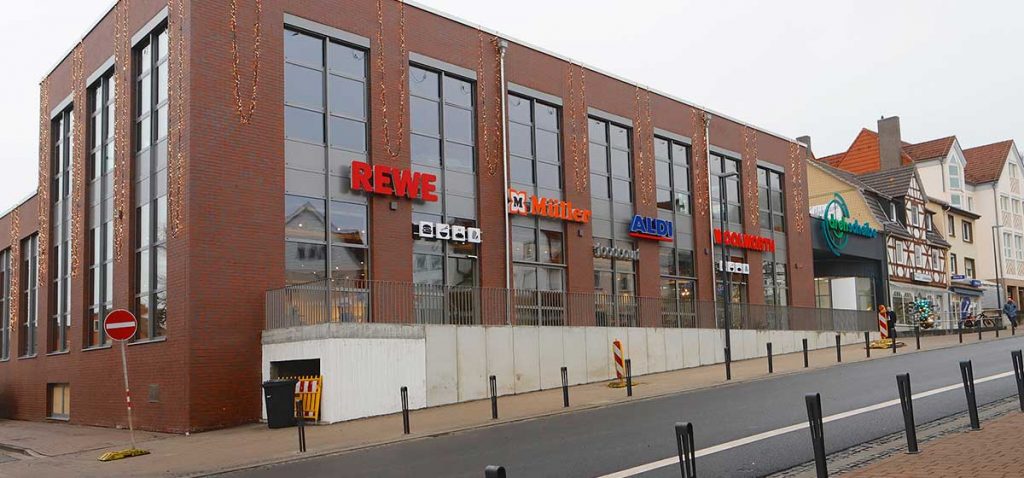 Last December, investor and developer Schoofs Immobilien GmbH Frankfurt opened a new shopping center, Drehscheibe, in Homberg, Hesse, right in the heart of the city center. The 17,600 sq m space is home to 22 stores and service providers, ranging from fashion stores and supermarkets to a pharmacy, optician, hairdresser, and nail salon. In addition, the 420-sq m foodcourt offers culinary delights. The hub offers 280 free parking spaces, eleven of which are handicapped accessible and five of which are extra-wide for parents with children. The mall is also conveniently accessible by two bus lines. Free WiFi is available throughout the building. All entrances, stores, elevators, and the toilets on the ground floor are handicapped accessible. The investment volume amounted to 31 million euros. In spring 2021, the property will be transferred to the Irish investor Greenman Ltd. Schoofs will continue to handle the project's facility management.
---
SLOVAKIA
Novum Presov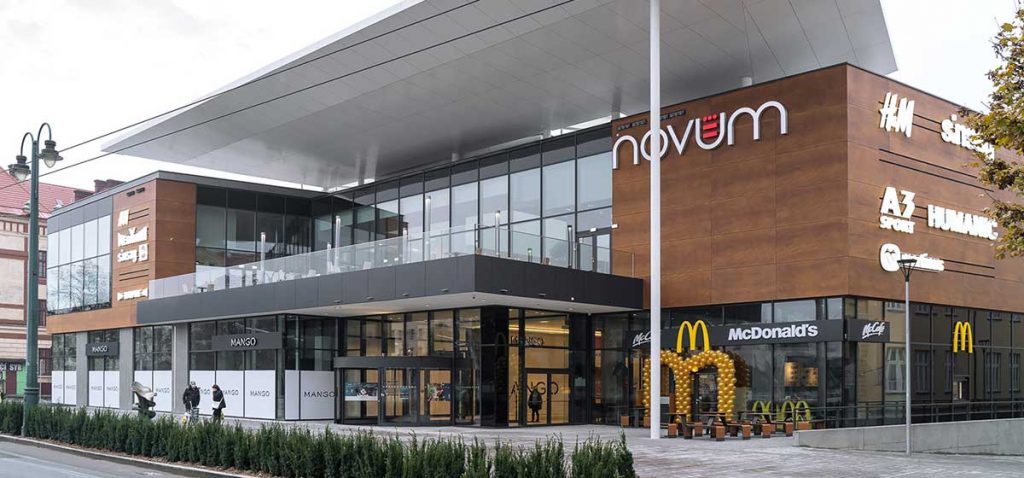 Last October, Gemo Holding announced the opening of Novum Presov, a shopping and entertainment center in eastern Slovakia that has created 500 jobs. It is located in the heart of the city of the same name, in a place that has long been used for retail and meetings. Novum Presov, therefore, also aims to offer residents from the entire region quality shopping and space for family leisure, and it also significantly complements the urban structure of the city and breathes new life into the city center. The shopping center features the latest Lidl supermarket concept, a modern Cinemax multiplex cinema, equipped with eight movie theaters, the largest children's playground in Prešov, which covers an area of nearly 1,000 sq m, a food court with a 400-seat capacity, which is complemented by two restaurants. In addition, a number of cafes, including outdoor terraces, a McDonald's restaurant, a Pilsner Urquell pub, a FitUp fitness center, medical offices, and other services will be integrated. Well-known brands, such as H&M, New Yorker, Sinsay, Medicine, Orsay, Douglas, A3 Sport, Humanic, CCC, Martinus, Datart, Intersport, dm drogerie markt, Pepco, Kvety Victor, and many others have opened stores inside the center. Novum Presov is also home to the first Starbucks and Mango stores in Eastern Slovakia. With its 500 underground parking spaces and its proximity to public transport, the center is easily accessible for shoppers.
---
---
---
---