Germany | Erlangen Arcaden
Erlangen Arcaden is among the most successful shopping destinations in northern Bavaria. mfi — a division of the Unibail-Rodamco Group — is currently modernizing the center on behalf of TH Real Estate to enhance its strong market position.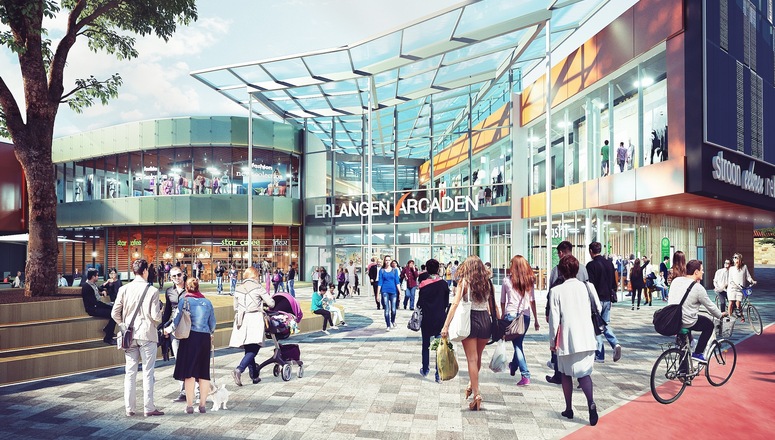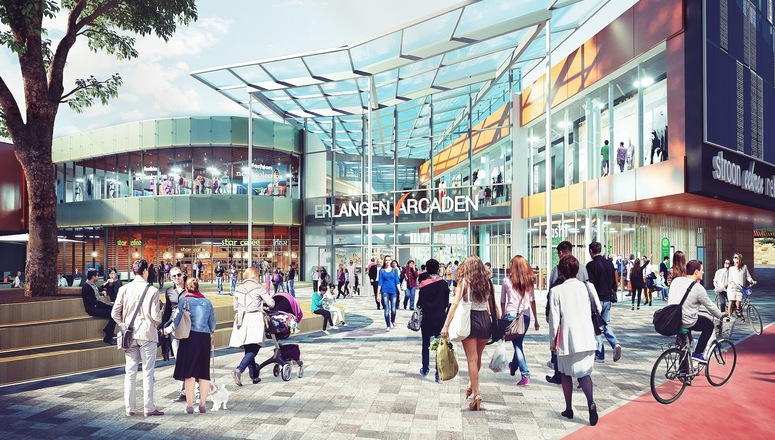 The retail specialists' concept is based on repositioning the mall as an inspiring and urban meeting point in the heart of Central Franconia. With an investment of around €10 million, the center is being extensively modernized inside and out.
New, Franconian-style materials and design elements create comfort while generous and inviting seating areas increase Erlangen Arcaden's quality of stay and dwell time. A kids' area on the ground floor offers families with children fun and variety, while revised wayfinding, including new signage and modern customer information, makes shopping easier.
Outside, the focus is on redesigning the forecourt and the restaurants' outdoor terraces and updating the entrances. Bicycle parking and access roads will also be redesigned as part of modernization work. The project is supported by an individually developed marketing concept that provides customers with services, events, and other offers through the modernization measures and further improves the shopping experience. Completion is scheduled for 2018.
Bosnia Herzegovina | Delta Planet
Delta Real Estate recently started the construction of Delta Planet in Banjaluka. The foundation stone was laid by the President of the Republika Srpska, Milorad Dodik.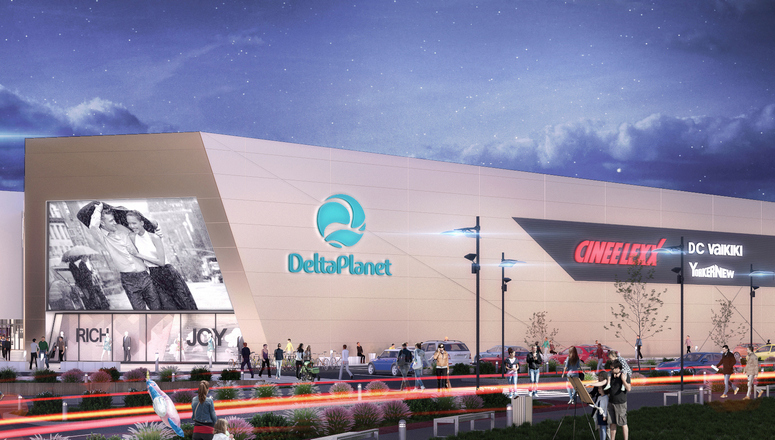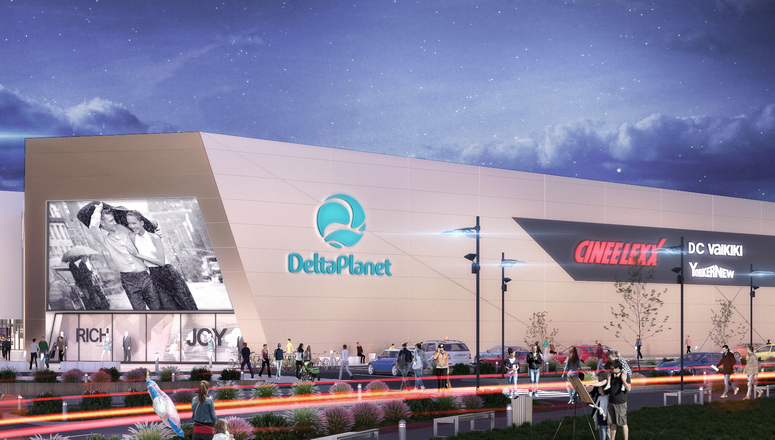 The mall, with the area of 62,500 sq m, will be the largest in Bosnia and Herzegovina. The investment is worth €70 million. The shopping center's opening is planned for autumn 2018. Because of its size and construction according to the highest global standards, Delta Planet will bring globally famous brands to Banjaluka. Apart from shops, the center will also have a 1,500-sq-m, five-screen cinema.
The mall will have 1,000 parking spaces, a supermarket, and a food court. Delta Planet's construction site will employ more than 500 people and, after its opening, Delta Planet will also create as many as 2,500 workplaces. Delta Real Estate operates within Delta Holding. It is well-known for the construction of "Delta City" shopping malls in Belgrade and Podgorica, "Delta Park" in Kragujevac, the residential complex "Belleville" in New Belgrade, and more. The company is expanding its business strategically into the region and EU member states.
"We have the pleasure to confirm our expansion by opening the construction site in Banjaluka. I would like to thank the competent institutions for their cooperation because, in two-and-a-half months, we have managed to obtain all the necessary permits for opening the construction site. It is an example of a real attitude to investors. We are looking forward to enabling the people of Banjaluka and the region to go shopping, have fun, and enjoy the contents of our shopping mall," said Dejan Jeremić, Delta Holding Senior Vice President for Operations.
Italy | ESP
IGD – Immobiliare Grande Distribuzione SIIQ S.p.A. has inaugurated the extension of the ESP mall in Ravenna.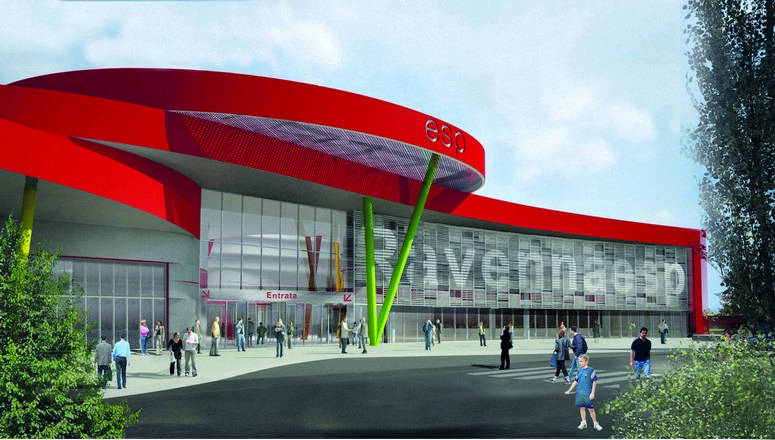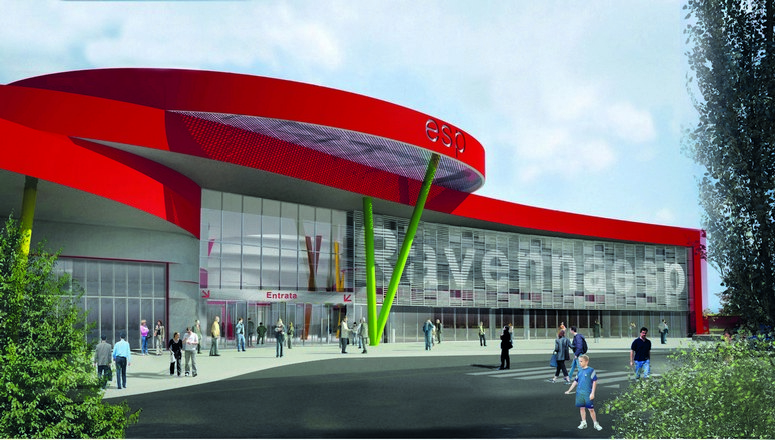 The company's cash-out for this mall extension reached around €52 million, including approximately €5.7 million for primary and secondary urbanization works, accounting for rents in leases that have already been finalized. At capacity, the yield on cost is more than 8%. The investment is in line with Business Plan 2016-2018, which foresees continued work on other projects in the pipeline.
As a result of the extension, ESP has become one of the biggest shopping centers in Italy, as well as a point of reference and shopping hub for the Romagna region, thanks to its 47,000 sq m and 100 stores. From its inception, the goal of the project was to blend the new part with the existing area, both architecturally and from a retail standpoint. Great attention was paid to children, with the creation of an outdoor playground and a new internal play space. The extension's occupancy comes to 97%.
Inside the mall, there is a vast range of merchandise dedicated to meeting the shopping needs of the whole family, thanks to premiere brands like Jack&Jones, Timberland, Zuiki, Apple Premium reseller, Tally Wejil, Adidas, Rinascimento, O bag, Tezenis, Prénatal, Swaroski, Bijou Brigitte, Gustavo Osteria Romagnola, Mozzarella e Basilico, Alice Pizza, Let's Toast, Pianeta Piada, and others. The new addition will employ around 400 people—meaning ESP will now provide a total of 1,000 jobs.
Poland | Galeria Emka
The re-launch of Galeria Emka in Koszalin in the Western Pomeranian Voivodeship was recently finalized. It includes both a revised layout and completely new interiors, which were designed by vsf-creative to bring a bright, fresh, and modern environment to Galerie Emka.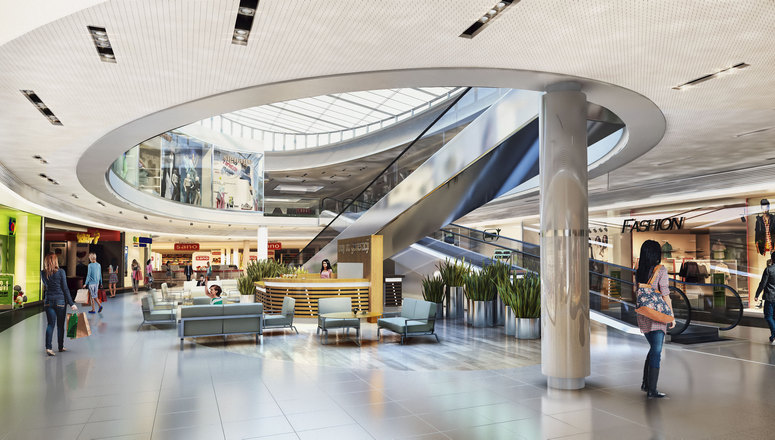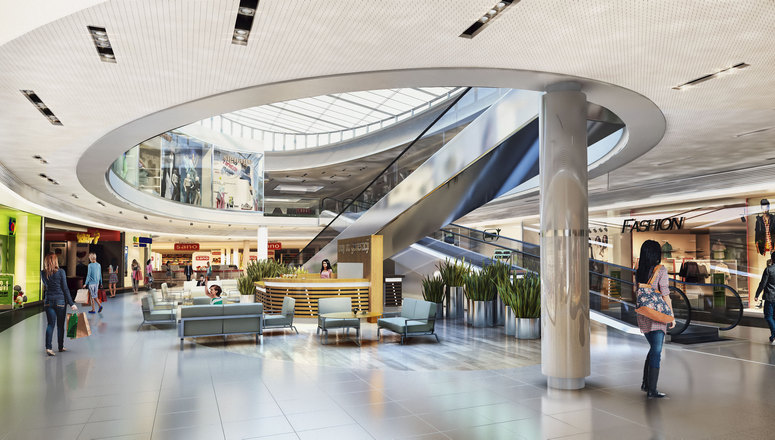 The scheme provides tenants with a significantly improved opportunity to maximize storefront height and merchandising visibility and has been planned to integrate the scheme's much-improved tenant list with a more coherent and readable layout.
The comprehensive design at Emka covers all aspects of the public area, toilets, and customer facilities, and also includes a new food court, which is subtly themed to remind visitors of Koszalin's proximity to the sea. Much emphasis has been placed on customer comfort and convenience, with better facilities, rest opportunities, and information systems.
Commenting on the scheme, vsf-creative director Paul Ayre observed: "The design for Emka plays to the psychology of customers, providing them with easy choices and plenty of visual and physical rewards along the route. The environment it creates is cheerful and uses light in a simple white box to create richness and complexity."
Sweden | Kulan
TK Development has entered into a cooperation agreement with SKF Sverige AB to develop SKF's former factory area in the old part of Gothenburg in Sweden.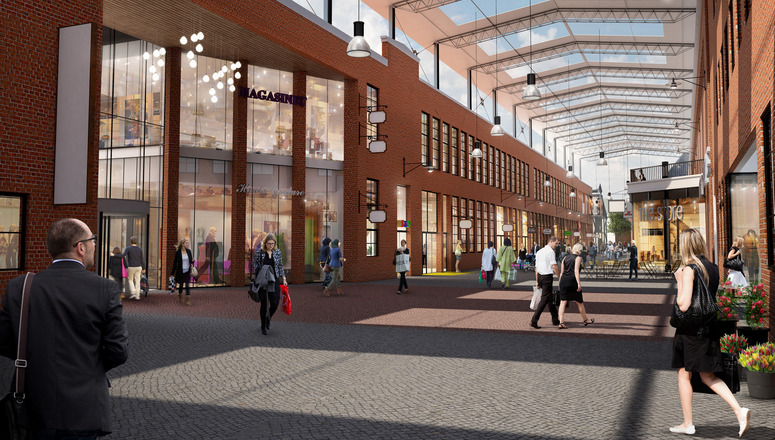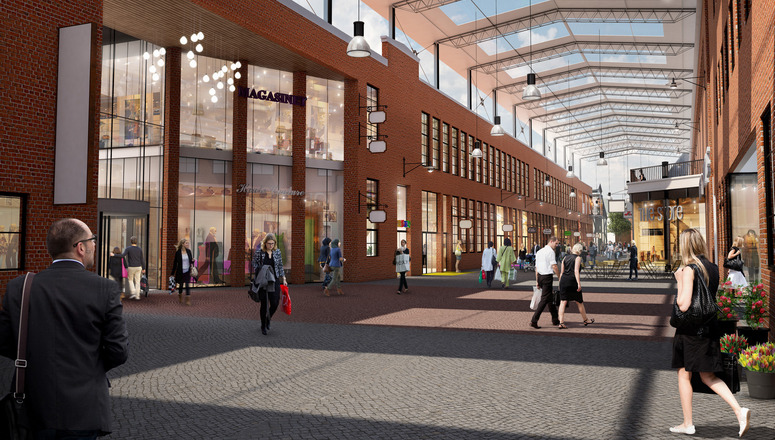 The contemplated project—which operates under the name Kulan—comprises a total floor area of about 85,000 sq m: 40,000 sq m for a shopping center, 15,000 sq m for service/commercial space, and 30,000 sq m for housing.
TK Development will be in charge of developing the shopping center, services, and commercial facilities, while a housing developer will have responsibility for the 30,000 sq m of housing. Kulan's opening is planned for 2021.
Finland | Niity
Niitty, by SRV, has officially opened. The shopping center, built above the Niittykumpu metro station in Espoo, will provide daily services to thousands of present and future residents of the area.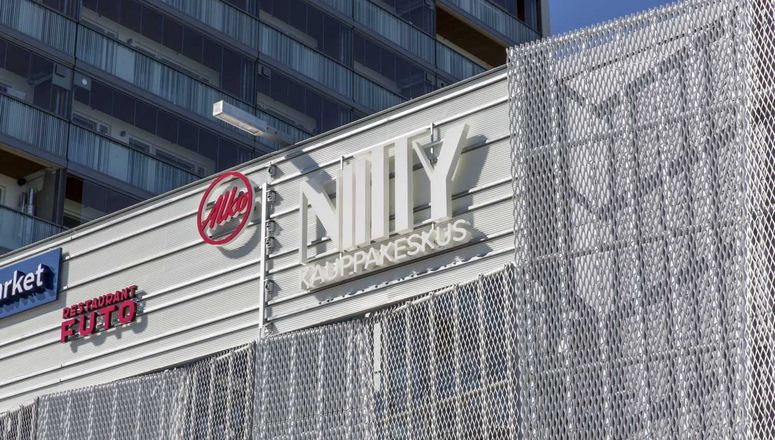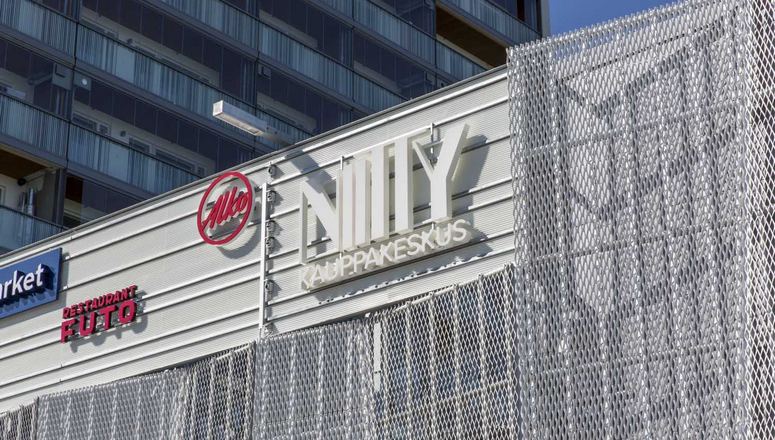 Niitty's premises cover approximately 7,000 sq m and all the mall's business premises have been leased.
"Niitty is in many ways a different kind of shopping center. It has been built on the Western Metro line and the center therefore offers direct access to the metro. Niitty is also special because two SRV-built residential towers, with a total of 300 apartments, will rise above the shopping center," said SRV Account Director Toni Kankare.
Niitty has two large daily consumer goods stores: K-Supermarket and S-Market. R-kioski, Subway, Kotipizza, and Jungle Juice Bar are located in the main walkway, right next to the metro escalators and lifts. Café services are provided by Espresso House and Muki&Keittiö.
The main walkway is also home to Fast & Furry, the pet supplies specialist, Alko, and the barber-hairdressers Piiu Pop and Bob&Bangs. Niitty also has two restaurants, Deliroom UkkoHauki and Futo, which offers Chinese cuisine. In addition, the mall features Luontaistuntija, Bieder-kukkakauppa, and Tapiola Juhlapuku stores.
Germany | Rhein-Galerie Ludwigshafen
Union Investment and ECE are preparing Rhein-Galerie Ludwigshafen for the future. The property's owner, Union Investment, will invest more than €10 million to enhance and redevelop the center and make it a unique shopping destination that strongly focuses on its exclusive location at the Rhine.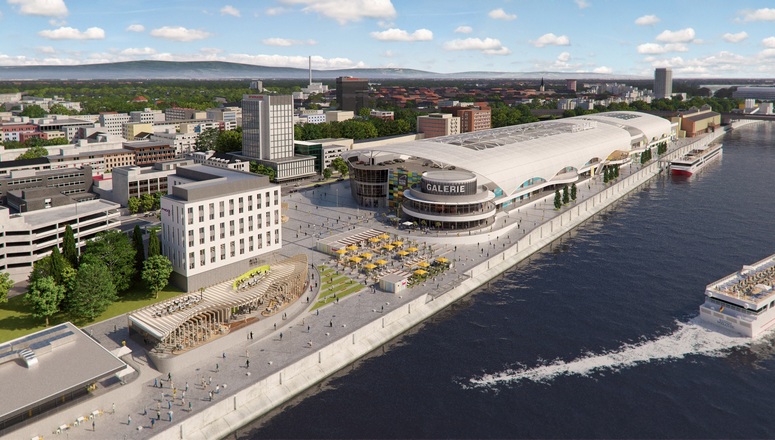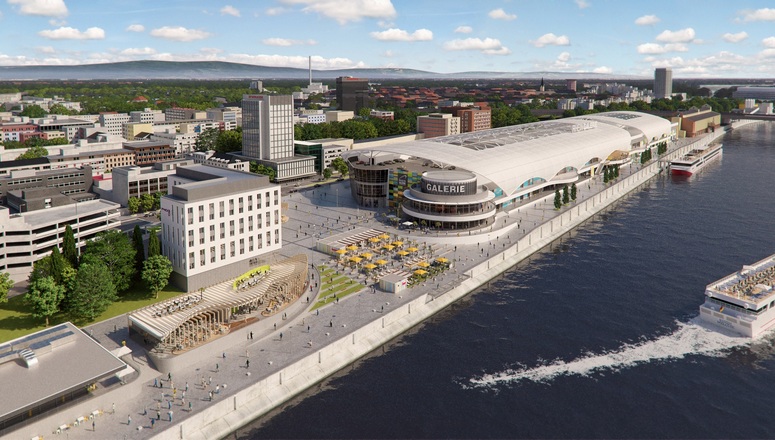 The comprehensive refurbishment will see large parts of Rhein-Galerie redesigned and optimized and additional services added. The investment includes a large-scale mall refurbishment, a significant redesign, the revamping of the food court and the terrace, and a makeover of the outer facade for better recognition and visibility.
In addition, the surroundings of the mall, which is situated directly at the promenade on the banks of the Rhine, will be considerably enhanced and prepared for more frequent use by integrating the surrounding urban area into the overall concept of an attractive shopping and leisure destination.
For this purpose, new restaurant pavilions will be built on Platz der Deutschen Einheit in front of Rhein-Galerie in coordination with the City of Ludwigshafen to revive the area with urban flair and extend the center's reach into the surrounding area. The pavilions will be built with a light and modern design with atmospheric lighting at night. They will accommodate a variety of food services to turn the banks of the Rhine, which have so far been rather sparsely frequented, into a popular meeting point, especially in the evening.
The refurbished center, a nearby hotel currently under construction—a trendy Moxy Hotel by the Marriott Group is currently being built opposite Platz der Deutschen Einheit and is slated for opening in mid-September—and the planned docks on the Rhine will become part of an attractive "shopping harbor."
Two docks for river cruise ships are planned in front of Rhein-Galerie on the waterside. The first will be operational in September, the second is in planning. The building projects will be conducted step-by-step. The entire project has been scheduled for completion in spring 2020.
United Kingdom | Rushden Lakes
Phase one of Rushden Lakes was launched at the end of July. Developed by LXB with their architects HPW and owned by The Crown Estate, it is the new retail and leisure destination in Northamptonshire.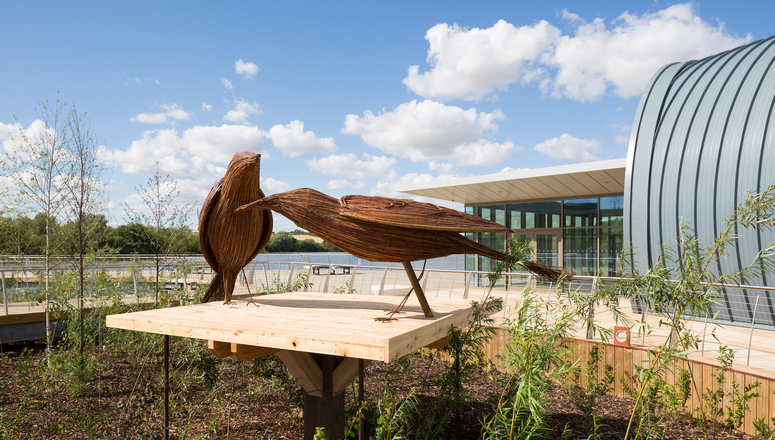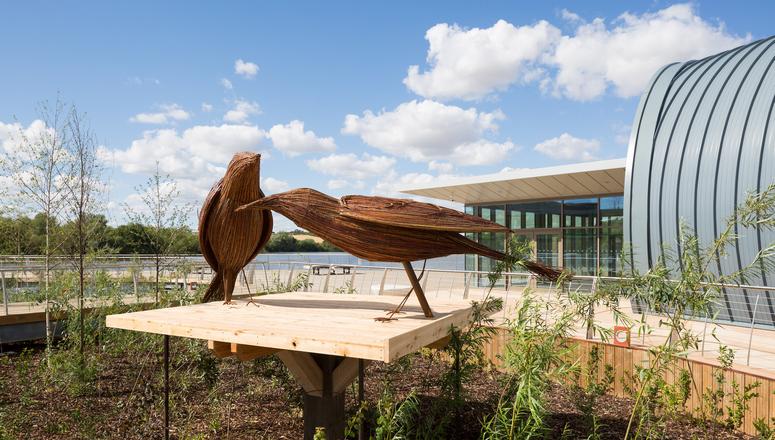 The offer at Rushden Lakes sees big-name fashion and boutique premium brands combined with lakeside dining and a range of leisure activities, including canoeing, cycling, walking, and bird watching, all in beautiful countryside surroundings.
Phase one offers 21,300 sq m of retail situated adjacent to stunning lakes and set in over 200 acres of a SSSI (Site of Special Scientific Interest) reserve, operated in partnership with The Wildlife Trusts. It is comparable in its importance to the Camargue in France, or the Zambezi Delta.
The first phase of Rushden Lakes will see more than 40 retailers, restaurants, cafés, and leisure providers opening their doors. They include Marks & Spencer, Primark, H&M, Jigsaw, and L'Occitane. Future phases of Rushden Lakes, which will deliver a 14-screen cinema from Cineworld, a trampoline park, and more retail, will continue to be led by LXB, with phase two expected to open in 2019.
Follow ACROSS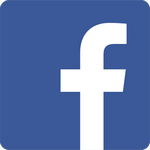 Share this article